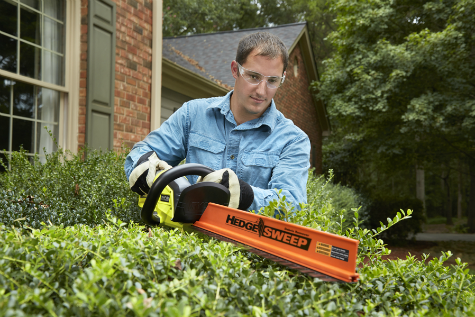 By Ryan Duffy for The Home Depot
With such a quick transition to warm weather, I'm sure it didn't take long for many of us to fall behind on honey-do lists, which almost always include yard work this time of year.
As you get your mower, trimmers, blowers and other lawn equipment back up and running, it might be time for an upgrade or two. Outdoor power tools have come a long way in the last few years, so this is a great time to try something new.
It's an exciting time in the industry, especially for cordless technology and battery platforms. Proven battery brands like RYOBI and DeWalt and being pushed and challenged by newcomers like ECHO, EGO and more. This competition is helping accelerate innovation in tools and battery technology, which ends up benefitting customers more than anyone else.
A lot of people out there still prefer gas for a number of reasons, but there are some attractive benefits of switching to cordless for everyone to consider.
Six benefits of battery power
Lose the cords: For those who prefer electric tools, no more trip hazards or extension cords. Many of us know the frustration of trying to reach those far corners of the yard with an extension cord that always ends up being just too short to reach. How many of you have cut your cord while using a corded hedge trimmer?
Forget the mess: Gas-powered tools offer plenty of benefits, but the mess of working with gas isn't one of them. Save yourself the hassle and avoid those fumes. With today's batteries, you will most likely be pleasantly surprised with the advancements in power and runtime.
Save your arms and back: In most cases, battery-powered tools are significantly lighter than their gas counterparts. Spend less strength and energy working on your lawn so you have more energy to spend time enjoying it with friends and family.
Keep the noise down: After using battery tools, you'll quickly lose any nostalgic feelings you have for that two-stroke whine you've been used to for years. Now Saturday mornings can finally come with a little more peace and quiet – unless you have kids.
Use that battery for everything: One of the coolest benefits of some battery platforms is the versatility. Ryobi and DeWalt are two of the best examples. Use the same battery from your drill or circular saw to power your trimmer, blower and more.
Save money: While cordless tools appear more expensive up front, they actually save you money in the long run. The average homeowner is going to spend $25 on gas and oil every year. Add in an annual tune up at another $50, and you can quickly see how cordless will save you money.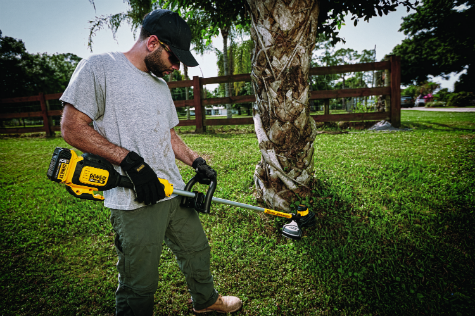 What to ask when in the market
Let's say you're convinced and ready to switch to battery. You walk into The Home Depot and see that we have more outdoor power battery platforms than any other retailer. Before you get overwhelmed, ask yourself a few questions to make this choice a whole lot easier.
How big is my yard? This is definitely the most important question of all. If you're sitting on a quarter acre, you'll choose something very different from someone who has several acres of land. Use this to help you determine what kind of runtime you need in a battery. You may also discover that you need a few batteries, which will help you knock out all your lawn care without waiting for anything to recharge. And just because your yard requires a tractor or zero-turn mower doesn't mean you can't use battery-powered tools, especially trimmers and blowers.
What kind of yard work do I most often do? This will help determine where you should be on the power spectrum. If you are used to using corded electric tools, the RYOBI 18-volt or Black & Decker 20-volt lines will suit your needs well. If you are used to the power of gas, consider Ryobi 40-volt, DeWalt 20-volt, EGO 56-volt, or even ECHO 58-volt for professional-grade performance.
Do you have any battery-operated power tools already? If so, the batteries for your drill or impact driver may also power your new string trimmer or leaf blower. For smaller yards, you definitely want to take advantage of battery versatility. First go look at your power tools in the garage, what's your brand? If you're already using battery-powered tools, look for outdoor power tools that use those same batteries. RYOBI's 18-volt line and DeWalt's 20-volt line each has more than 50 tools that work with the same battery.
Regardless of what you decide, enjoy the warm weather by spending time outside – whether you're working on your lawn and garden or relaxing on the porch or patio.
Ryan Duffy is a Merchant for Outdoor Power Equipment at The Home Depot. He's spent all of his nearly six years at Home Depot in merchandising, including more than a year in his current position. Prior to joining The Home Depot, Duffy served in various roles at Techtronic Industries (TTI) – from in-store sales to visual merchandising. He graduated from Auburn University with a bachelor's degree in communication.