Need to update the bathroom in an old house? You can get a lot more room in a small space by replacing an old tub with a walk-in shower. Plus, most people prefer showering, so it's a project that will pay off when it comes time to sell your home.
To keep a handle on costs, plan around your existing drain as an alcove, a basic three-wall design or possibly a larger corner neo-angle. A corner shower typically provides more elbow room than an alcove shower.
Shower valves are nearly all single-handle these days, an accessible design feature that gained mainstream acceptance because it's just so much easier to use. At a minimum, you'll want a pressure-balance valve — required by code in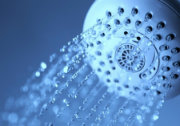 many places — to keep water temperatures in a consistent, comfortable zone.
Another nice-to-have feature is a thermostatic shower valve. These valves maintain comfortable temperatures throughout fluctuations in the hot and cold water supplies, not just changes to the pressure. Once you know your favorite shower temperature, it's simply a matter of opening the on/off valve that controls the desired sprays. As a result, less water is wasted waiting for the perfect temperature.
Going from basic to luxurious
In addition, thermostatic valves usually offer greater flow rates for shower systems operating four or more sprays at once. If you want to create a spa-like feel at home, multiples are the way to go. However, planning a luxury shower with multiple sprays is best done in consultation with your plumber and/or designer.
A successful outcome to a luxury shower project depends on a number of factors. Among them: the available water pressure; household hot water capacity; locating control valves for safety and convenience; supply and drain pipe sizing and conditions; and local plumbing codes.
As for types of showerheads, these include rain showerheads, body sprays, overhead tiles, and shower towers that combine all of the above. Shower towers are elaborate systems with multiple sprays and require specialized valving to control the flow of water to the various outlets. That includes on/off volume controls to direct the flow of water to a showerhead or other sprays and diverters to distribute water among the showerheads and other sprays.
Code requires each showerhead to deliver no more than 2.5 gallons of water per minute (GPM). That's per showerhead, so a shower with multiple showerheads can use a lot of water in a very short time. Most people don't actually use all the showerheads at once, but instead use diverters to create a series of experiences using different combinations of showerheads and body sprays. Less expensive alternatives are so-called shower towers that can be installed without going behind the wall.
So whether you want to stick to the shower basics or pamper yourself with multiple sprays, replacing an old tub with a shower is generally a bathroom upgrade that will add utility and value to your home.