Bathrooms are changing. Today, homeowners are trading the relaxing bath for the power shower. Plumbing fixture designers around the country are creating bathroom accessories like new shower heads that turn your shower into a spa-like experience that can relax you, recharge you, massage sore muscles and make you feel like a million bucks.
The challenge is that most American homes feature a 5'x 8′ bathroom with a standardized layout. And, according to plumbing fixture and accessory manufacturer Moen, 86 percent of America's master baths still have a bath-shower combo. The company conducted a bathroom inventory of 2,400 bathrooms and found that only 14 percent have the kinds of master baths commonly found in magazines.
Upgrading your bathroom into a stylish spa is not only a great investment, it's an improvement that you'll appreciate for many years. Homeowners taking out a standard bathtub and replacing it with an improved shower will enjoy features like multiple shower heads, steam, massaging spray, and even seats.
Alt=Bathroom Remodeling and Shower Accessories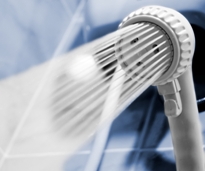 So how do you instill spa-style in your sparse bathroom? It can be a simple project or a total remodeling job. Here are a few things to consider:
You can change your shower head for one of the new models with just a few tools and a little elbow grease. This project, which typically costs under $200, can add a whole new dimension to your shower experience. Now, you can choose from body sprays — fixed units on the side of the walls that turn the shower into a vertical whirlpool — and multiple showerheads that offer various settings, such as a fine mist or a hydro-massage, as well as a showerhead that converts to a hand-held unit.
There are three broad categories of bathroom accessories in shower heads — pan-type rain shower heads, multi-head body sprays and handheld massagers. Many manufacturers offer custom shower kits that combine handheld shower heads and multi-head sprays in numbers tailored to the size of your water heater and the water pressure in your home. Some "power showers" require their own, dedicated water heaters and special plumbing, so check with your plumber before starting on a major upgrade.
If you decide to exchange your bathtub for a shower, the latest trends in shower design feature natural stone such as marble, slate and limestone. These materials look beautiful, are easy to maintain and offer a wide range of style options. Accessories like a built-in seat is great for relaxing in the shower, and built-in shelves provide storage for soap and shampoo.
To let light into your shower experience, consider a frameless glass shower door or glass-block shower walls. Both add a clean, sophisticated look and open up a small bathroom. Another option is the walk-in shower without a door – a great option for homeowners who want space and luxury.