You spend a lot of time there every day – so why not make it one of the most comfortable spots in your home? Here are some luxury toilet upgrades you can enjoy immediately for under $200.
No More Slamming Lids. Maybe you've grown accustomed to the complaints about that slamming toilet lid waking the family in the middle of the night. But for guests and maybe even neighbors on the other side of a shared wall, a toilet lid that closes all too easily and slams can be a real pain in the ear. Isn't it time you gave the family a rest? Retire that noisy lid and upgrade to a Kohler Cachet Quiet-Close toilet seat instead. Its lid glides gently closed with even the gentlest touch. And less touching means better hygiene. Comes in several colors and price ranges from about $42 to $63.
Sweet Heat in the Seat. That downstairs powder room is your favorite place to escape – but it's also the chilliest spot in the house. No worries! With a Breeza Warm toilet seat from Brondell, your toilet experience will be so pleasant, they may have to break the door down and pry you off. The Breeza Warm has a smart sensor that activates soothing heat from inside the seat when you sit down. The temperature is adjustable to three settings, and for added comfort, the Breeza Warm has a built-in deodorizing function that sweeps odor through a filter before it can taint the atmosphere of the room itself. The Breeza Warm plugs into a standard GFI wall outlet and costs about $149.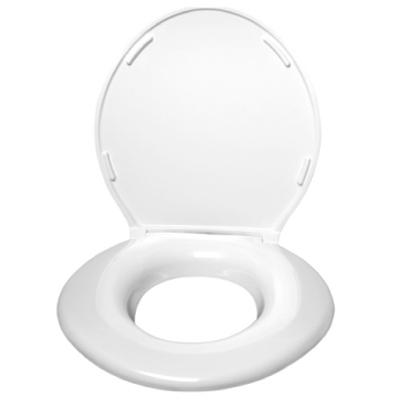 Better for Bigger Butts. Is that toilet seat too small for you? OK, maybe you did just join a gym, but while you're working on that, shouldn't you be rewarded for your good efforts? Rest easier with a Big John toilet seat. The Big John is roomier than any other toilet seat on the market. It's two inches higher than a standard toilet seat, supports up to 1200 pounds, and features stabilizing synthetic rubber bumpers that grip the porcelain, keeping the seat from shifting. Models with and without lids range in price from $158 to $178.
A Softer Seat. If your bathroom doubles as your reading nook, maybe you should upgrade to a padded toilet seat. CloudSoft padded toilet seats are hand-upholstered and come in a wide variety of designer colors and patterns. You can even get a monogrammed padded toilet seat, or CloudSoft will make a custom padded toilet seat using your fabric. CloudSoft solid color padded toilet seats start at about $85, with patterned seats costing more.
Built-In Bidet. It was your first visit to Paris. You checked into your hotel room and, completely ignoring your gorgeous view of the Eiffel Tower, you became instantly fascinated with the bidet. We understand. Bet you've been dreaming of your own bidet ever since, huh? These days you don't need to expand your bathroom to install a separate bidet fixture. You can install a toilet seat with a built-in bidet, like BioBidet's BB-i3000 premium bidet toilet seat. The BB-i3000 not only provides a cleansing temperature-controlled water stream, but it's got a soap dispenser as well, and requires no electricity to operate. The BB-i3000 retails for about $140.
If you're looking to make a modest home improvement for under $200 that you'll be able to enjoy immediately and that'll have repeated daily impact, why not upgrade your toilet seat? Treat yourself and your family to a little luxury without taking a big financial kick in the behind.