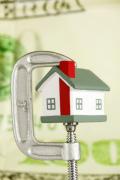 Americans may have experienced some downsizing in their careers over the past couple of years, and that seems to be reflected in what's happening in their homes, too.
The National Association of Home Builders (NAHB) unveiled its findings about the predicted future of the American home at the 2011 International Builders' Show. According to their survey data, the buzzword for the American home of the future is "smaller".
The average size of a new single-family home completed in 2010 declined from 2,438 to 2,377 square feet.
52% of home builders surveyed expected smaller homes in 2011. Only 7% expect larger homes. Additionally, 59% of builders expect to build lower-priced home models, compared to only 7% who expect to build high-priced models.
Homes with three or more bathrooms declined in 2009 from 28% to 24%. The figure remained at 24% in 2010.
Many home builders believe the living room will be little more than a charming historical detail by 2015. More than half of survey respondents – specifically, 52% — expect the living room to either vanish or merge with other home spaces within five years.