The kitchen really is the heart of the home and beating away at the center of it all is the kitchen island. Whether it is for working, eating, or entertaining, a well-designed island can be the hub of activity in your home. Despite it being a more efficient use of space in comparison to a kitchen peninsula, we do not always make the most of this feature, especially in large family homes.
Even if you already have an island or if you are planning to install one, integrating family-friendly kitchen features into it is easily done. For example, islands provide options for storage space or seating for your pets. Here are five kitchen island ideas that will not break the bank and will add family-friendly functionality to the center of your home.
Raise the Breakfast Bar with this Kitchen Island Design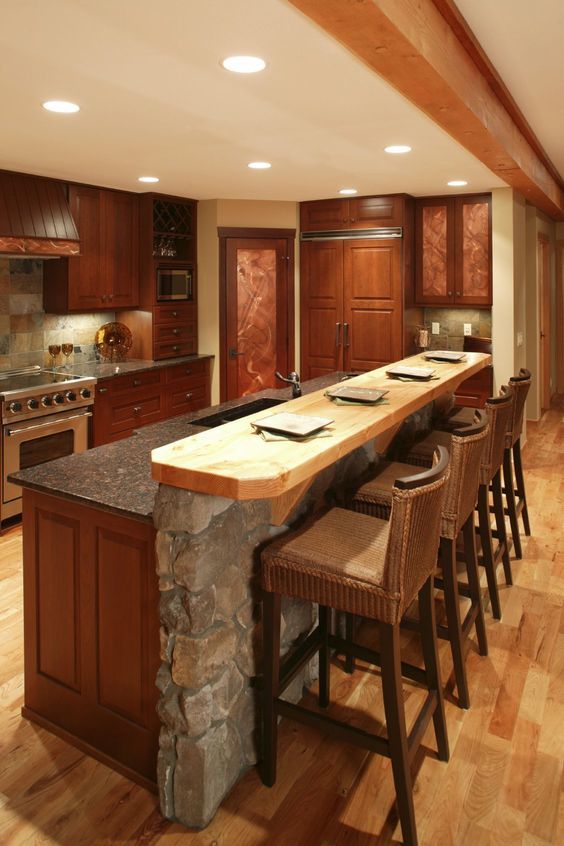 No matter how much desk or table space there is throughout the house, the entire family always seems to congregate in the kitchen and islands are a focal point. By separating the kitchen "workspace" with a raised bar, you can create a designated area for homework, after school snacks, and crafts – without the risk of interfering with food prep or kitchen dining.
By adding a kitchen counter-height bar using unique materials, the space is divided and elevated making it ideal for some bar stools. Kids can have a place to hang out and do homework while dinner is being prepped. Casual weekday meals become more fun at the kitchen island, and the use of creative materials like stone or marble, add a bit of decorative interest to your kitchen.
Pricing for this addition will range greatly depending on materials used and the labor costs – hiring a handyman averages $100-$300 per hour.
Built-in Mini Fridge Adds Cool Kitchen Feature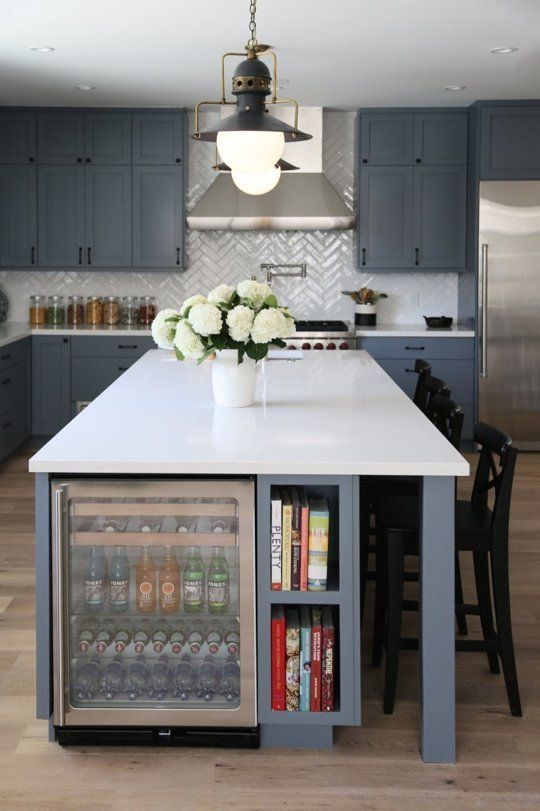 One thing every family fridge usually has is lots of different beverages. In fact, it is easy to quickly run out of space for your food when all of the drawers and door shelves are filled with everything from milk cartons and juice to 24-packs of water. One of my favorite ideas for this challenge is the addition of a beverage cooler!
A mini version of your refrigerator meant just for storing beverages in a convenient location, not to mention saving energy by not opening the larger family refrigerator quite as much! Adding a beverage fridge to your kitchen island lets you clear room out of your main refrigerator, which is especially helpful for large families. Nothing becomes buried at the back, and you can quickly see when you are running low. You can also keep it at a special temperature, just for beverages so that they are always cool and refreshing.
A beverage cooler averages $350-$900, and there may be delivery and disposal fees. Remember to factor in the additional costs for installation as well.
Create a Kitchen Library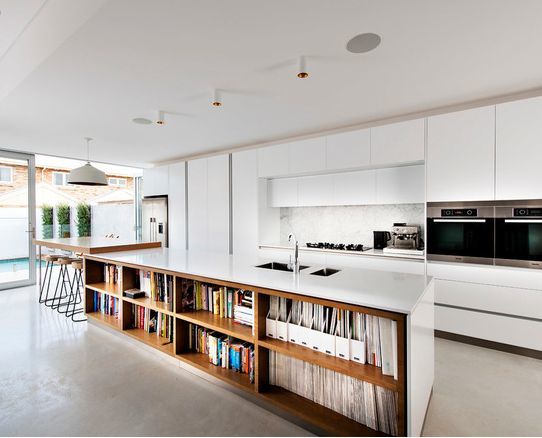 The typical kitchen is often the most popular room in the house. Tables and countertops become stacked with books, notepads, pens, pencils, textbooks, and mail. It can look messy and overwhelming, making it hard to want to actually cook in the kitchen. These ideas can help restore order!
Adding a set of open shelves on one or two sides of the kitchen island makes the perfect space to store books for a mini–kitchen library. The low height makes it accessible for kids to choose their favorite book to read or keep cookbooks or coffee table books off the countertops. You can also add small baskets or lidded boxes to keep crayons, pens, pencils, and small toys to avoid using valuable drawer and cabinet space.
The cost of adding a storage element to your island will depend on the features you select. If you choose to add open shelving, it will require labor costs for a designer and a carpenter, which ranges from $300-$800 depending on design.
Keep Pets & People Happy with this Built-in Kitchen Island Pet Bed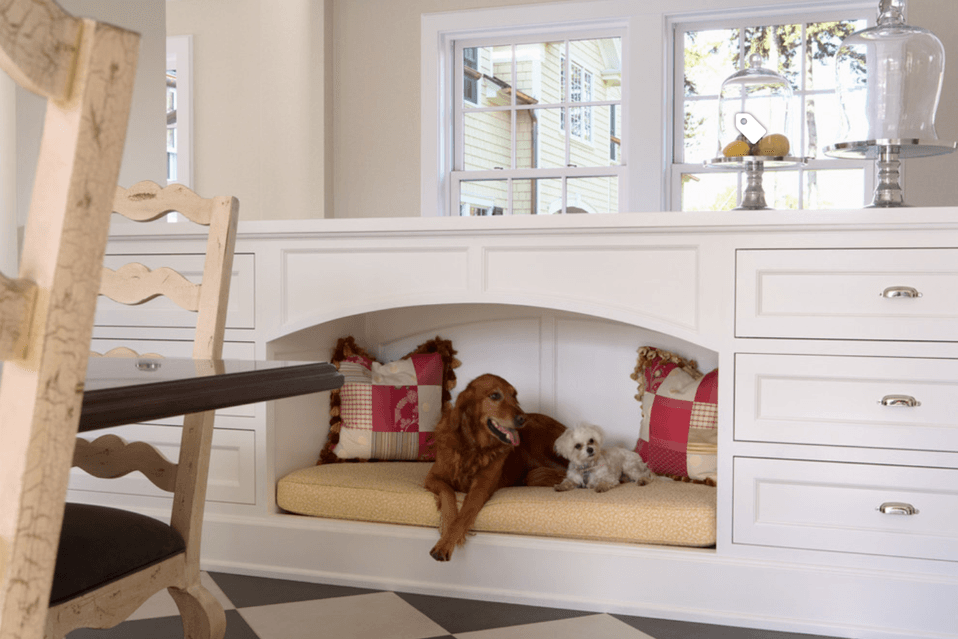 There is nothing a pet loves more than being right under your feet while you are rushing around the kitchen. Add a built-in pet bed under the counter to create a space for your family pet to stick close to you, without being underfoot. Add a custom cushion that can be changed easily with a removable cover for washing.
The costs for a pet station vary greatly. However, you can calculate a basic cost based on the materials you choose and whether or not you make it a distinct feature or create it out of the pre-existing design/floor plan of the island. A good rule of thumb is that a pet station is typically 30% of the cost of the overall kitchen island.
Create Your Own Island Banquette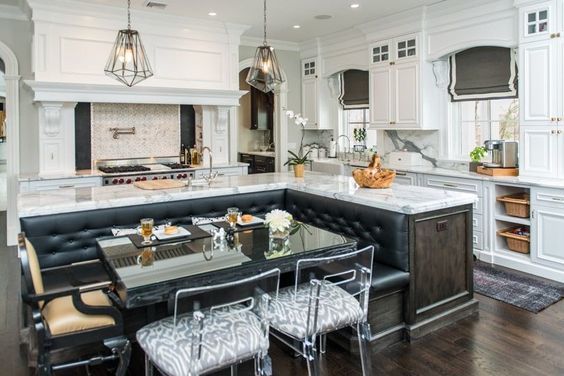 Extra seating in the kitchen is always useful, and this clever solution is a great way to optimize your space. Instead of wasting the back or side of the island, that same space can be used to create a built-in banquette. A simple L-shaped bench combined with a kitchen table and chairs isa great option for family seating in the kitchen without needing a separate eating area or losing valuable prep space.
The same amount of square footage that might seat three or four at a bar-height counter can be turned into a banquette and seat seven to eight comfortably. Having the island counter space makes it easy for guests to serve themselves while keeping the food off the table. It is also a great alternative to bar-height seating for small children.
To determine how much a banquette might cost, consider the individual variables. Seating, as an example, will mean deciding on custom-built or prefab benches. Also, consider upholstery and additional seating as well as a center table that can be purchased or custom-made. Options range from $800 to over $5,000 for a customized design.
Ready for Family Time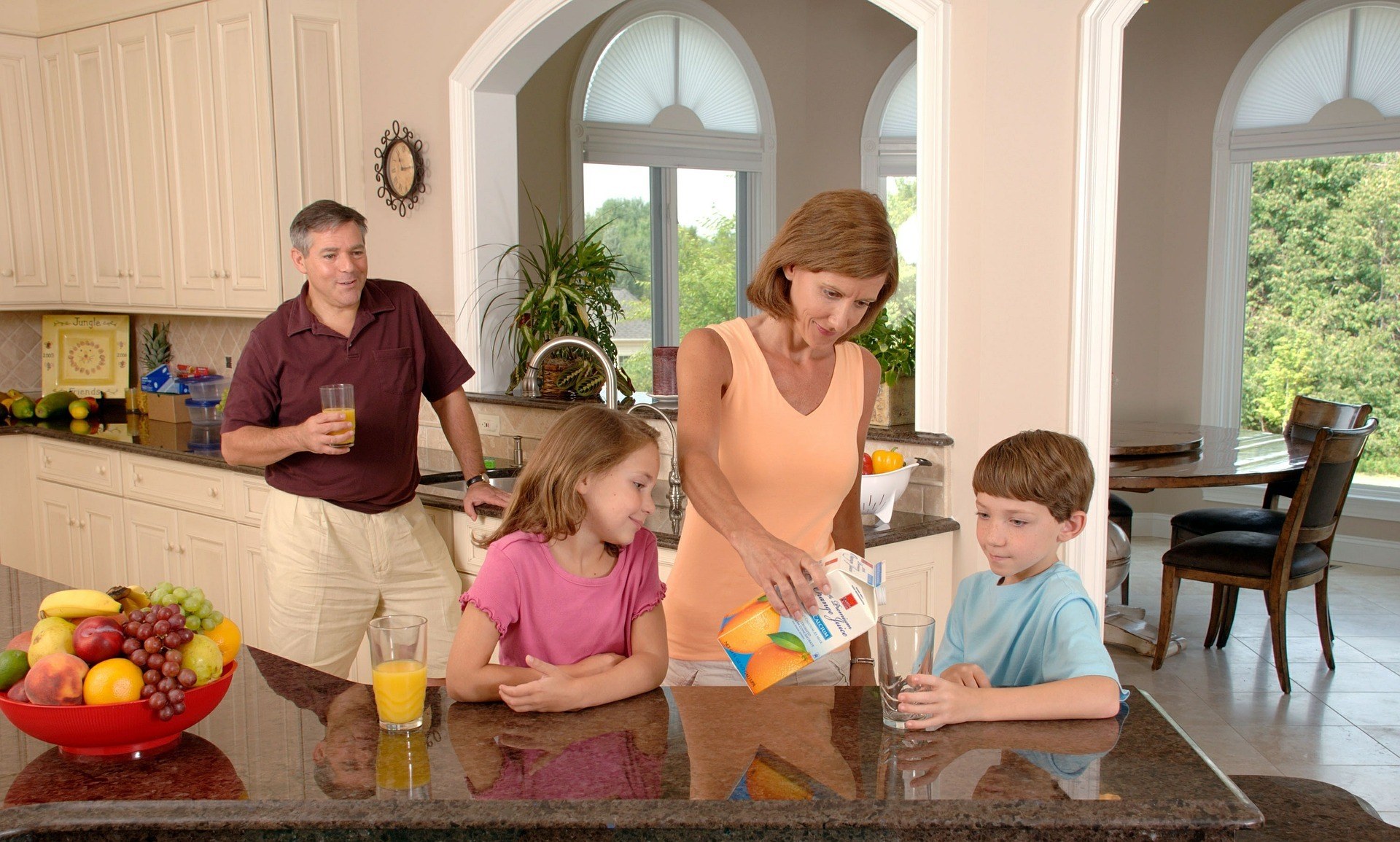 The kitchen island can serve many different purposes, and these five updates make it an even better place for the entire family to gather. Whether it is adding extra seating, space for homework, a spot for the family pet to rest, or a convenient kitchen library, these ideas will have the family gathering in no time.