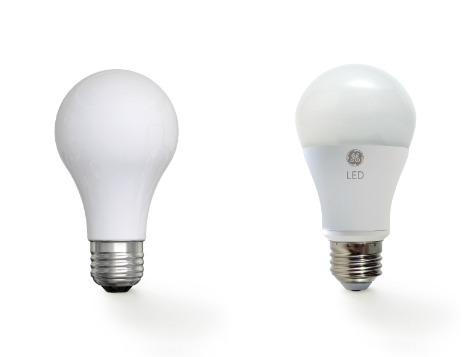 When consumers think about energy-efficient lighting, many are deterred by the memory of the early CFL bulbs produced by some manufacturers.
When the first CFL bulbs came to market nearly 30 years ago, consumer adoption was slowed by the fact that many of the products didn't meet consumer preferences and expectations, or work for different applications around the home.
According to Tom Boyle, chief innovation manager for GE Lighting, consumer adoption of LED lighting is today being driven by the following five trends:
Consumers want affordability.

LED sales will continue to accelerate this year as prices continue to come down.

Consumers want familiar shapes.

LED lighting gives us the ability to light our homes in new ways without using conventional lighting fixtures, but this transition will take time. For the time being, recognizable light bulb shapes are still vital to continued LED adoption. As an example of this, A-line shaped LED bulbs – which have the same basic appearance as a standard incandescent bulb – will become the most popular bulbs used in table lamps by 2016, according to projections by IMS Research, an electronics research firm.

Consumers want adjustable light tone.

Ultimately, consumers will be able to adjust LED bulbs to emit a "cooler" white light in the kitchen or a "warmer" white light in the living, based on preference, task or time of day. However, this capability is not yet affordable enough for mainstream adoption.

Consumers want wireless lighting control.

Consumers want simple, convenient dimming capabilities for sockets that are not connected to dimmer switches. For a DIYer who doesn't want to rewire a space, GE and Lutron have developed the GE 'telligent LED bulb embedded with Lutron's ClearConnect wireless technology. The bulb screws into the socket just like a standard bulb, and the dimming capability is built into the bulb itself. The remote controls up to 10 light bulbs, providing instant dimming. This product is currently available at select Sam's Club stores.

Consumers want options for every application.

Consumers need LED bulbs to work with their existing home light fixtures, from table lamps to recessed lighting. Up until now, consumers didn't have realistic LED options for enclosed fixtures and linear work lights. GE's latest LED portfolio offers bulbs for flush-mount ceiling fixtures, enclosed fixtures and LED work lights with hardwire connections, making it possible to have a home lit entirely by LED bulbs.
Overall, consumers appreciate the long-term cost savings, extended life and environmental benefit of energy-efficient lighting, but they prefer products that fit into their existing lifestyle and provide the same look and quality of light that they are accustomed to. Adoption of LED lighting will increase as manufacturers make consumer preferences a priority when developing their product lines.