Fairy gardens are popping up everywhere. You can find them tucked in gardens, peeking out from under trees or poking out of a teapot in the kitchen. They are fun, whimsical and a delight to make. Each one is totally unique and funnels your creative spirit in new ways. If you're just getting started with fairy gardens here are some of our favorite fairy garden accessories to help you get started to make your backyard a magical delight.
Fairy Garden Accessories – Fun Miniature Figurines Kit
This hand painted kit is a great starter kit. Each piece has a protective covering that's waterproof and has 11 pieces, including a sweet fairy sitting on a bench, side table all set for tea, a stump with flower and a squirrel, a tiny bunny and a fairy playing the harp.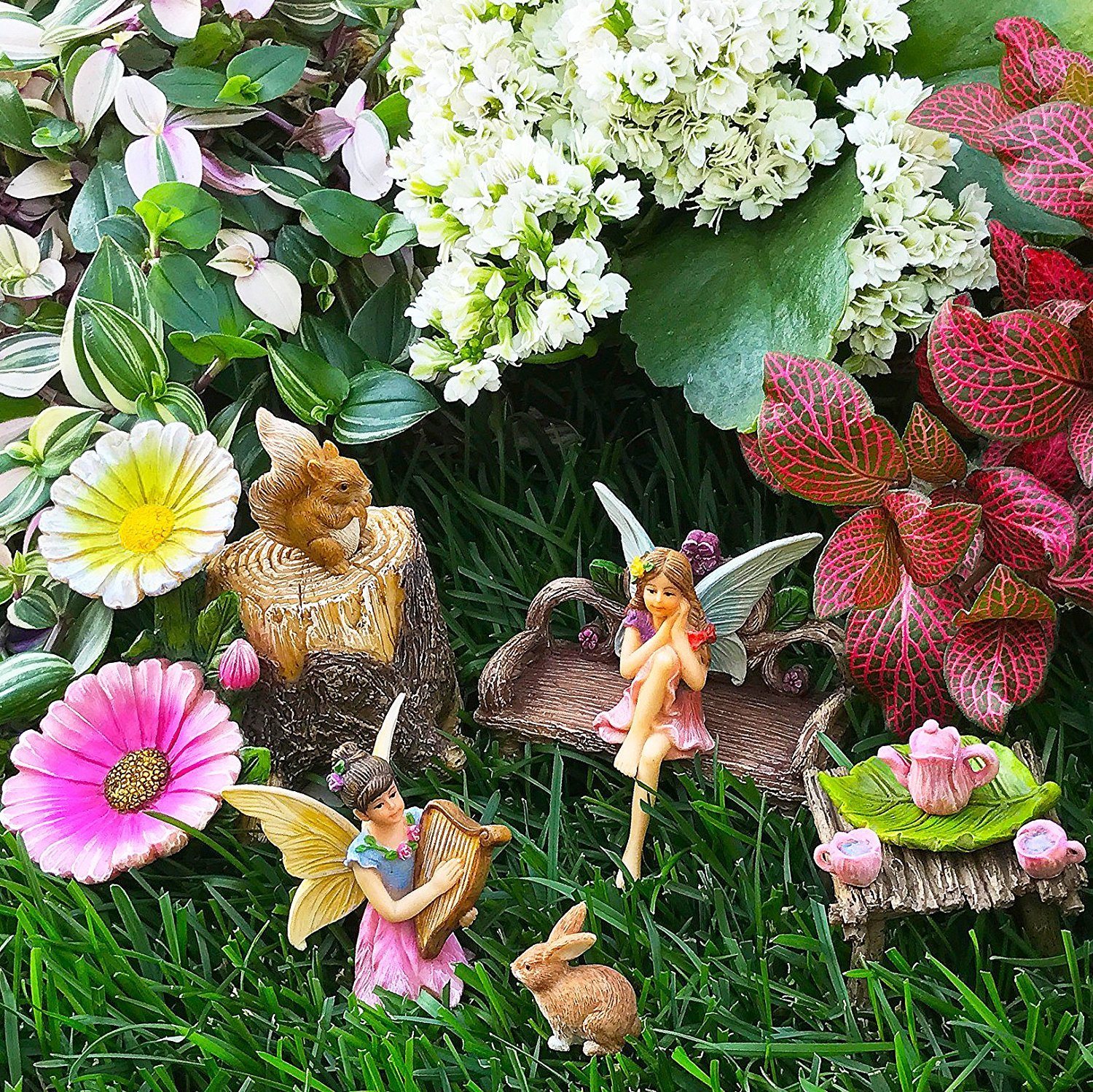 Jump start your own Fairy Garden collection and new family tradition by collecting sets. These miniature Fairies and accessories have a sun resistant and waterproof coating, making them great choice for any indoor or outdoor Fairy garden village. This product has a 5-star rating on Amazon and retails for around $24.
Joykick Fairy Garden Believe House with
Miniature Fairy Figurine & Accessories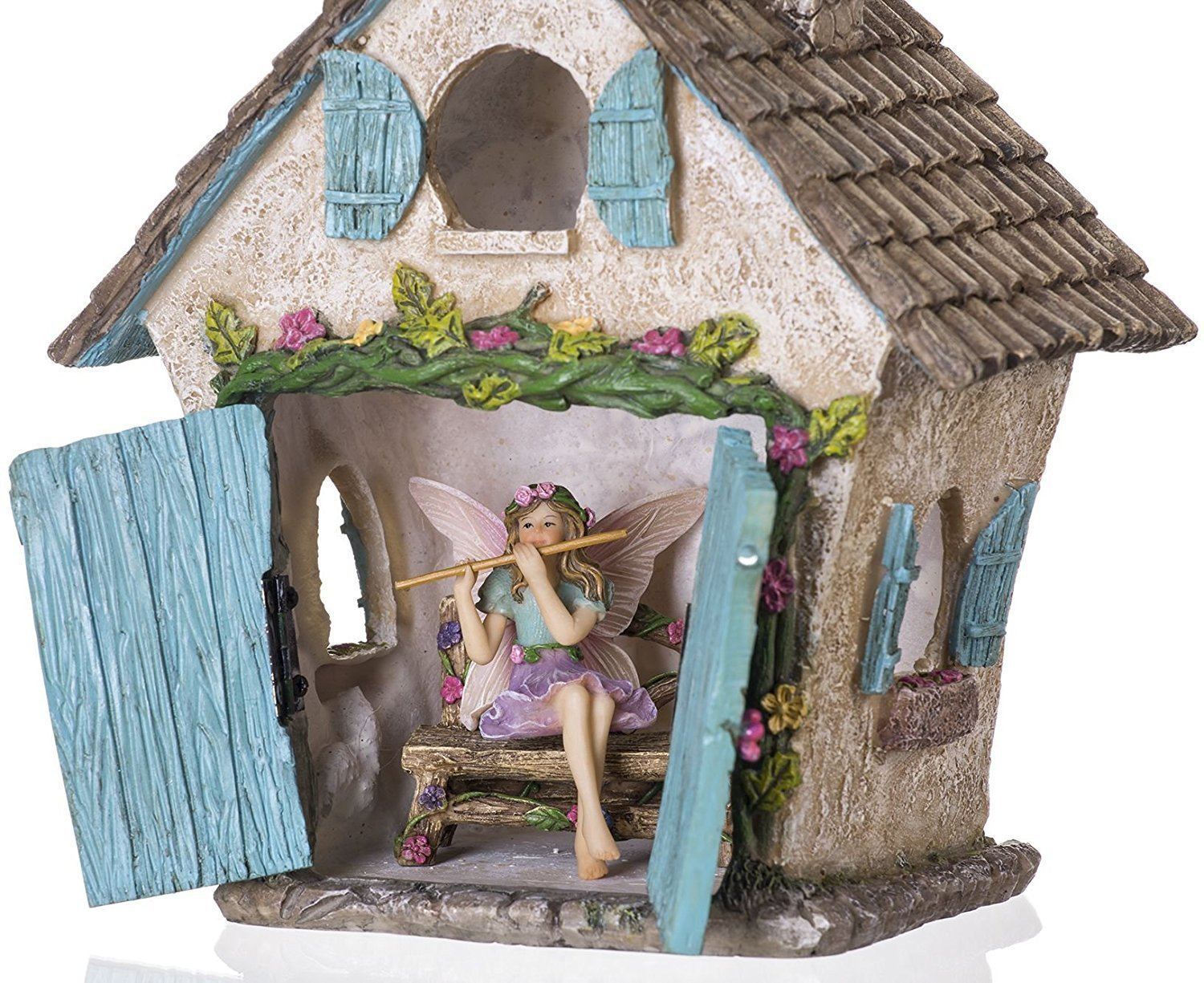 Enter into the magical world of fairies with this cute fairy house. You can open the doors, peek into the windows and watch what happens when the fairies get together on the inside. There is also a Nissa, the flute playing fairy, a bench adorned with flowers and a bunny. Available on Amazon for under $30
Hand Painted Fairy Garden Gnome Village Set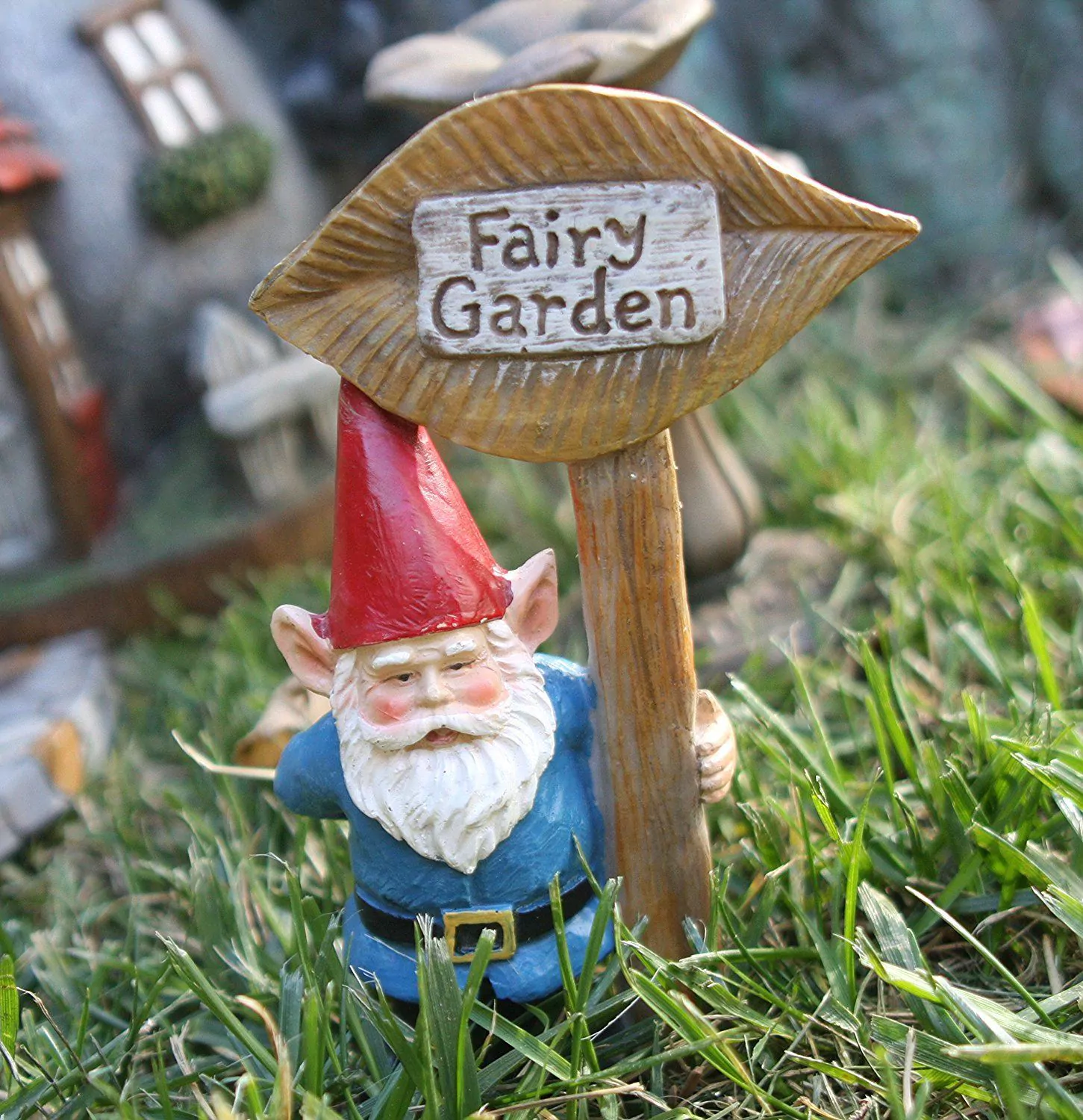 The fairies have nothing on the Gnomes when it comes to whimsical living quarters. This 6-pc Fairy Garden Gnome Village Set includes this delightful little fellow. He lives in a teapot and has a bright red hat and bushy white beard and is holding a sign that says Fairy Garden. He takes his tea on the rustic bench with a pebble walkway and a stone bridge leading to his domain. Available on Amazon with another 5-star rating for under $30.
The Relax by the Campfire Mini Gnome Set
When the Gnome above has his friends over they all relax by a warm fire and talk about old times in this Campfire Mini Gnome Set. Seamus the Mushroom Pillow Gnome, Uncle Bixly the Magic Flute Playing Gnome and Cousin Brambly all take time to relax. Seamus has even kicked off his shoes. Three adorable gnomes, a pair of shoes and a fire make this a cute addition to any fairy garden and retails for under $24 on Amazon.
Moonrays Solar Powered Garden Fairy with Glowing Cardinal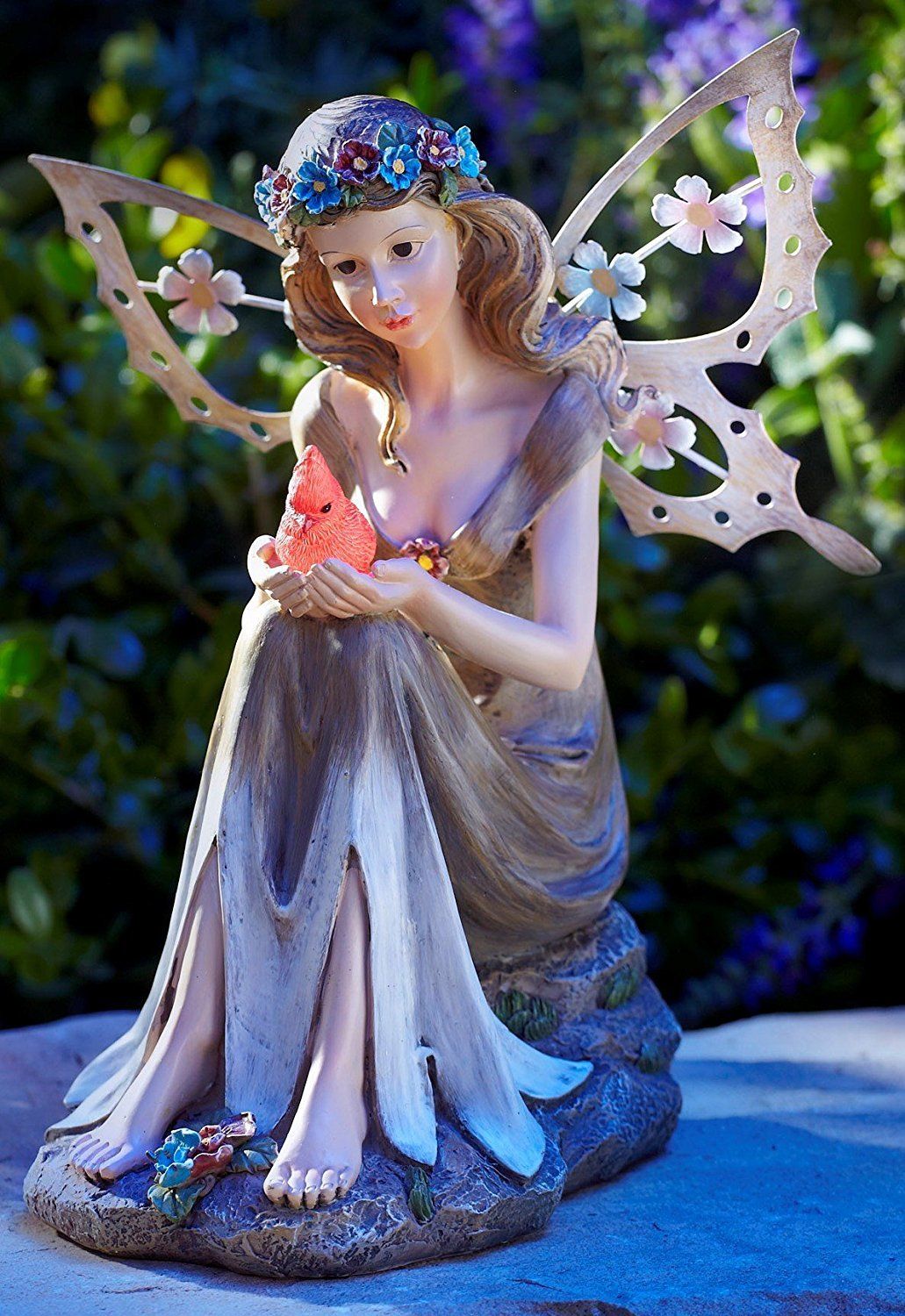 This lovely fairy is taking time to sit and visit with her friend the cardinal. Tuck her into any fairy garden and when the sun goes down watch the cardinal softly glow every evening. She is hand painted for a unique touch to your garden décor and has a solar panel which charges during the daylight and turns on at night. The Moonrays Solar Powered Garden Fairy with Glowing Cardinal retails for under $20 and has over 300 very positive reviews on Amazon.
Fairy Garden Enchanted Joshua's Miniature Tree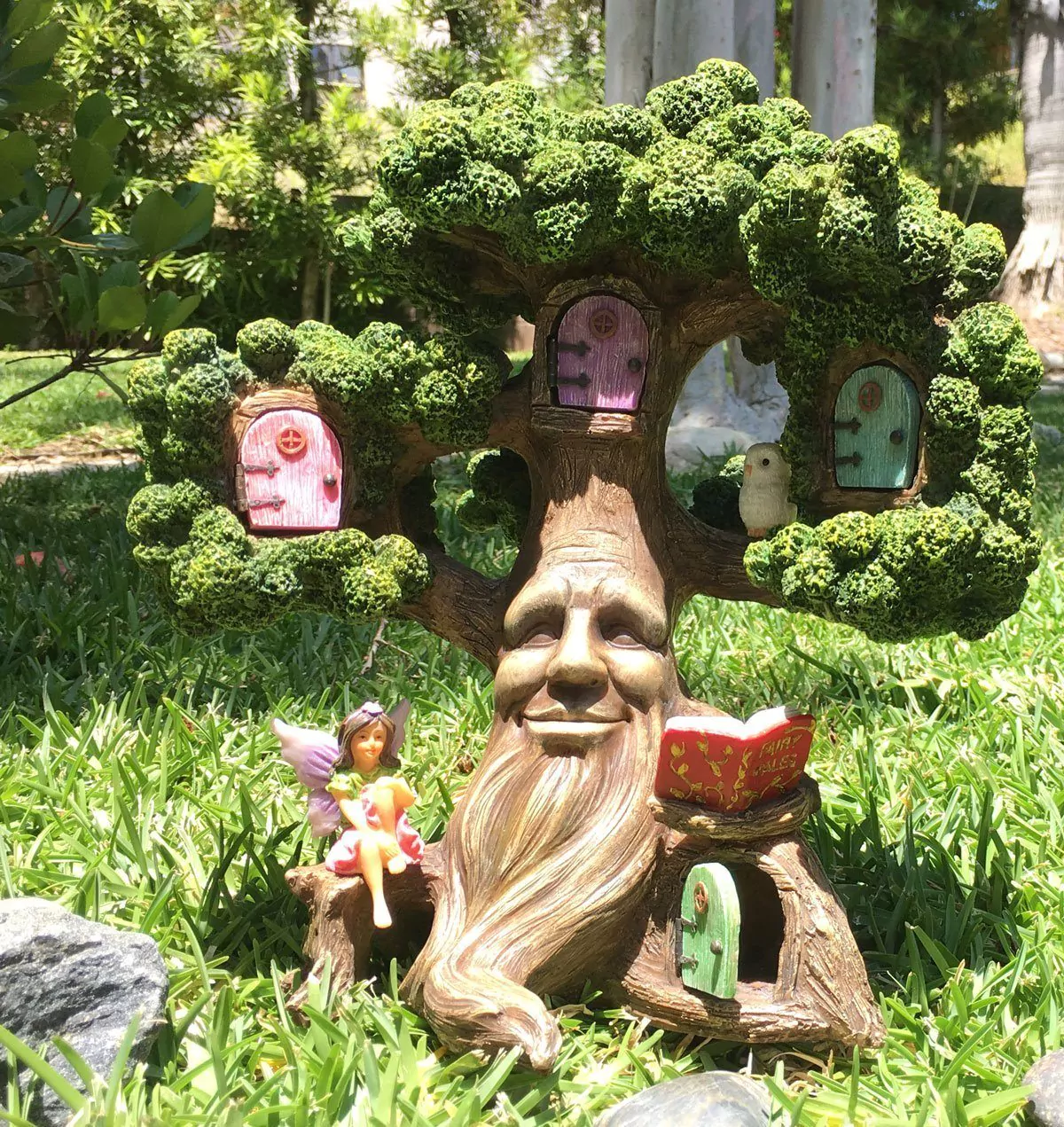 This Magical Enchanted Joshua's Fairy Garden Tree is a great accessory for your fairy & gnome garden. Its hand painted by artisans with amazing attention to the small details.
Add a touch of whimsy to your fairy garden with this fish pond kit. Fairies like to fish too. You get a mystical fish pond with the water fairy Willow to watch over it along with a fairytale log bridge and the fairy Lilly holding her bunny. It's a world of wonder just waiting for you to put in your garden.
Garden Gnome Home Door in a Tree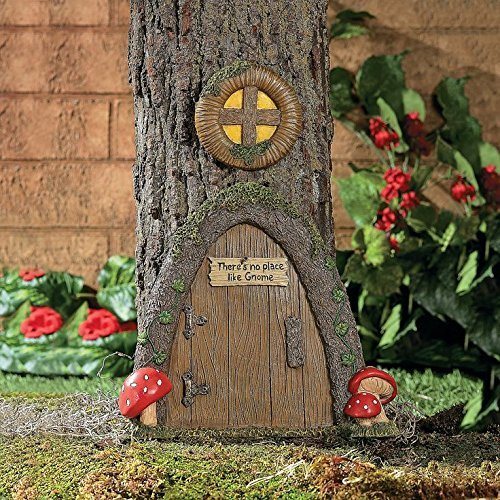 You can turn any tree base into a Gnome home with this fun Gnome Home Door in a Tree. It attaches to the base of a tree and lets everyone know this is where the Gnomes reside. It comes with a wee window to attach above and the sign on the door says, "There's no place like Gnome."
Miniature Fairy Garden Colorful Mushrooms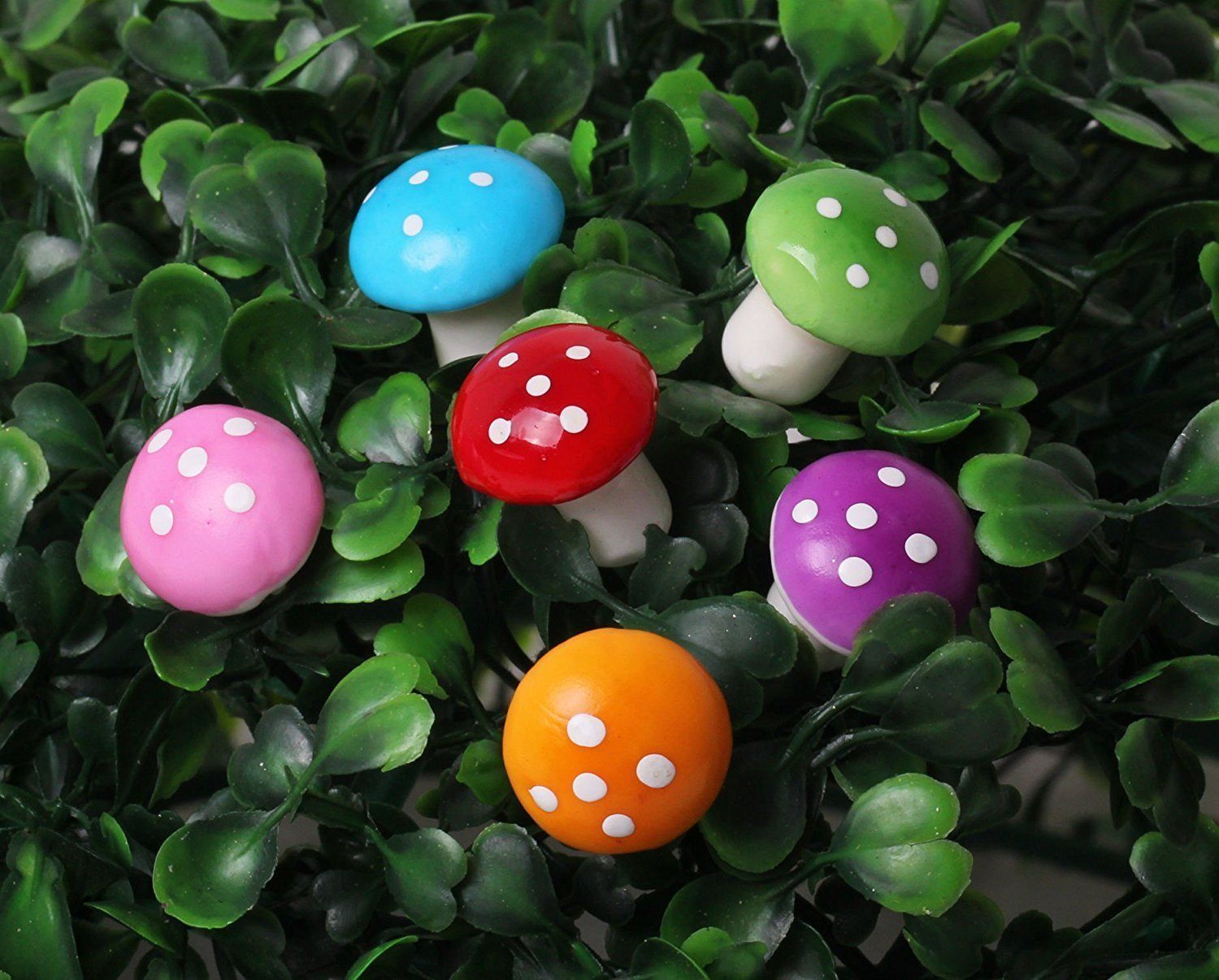 No fairy garden, or gnome village, is complete without some colorful mushrooms adorning the landscape. These tiny, bright mushrooms can be used in so many ways. Glue them on the roof of your gnome home, sprinkle them across your fairy lawn or circle the whole garden with them. You can get as creative as you want with this 60 piece set.
Miniature Fairy Garden Sisters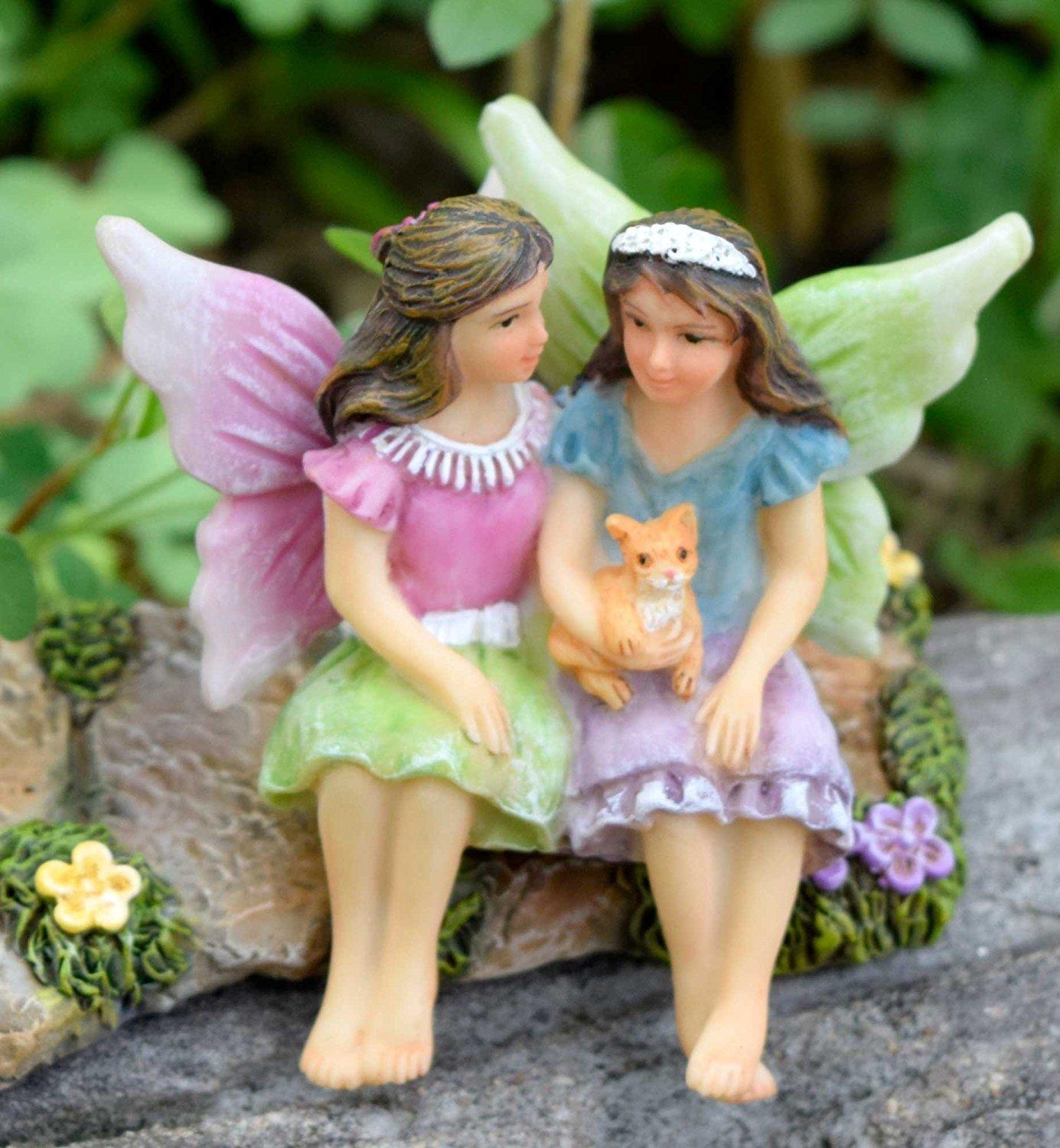 Jewel and Amy are fairy sisters just waiting to come play in your garden and visit their friends, the Gnomes. Made from high-quality resin that is water and sun proof they are sure to delight. Perfect size for any fairy garden whether indoors or out.
Fairy Garden Miniature Cardinal Birdbath Pick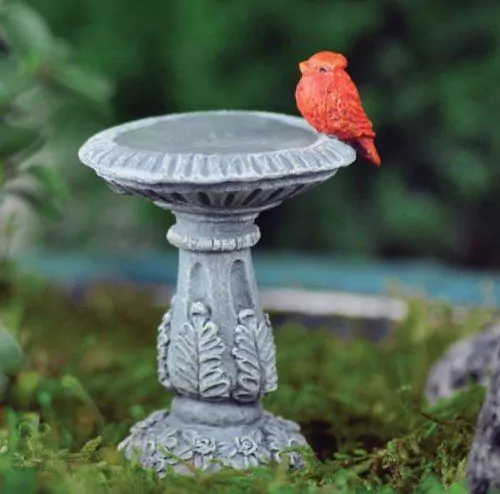 Every garden, big or small, needs a birdbath. And the cardinals seem to really love visiting fairy gardens. Pop this sweet birdbath into any area of your fairy garden. It's a favorite in the fairy garden realm on Amazon.
Creating a fairy garden, as you can see, is only limited to what you can imagine. These delightful accessories can get you started or add to your current fairy garden.