A bright spot for many people in an otherwise challenging year has been adding a furry friend to the family. Welcoming a pet into your home comes with an abundance of mental and physical health benefits and has been linked to reducing stress, providing a sense of purpose and promoting a physically active lifestyle: things we all desperately needed in 2020.
But as COVID-19 restrictions begin to lift, many dogs (and their pet parents) will experience a dramatic change in their routines, leading to questions like, who's going to let the dog out?
As the Director of Product Management at Chamberlain Group, I've worked with my product development teams and colleagues to create smart home access solutions that help solve for questions like: "did I leave the garage door open?", did the children get home from school safely?" and now "who's going to let the dog out?".
As a homeowner, you might already be aware of Chamberlain Group's LiftMaster and Chamberlain brand garage door openers and myQ smart access technology. Today, millions use the myQ app to control, secure and monitor important home access points (i.e. garage), and now myQ smart access can be used to tend to a loved pet's most basic need – going outside.
Now, this is no ordinary doggie door. This myQ Pet Portal was created for the discerning homeowner that wants to be able to safely let their pup out to potty and play when they aren't home, while at the same time maintain the external integrity of their home.
Designed for the Modern Pet Home
Early on in our development process for the myQ Pet Portal, we surveyed pet owners about what they needed and wanted in a product that lets their pets in and out of the house, and it became clear that maintaining the aesthetic integrity of the home, while having a door that could completely seal and lock was a priority.
Here's how we ensured that the myQ Pet Portal meets the standards of homeowners who want to keep the security and exterior appearance of their home intact while providing their pet with the freedom to access the yard when they need it:
Curated Style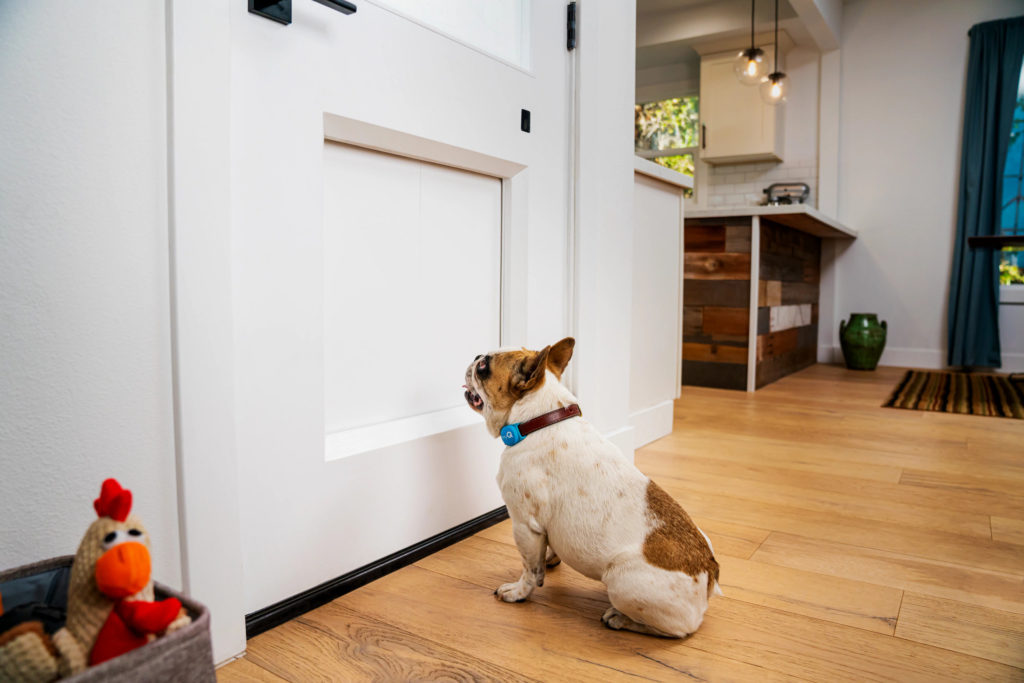 Being a great pet parent doesn't mean sacrificing your home's carefully curated look. Designed to replace an existing exterior door, the myQ Pet Portal comes in a custom offering of Kolbe doors with material and color options to fit your home's aesthetics. In the bottom half of the door, you'll find the pet door. Seamlessly integrated within the door, the hidden panel looks like a regular door panel, but slides open and shut, working with a specialized collar sensor worn by your dog.
Unlike conventional retrofit pet doors, the myQ Pet Portal goes virtually unnoticed. Visitors and passersby won't even realize it's there. The door also automatically closes once your pet passes through so no additional unwanted critters can tailgate their way in.
Seamless Home Integration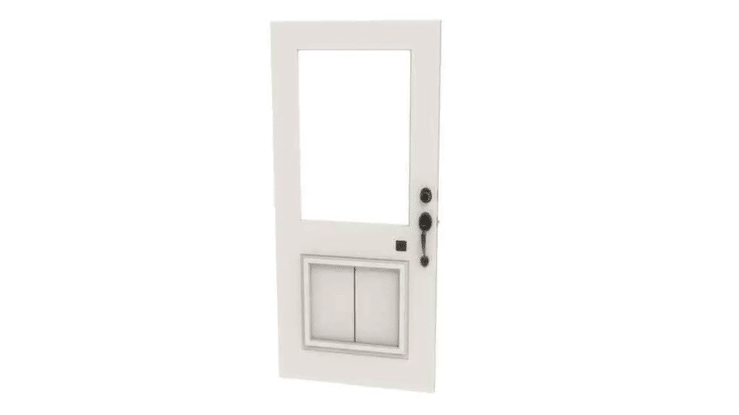 Another thing we learned early on from surveying pet owners was that a door with windows is a must-have. In a survey of over 500 homeowners, we learned that 76% of hinged doors used by pets have a window that occupies at least a quarter of their length. So many respondents named the light from the window in their door as a priority, that we ultimately designed a door that could accommodate the portal and a window, which is how we came up with the elevator style opening for the portal. The result is an attractive door that will suit any home's aesthetics and doesn't compromise on natural light.
Weather Resistant
Many pet doors require that you add weather sealing to keep the elements out. The most traditional ones are little more than a hole in your door with a just a light flap standing between your home and the weather outside. Unlike retrofit doors, the myQ Pet Portal's seamless design between panel and door limits drafts. The door has also gone through standard door industry weather proofing measures and the myQ Pet Portal also automatically secures and self-locks after your pet traverses the opening ensuring the home that the wind and rain stay outside where they belong.
Secure for your Pet AND Home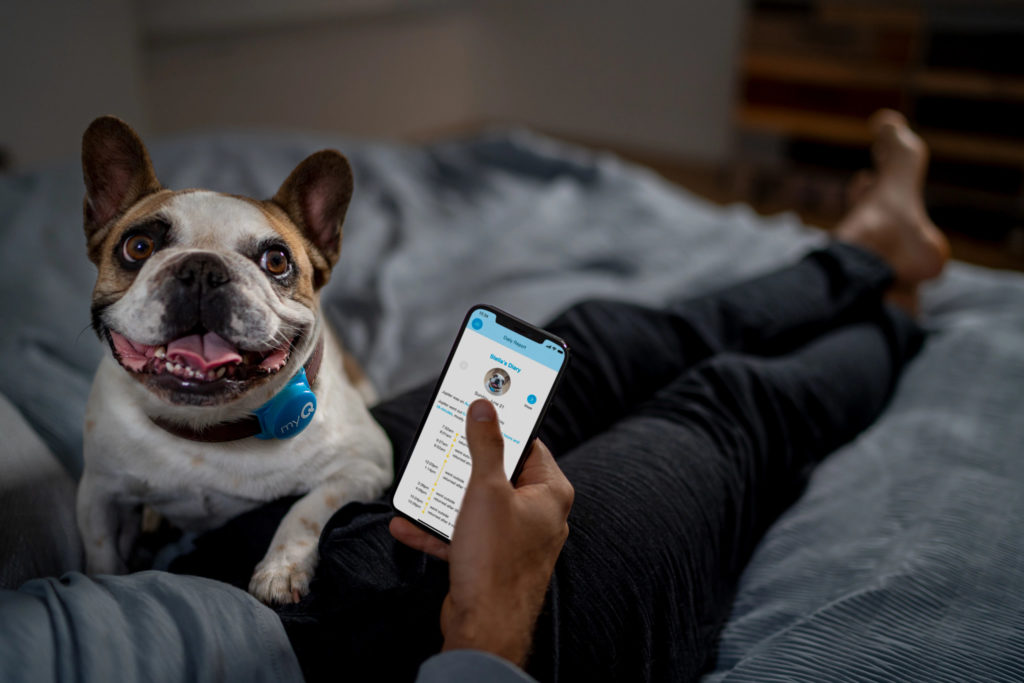 Designed with home security, pet safety and a wide range of dog sizes in mind, the myQ Pet Portal includes safety sensors to ensure safe passage. Where traditional retrofit dog doors can leave your home exposed to the elements, pesky critters, and other unwanted guests, the Pet Portal has been intentionally designed with the following features to give pet parents peace of mind:
Uniquely assigned myQ Pet Portal Sensor worn on the dog's collar ensures that other pets won't try to escape. 
An auto-close and self-locking system triggers after your pet traverses the opening for security and to ensure no pesky wildlife follows your pet in.
Two-way camera and audio that enables real-time and recorded viewing of a pet's comings and goings so you can see what is happening at all time. 
Pet parents can get Daily Reports on a pet's comings and goings, customize alerts and preferences for how Fido can enter/exit the portal via the myQ Pet Portal App.
myQ Pet Portal App For Convenience and Wellbeing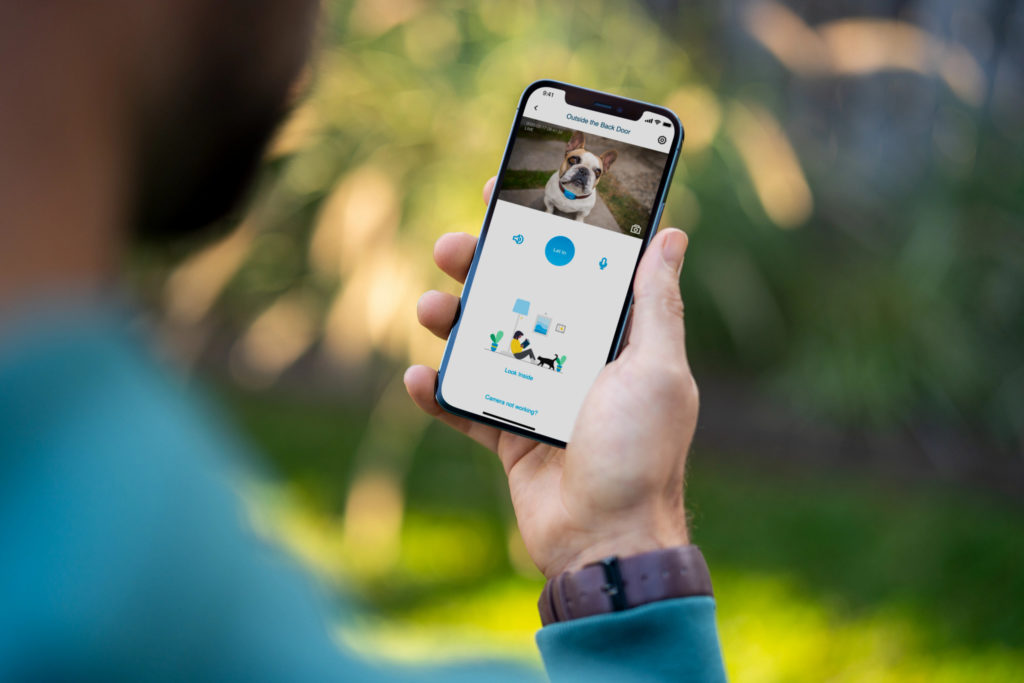 The best part about the myQ Pet Portal is that you can have access to your furry friend anytime through your smartphone. The experience is managed via the myQ Pet Portal app which has different modes to accommodate your schedule and needs as a pet owner
When set to Automatic mode the system will recognize when the dog is near the door, prompting it to open automatically so the pet can enter and exit when she needs to.
When set to By Request mode, you receive an alert through the app when the pet is by the door and can grant access to the pet through their smartphone anytime, from anywhere.
Additionally, cameras on each side of the door allow you to visually confirm when your dog comes and goes within the app, and even to talk with them via 2-way audio. With Daily Activity Dashboards, you can see when your dog went out and how long they stayed.
If you already have the myQ app, you can sign up for the myQ Pet Portal app under your existing account.
You can go to myQpetportal.com for more information and to place your pre-order for delivery in Spring 2021.