Away from home and wondering if you left the garage door open? Or want to make sure your kids got home safely and closed it behind them? Stop the worry with Chamberlain MyQ Garage.
The Chamberlain MyQ Garage smartphone controller gives you the ability to connect to your garage door from anywhere. It's compatible with existing garage door openers, and with most brands and units manufactured since 1993. Simply install MyQ Garage by mounting the wi-fi hub next to your garage door opener and the sensor on the door, and connect to your wi-fi network – no wiring required! Download the free Chamberlain MyQ Home Control App, and you've got complete control and peace of mind, wherever you are – with no monthly subscription or added fees.
MyQ Garage serves as an added pair of eyes by warning anyone inside the garage when the door's closing, and integrating with the door's safety sensors to prevent closure when something is in its path. For homeowners replacing broken or outdated garage door openers, Chamberlain also offers smartphone connectivity built directly into their line of garage door openers enabled with MyQ technology.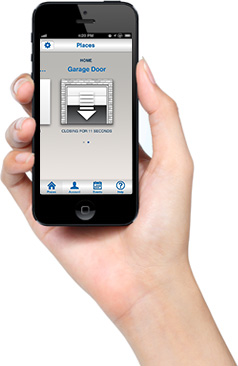 Even more, the free Home Control App's Account Linking center offers access to and control of other devices around your home, including the Nest Learning Thermostat™.
Discover more ways to stay connected to your home at www.Chamberlain.com/.