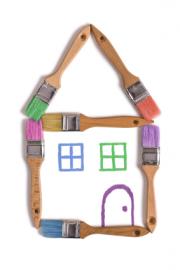 Today was an exceptionally crisp New York day and it truly had me excited that fall was right around the corner. We always say that fall is the perfect home improvement season and today was a great example of why. The weather was crisp and cool with low humidity; perfect weather for indoor and outdoor projects alike. Perhaps most perfect for painting project though. If a painting project is in your future dive right in the weathers fine. This is a great opportunity to go with a completely new look for your room or just freshen up what is already there.
We have several rooms at home that need a makeover. Our foyer has not been updated since we first moved in five years ago and I have chosen to go completely bold. The walls are going to be painted navy blue! I know it sounds crazy but the room gets a lot of light and something in me is just asking for a navy room with crisp white trim and gold accents.
Mythic Paint, one of my favorite environmentally friendly paint companies, has the best color, Smooth Indigo. I have used their paints ever since I discovered them two years ago at the National Hardware Show and have never looked back. They wear exceptionally well; have zero VOC's, and no odor. I even painted my sons room when I was 7 months pregnant with him. They offer 1200 plus of their own colors and their colors are just amazingly beautiful! Our other two room that need a lift are the guest room and our bedroom, those two rooms come courtesy of our central air conditioning project that is about to get under way. Their color fate currently remains undecided.
To choose a paint color that is right for you consider these things; how you want to feel when you are in the room, what fabric or accessory is your favorite item in that room, and how big the room is. Color has a ton to do with how you feel so if you want to relax choose soft colors, soft doesn't have to mean light just not an overly vibrant hue that jumps off of the walls. If you want to feel hungry then go with reds or yellows, it's a scientific fact that's why most restaurants feature these colors. You get where I'm going here.
Once you've discovered what your favorite item is in the room look at the colors in that piece of fabric or art and pick a color in there that speaks to you. Not only will you respond to that color but you know it will work with what you've already got in there helping you to save a buck or two. As far as room size smaller rooms should be lighter to give the feeling of more space but if you are feeling adventuress try painting the ceiling the same color as your wall, it surprisingly make the room seem much bigger.