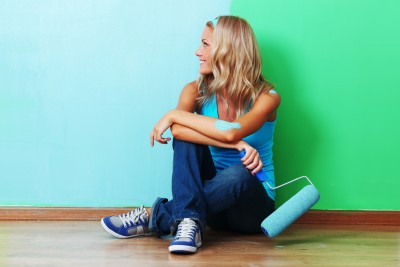 For this year's "in" paint colors for home decorating, look outside. The range of beautiful greens and blues found in the natural world can inspire peace, calm and renewal, making them popular choices for coloring your indoor world.
If you'd like to refresh a tired living space, consider going green. Green has always been symbolic of new life, and brushing on a shade of green creates a beautiful beginning for a room redesign. For inspiration, think of all of the greens you'd spot in a garden or grove: apple, asparagus, celery, fern, honeydew, mint, olive, willow. You can even combine green's inherent refreshment with the calming qualities of blue by choosing a color that offers the best of both, like aquamarine, teal or turquoise.
But don't count out true blues when choosing interior paint colors. Robin's egg or sky blue can lift spirits and create a soothing sanctuary, while darker shades like slate, midnight blue and navy lend strength, stability and dramatic contrast when paired with lighter tones.
What's more, because various greens and blues work so well together, just about any color combination you choose from these extended color families will create a visually pleasant interior. So really mix it up when putting together that new paint scheme. Try using different blues and greens on the walls and trim, paint an accent wall in a slightly different color from the others, or incorporate patterns into the paint colors used on walls. You can even paint one or more pieces of furniture in a contrasting or complementary green or blue.
Whatever shades you choose, you can feel confident that, just as they do in the world outdoors, greens and blues will create a harmonious, tranquil realm indoors.