Trex Seclusions is the next home improvement advancement from the makes of Trex decking, the leading brand of composite decking. This privacy fencing, made of a composite of recycled plastic and reclaimed wood, is durable, attractive and includes easy to install components.
The perfect fence should do more than just define a border. It should promise privacy and be welcoming at the same time. It should raise property value while being low-maintenance. It should look as good on the inside as it does on the outside. It should stand up to the tests of time and weather and the occasional errant baseball. But most of all, the perfect fence should be an extension of your home.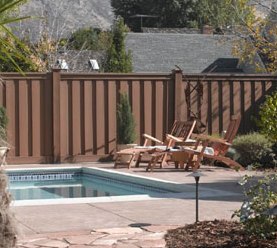 Trex Seclusions fencing will not buckle, warp, deteriorate or wear over time. It is fencing is available in four popular colors and never needs to be painted for protection. Like all Trex decking products, Trex Seclusions provides long-term value with years of worry-free performance. Detailed installation, product details and installers are available at www.trex.com.