After a long and hard winter like the one that's wrapping up now, finally getting outside to take in the fresh air and feel the spring sunshine is high on many priority lists. But the last thing you want to have to do is spend lots of time cleaning and maintaining your deck – you just want to enjoy it. With Trex Enhance decking you can skip the sanding, staining, sealing and painting, and go straight to relaxing.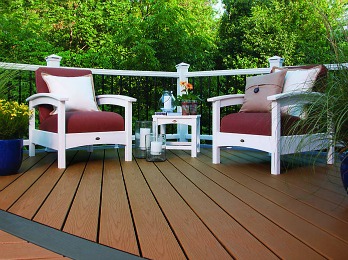 Made of high-performance, low-maintenance composite material, Trex Enhance decking stands up to even the harshest weather. And, unlike wood – which requires regular maintenance involving lots of time, materials and labor – all this decking needs is an occasional soap-and-water cleaning to keep looking and performing like new for decades to come.
Fade-resistant Trex Enhance decking won't rot, warp, crack or splinter, and is backed by a 25-year Fade and Stain Warranty. Trex Enhance is available at the Home Depot in two colors – light brown Beach Dune and new, nature-inspired Saddle.
True to Trex's environmentally friendly legacy, Trex Enhance is made of 95-percent recycled content, including reclaimed wood, sawdust and household plastics such as newspaper sleeves, cereal box liners and sandwich bags. For more information, visit www.Trex.com.