Enjoying a relaxing summer day in your yard or garden can go quickly south if a slithering snake shows up to share your love of the great outdoors. With over 50 different snake species found across the United States; it can definitely be challenging it distinguish a threatening and venomous yard snake from a more relaxed one.
To help you know whether it's time to panic or not, here's is list of the most common snakes you're likely to find in your yard or garden; including their common regions, appearances and of course if they are venomous or not!
Garter Snakes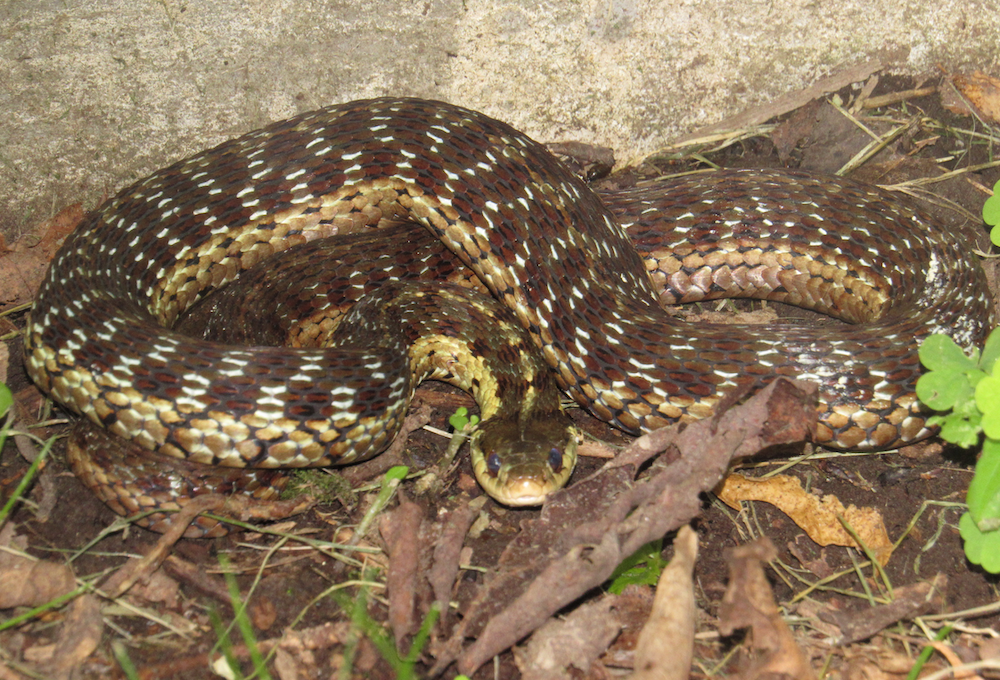 These snakes are probably the most common snake found in your garden! They are found all over Northern America, and may even be kept as pets.
Garter Snakes feed primarily on insects. Unfortunately, not enough to help out any unwanted garden pests
Appearance: Small sized (23 to 30 inches in length); thin; olive or brown with many different colors (blue, green, white) or patterns (including checkered or stripes); dark heads and light bodies.
Venomous: No
Water Snakes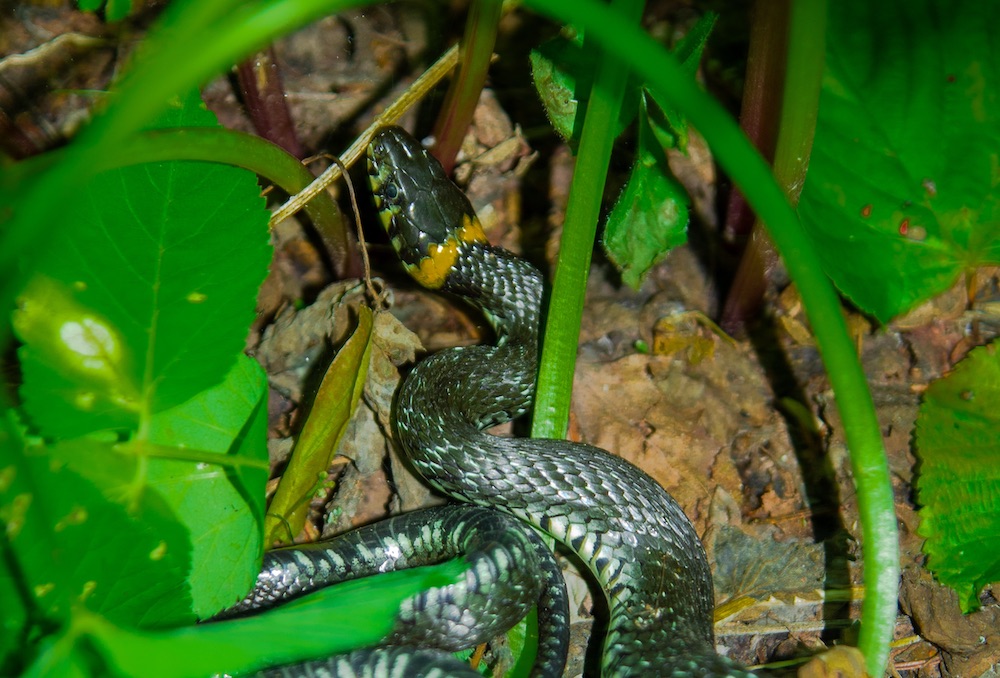 The water snake comes from the Neordia species and includes 10 different species. Common species includes
Northern Western Water Snake (most common)
Banded Water Snake
Brown Water Snake
Everything Reptiles state this snake is common in the Southern and Eastern parts of North America. This includes Florida, Georgia, Alabama, and Mississippi.
Although some species of water snakes are more common in some areas than others; they are still one of the most common snake types found in gardens across America.
Appearance: Varies in species; medium to large sized at 3 to 5 feet); usually brown, grey, green with dark spots or bands,
Venomous: No
Diet: Fish and amphibians. Did you know they swallow their prey alive? They also prefer slow-moving fish!
Gopher Snake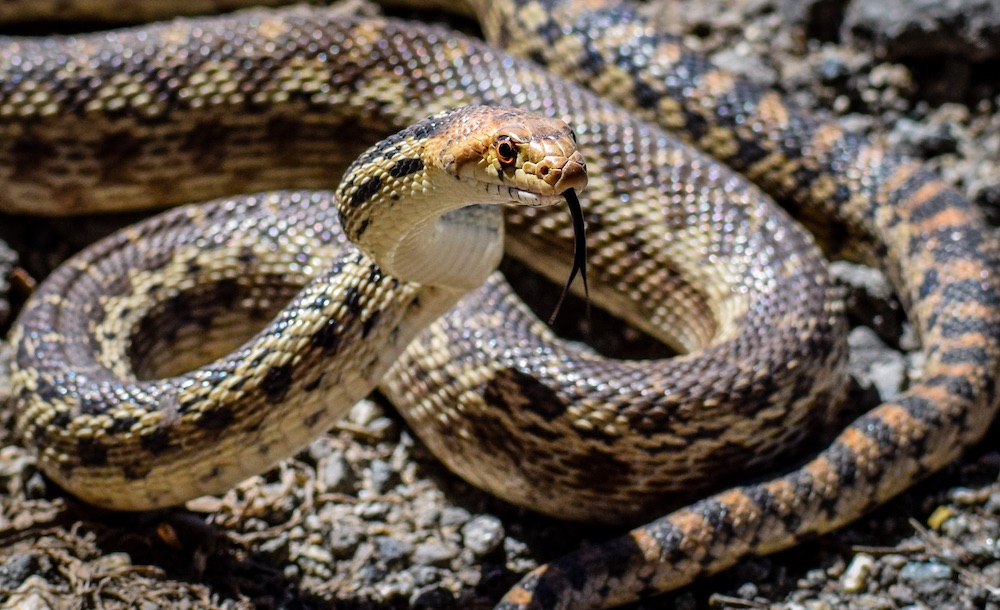 The Gopher Snake is a constrictor snake who may be quite the intimidating find in your garden!
They're often confused with the rattlesnake due to their imitation behaviour of defence to threats.
They are often found in the West Coast; they are frequently found throughout California
Appearance: medium to large sized (3 to 8 feet in length); large eyes. two dark lines on their faces; colors range from light to dark brown and may vary due to their environment (they are known to blend in with their surroundings; big dark spots on their back and small spots on their side; light colored bellies.
Venomous: No
Pine Snake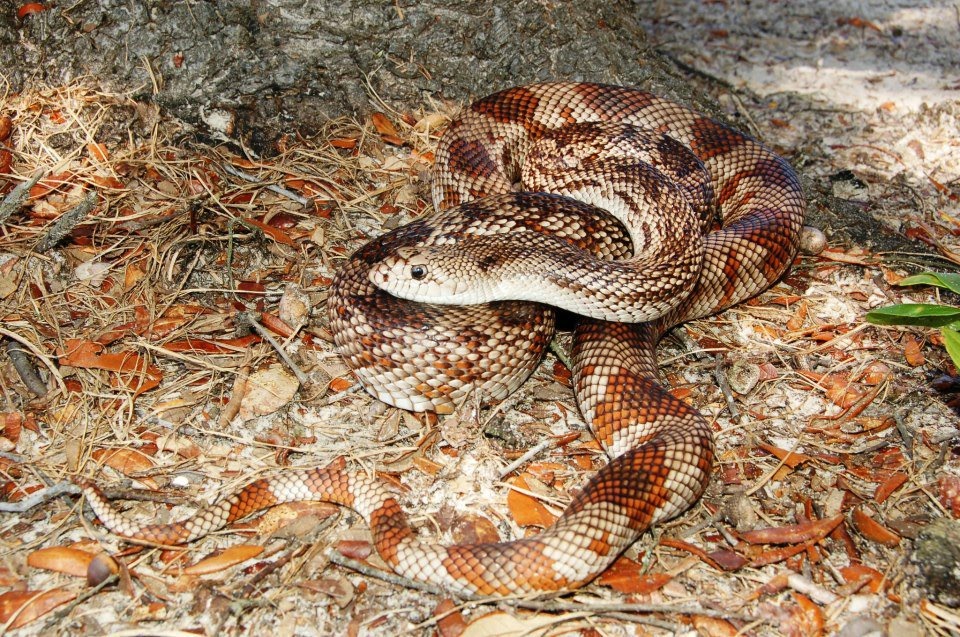 They are closely related to Gopher Snakes but are usually found on the East Coast.
Did you know the pine snake have the rare ability to dig holes using scales on their nose; this is how they enter the burrows of their prey.
The pine snakes diet consists of rodents, amphibians, lizards and birds.
This species is known to be gentle, and docile so we wouldn't be too alarmed.
The Pine Snake includes four sub-species which include:
Northern pine snake
Black pine snake
Florida pine snake
Bull snake
Appearance: large sized (up to 6 feet in length); colors include white, yellow or light grey; dark square spots on their sides and back
Venomous: No
Rat Snake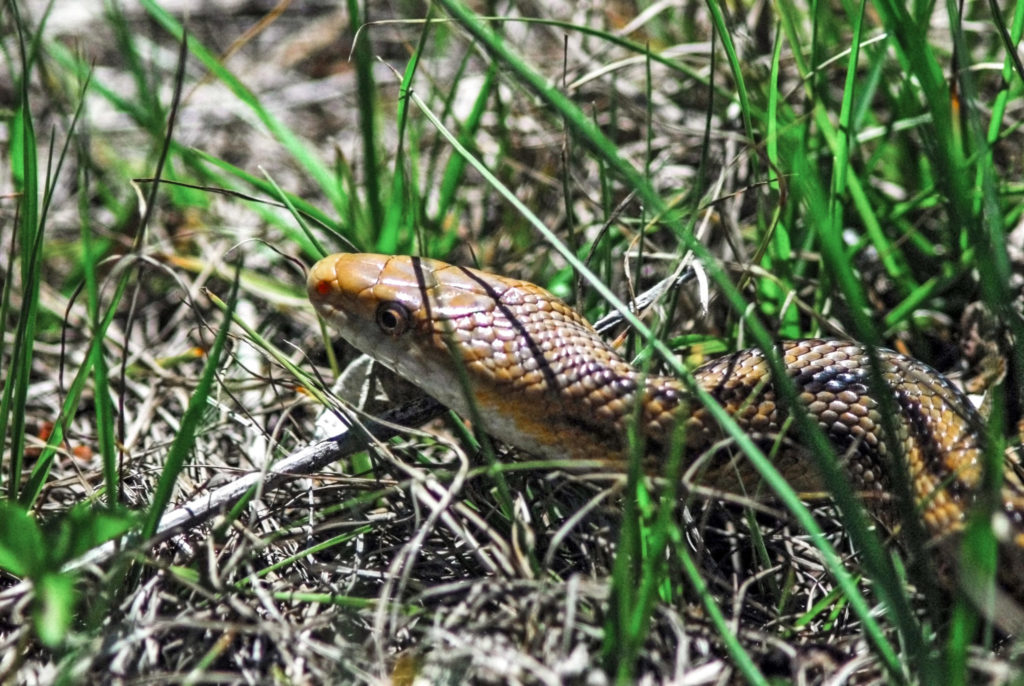 The Rat snake is another species commonly found throughout North America. As their name entails, their favorite meal are rodents.
The Rat snake is quite shy but however can be aggressive if they feel threatened, so give them some space! They tend to release a foul smelling musk if they feel cornered.
Appearance: Varies tremendously (i.e. they may have different colors and patterns); common colors include black, red, brown, grey; medium to large sized (4 to 6 feet in length); slim; keeled scales; wedge headed.
Venomous: No
Milk Snake
The Milk snake is found just about anywhere in Northern America. In fact, they have a larger range in habitat than any other snake.
They are a nocturnal snake, and love hunting rodents during the night. They are not threatening to humans and are often kept as pets!
Appearance: Small sized (14 to 69 inches in length); brightly colored and patterned; colors are banded; a light colored Y or V on their back.
Venomous: No
Corn Snake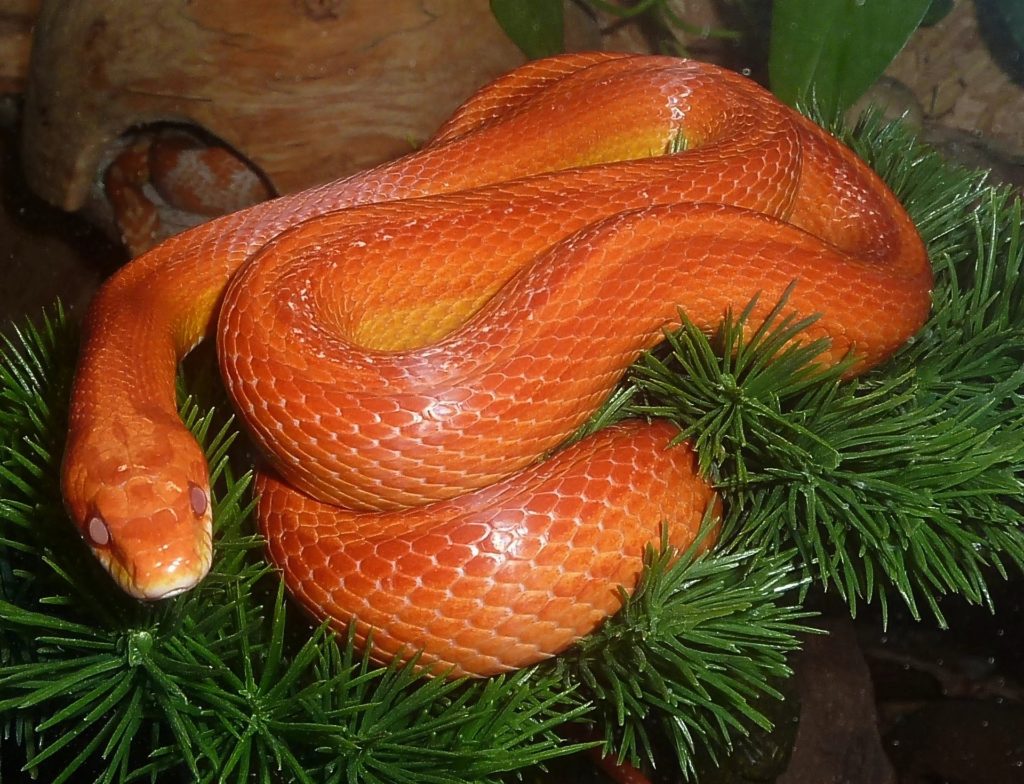 The Corn Snake are even-tempered and are often kept as pets!
They are also known to be quite the Houdini's and often escape from their homes.
In the outdoors, they are usually found in the Southeastern areas of America. From New Jersey to all the way to Mississippi.
Appearance: Small to medium sized (18 to 44 inches in length); brightly colored (usually red or orange/brown); often mistaken for copperhead snakes; spear-shaped head.
Venomous: No
Hognosed Snake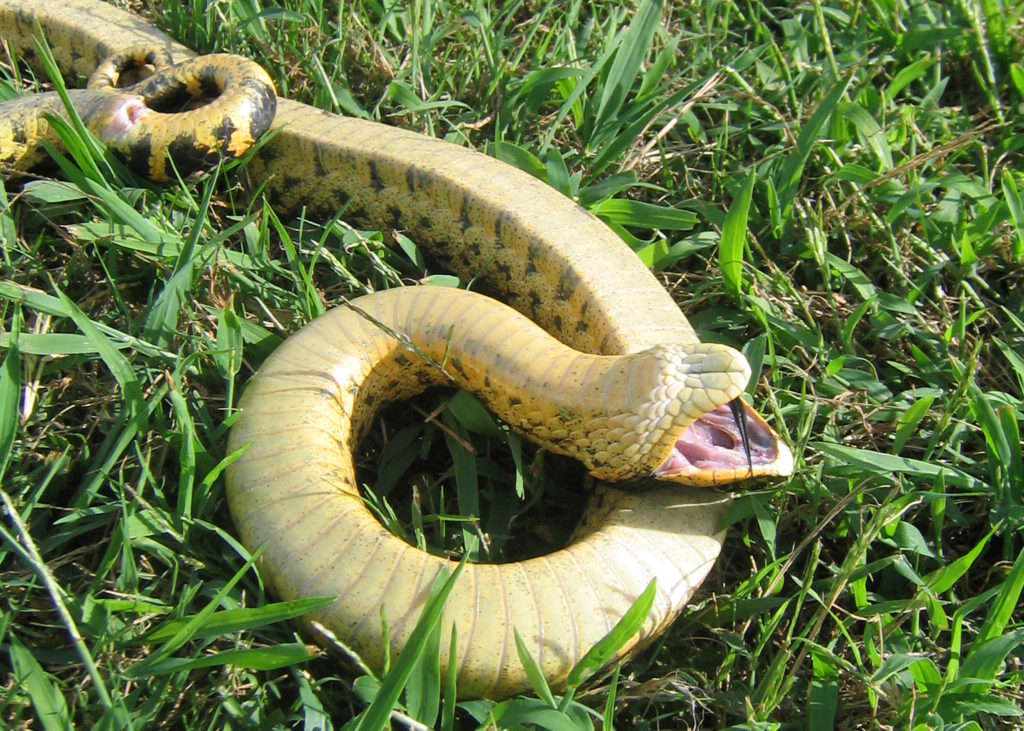 Specifically, the Eastern Hognosed Snake is often found on the East Coast of North America.
When threatened, they may either puff up their heads and hiss or even lunge in a cobra-like manner; or they may choose the latter and simply play dead (they even stick-out their tongue, making it hard to be scared).
Appearance: Small to medium sized (28 to 46 inches in length); thick-bodied; up-turned snout; range of colors (including, green, red, orange, brown, or black); variety of patterns (plain, checkered or spotted); they have a lighter tail than belly.
Venomous: No
Western Racer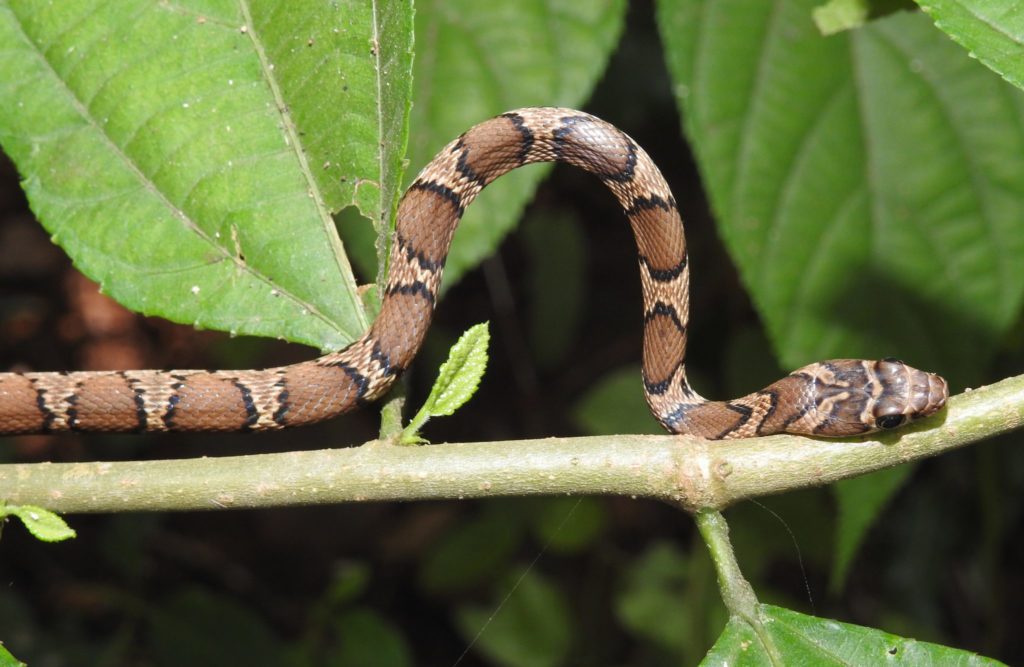 The Western Racer snake is one of the most common snakes found in California; though they are also found heavily in Oregon, Nevada, Mexico, and Colorado.
This species is super, super-fast and they love to climb; so you will often find these snakes curiously investigating your taller trees; although they will swing up there almost too quickly.
Appearance: medium to large sized (35 to 75 inches in length); colors include brown, grey or green; yellow bellied.
Venomous: No
Copperhead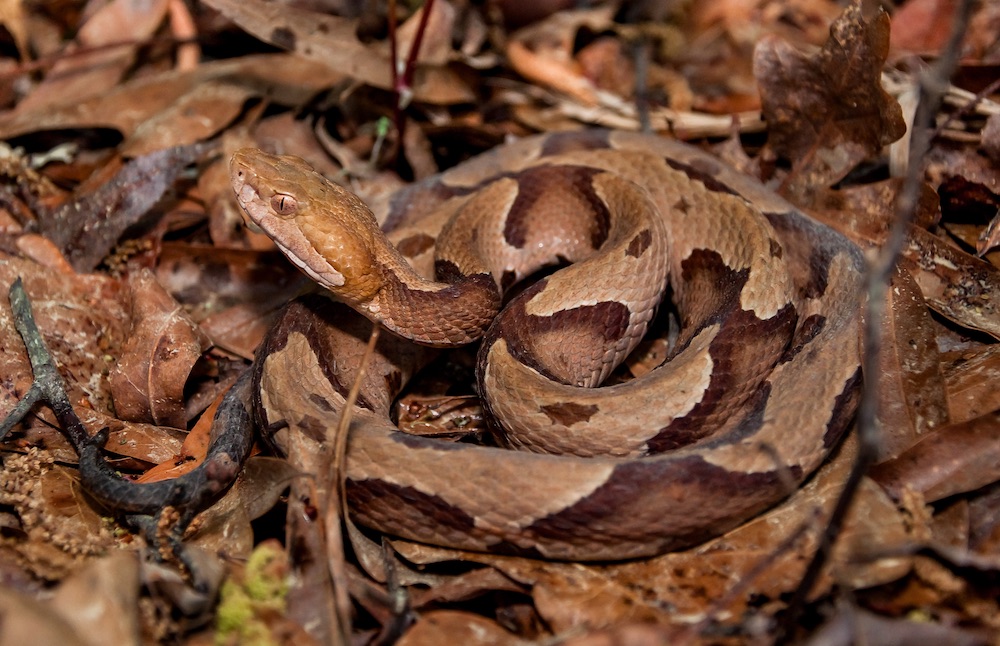 The Copperhead snake is voted the most likely to bite! They are a type of Pit Viper.
These snakes are commonly found from southern New England to West Texas and northern Mexico.
Appearance: Medium sized (2 to 3 feet in length), copper colored heads, hour-glass shaped pattern (dark, brown, or reddish in color), white, yellow, or tan bellies with dark spots.
Did you know that baby Copperheads have yellow-tipped tails and are greyer in color than adults!
Venomous: Yes
Summary
There we have it, a list of 10 common yard snakes which you may find in your garden throughout the United States.
Although this only covers a small portion of what you may encounter; we hope our information on their location; appearance and threat level was helpful.
Remember, everything reptiles are not always as scary as they may seem.