Gardening and landscaping is a great way to spend time outdoors and in nature while staying close to home and enjoying numerous benefits to your physical and mental health. However, anytime you're outdoors, it's inevitable you'll encounter wildlife at some point, and that includes common yard snakes.
Despite their reputation and widespread phobia, snakes are actually very shy and reclusive animals. They really don't want anything to do with people and would much rather avoid us whenever possible. But they are still wild animals, and they will attack if they feel threatened.
While the vast majority of snake species are harmless to people, there are a variety of venomous snakes that have the potential to be dangerous, so avoiding snakes in the backyard is paramount! To protect yourself from common yard snakes and stay safe, just follow these these 10 dos and don'ts!
Educate yourself on local snake species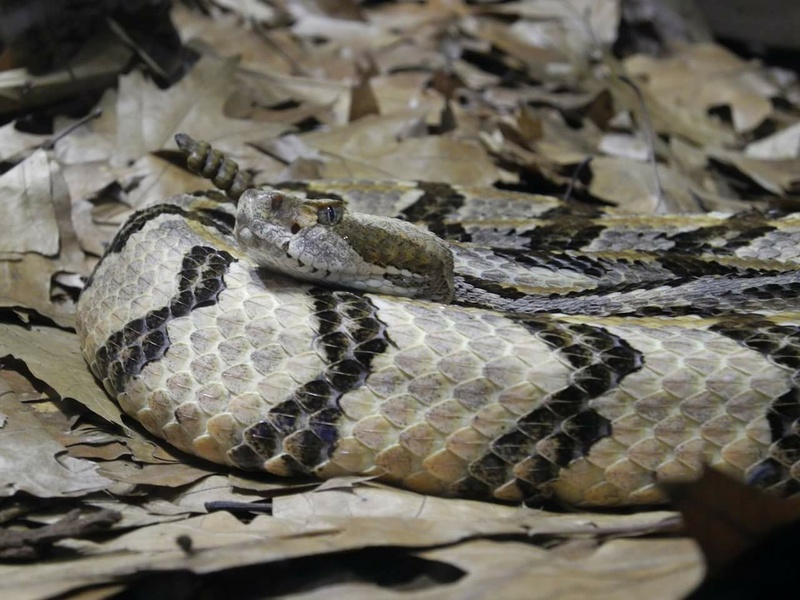 The first and probably most important tip we can offer for dealing with snakes is awareness!
Knowing the kinds of wildlife in your area, especially common yard snakes and how to identify them, is an incredibly useful skill that everyone should have to some extent – but is most important if you're spending a lot of time outside.
Many areas of the world have venomous snakes present, and that includes much of the United States.
Copperheads, rattlesnakes, and cottonmouths are widely distributed across the country, and you're likely to see at least one in your garden or yard at some point – especially during the breeding season – so it's a good idea to educate yourself on local species!
There are plenty of ways to do this, from local wildlife guides and websites to unique tools that make identification easy!
Don't Approach, handle, or threaten wild snakes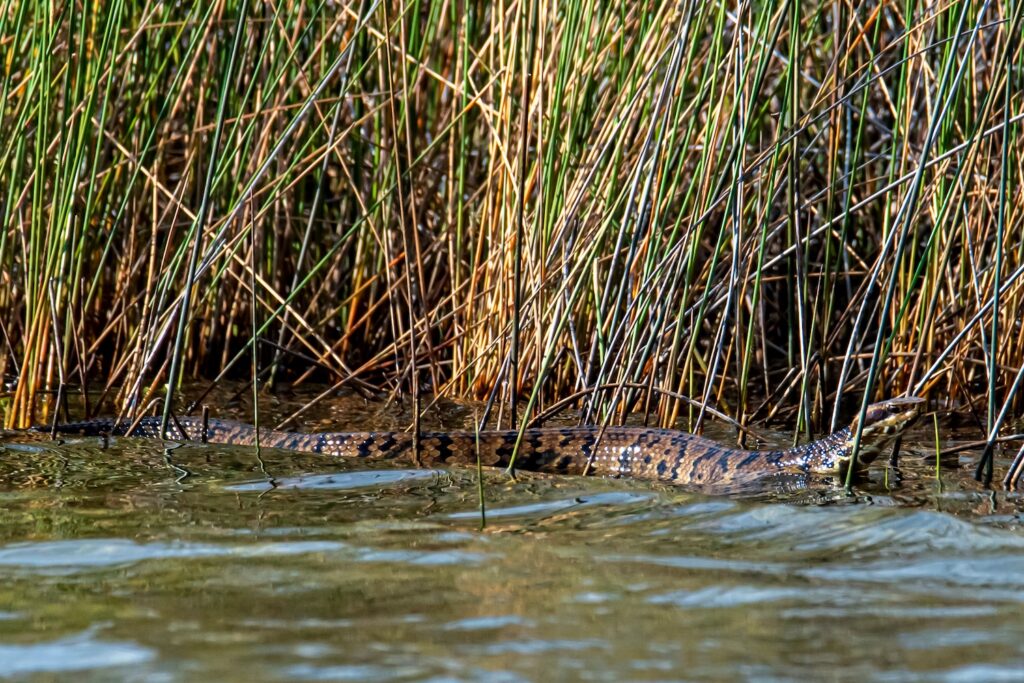 Another important safety rule for dealing with any wildlife – not just snakes – is to keep your distance!
Wild animals rarely want anything to do with humans and will more often than not leave you alone so long as you do the same.
This is just as true for snakes, even venomous ones, as biting is generally a last resort for dealing with a potential threat.
To stay safe from potentially dangerous animals like venomous snakes, the best solution is simply stay away from them!
What to do if you spot a common yard snake
If you run across a snake in your backyard, the best approach is:
Remain calm
Keep children and pets indoors
Don't try to get close, pick up, or attack them
Many people often ask what to do with a snake in my backyard. The best advice is just to leave them be and they'll most likely leave on their own.
However, if a snake is someplace you'd really rather it not and need them to leave quickly, you should still keep your distance. Spraying it with a hose will help chase them away without causing any harm.
Be aware and practice caution when outdoors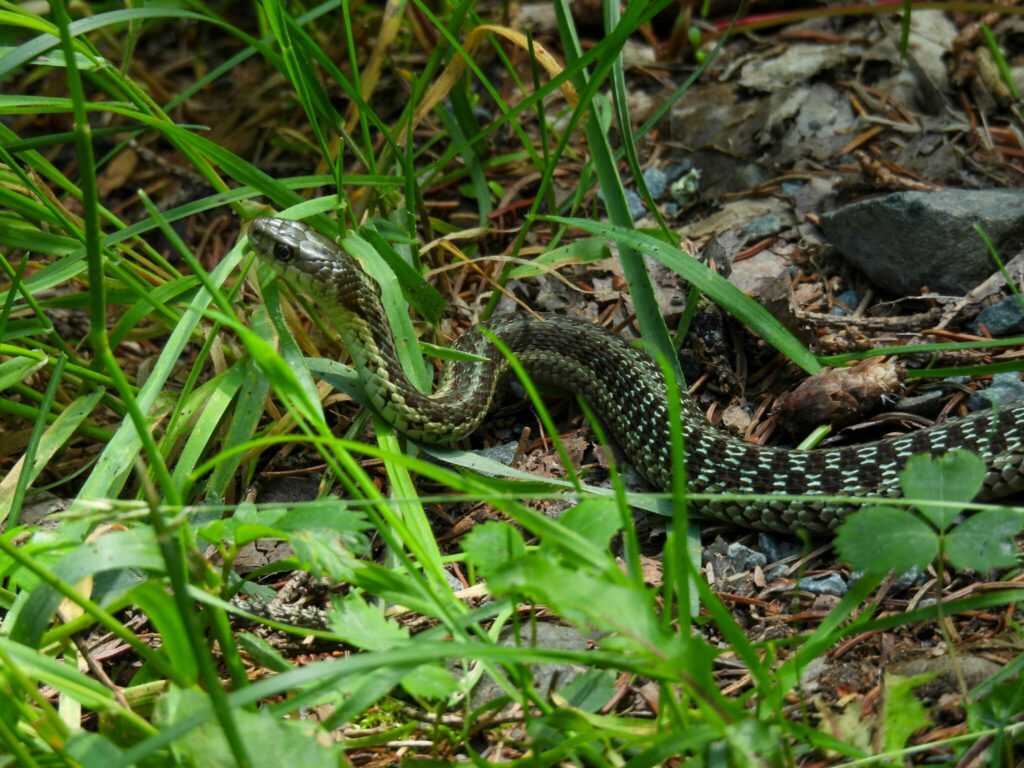 Often the best way of staying safe is taking steps to avoid dangers in the first place, and that's especially true with animals!
By being cautious and aware of your surroundings, you can reduce the risk of accidental close encounters to almost nothing – just follow these simple rules:
Pay attention to where you are stepping
Never reach into places you can't see inside
Wear close shoes and long pants when walking through brush
Wear gloves and long sleeves when touching potential hiding spots
Use a light at night when moving through areas venomous snakes may be
Snakes aren't aggressive animals and only attack if they feel threatened. But even if you're not intentionally bothering them, getting too close without realizing it has the potential to spook a snake into biting anyway – these rules are a great way to prevent and protect against this happening.
Don't feed pets or wildlife outdoors
Here are three good ways to keep pets safe and avoid attracting common yard snakes!
Pets like dogs and cats are curious, and if they encounter a snake (such as when they're outside), they're likely to get up close and investigate it – which can scare the snake and trigger a defensive bite.
Also, leftover food from their meals can attract other small animals – like rodents – to the area, and thereby attract hungry snakes as well!
The same applies to food you may leave out for local wildlife, such as bird feed or corn, so if you're going to be putting food outdoors make sure to clean it up regularly and/or place it far away from your house.
Keep your yard neat and clean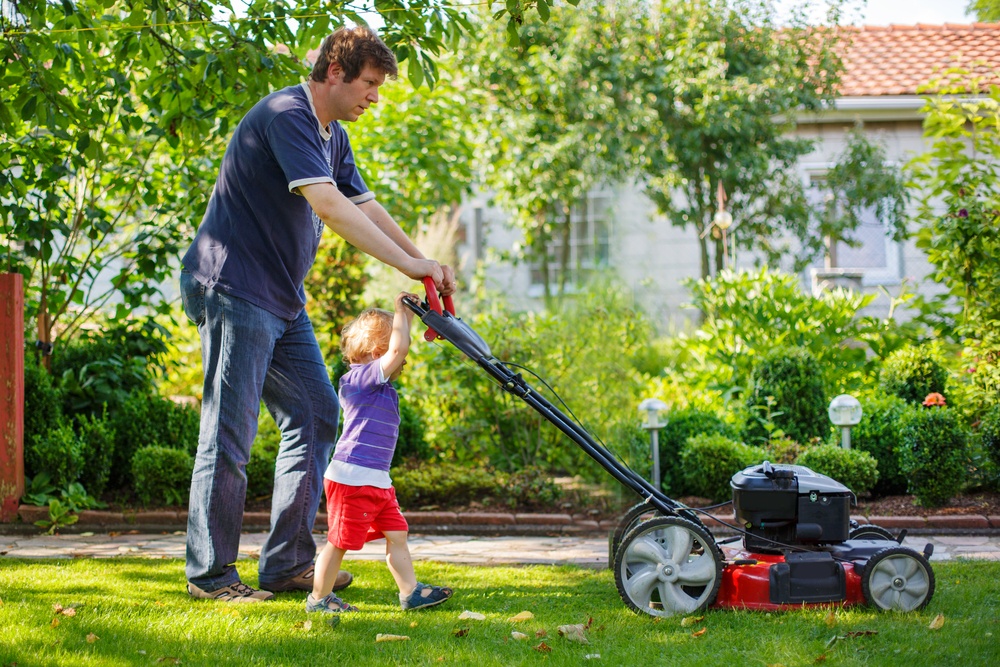 One of the easiest ways to reduce the chances of encountering snakes in your yard is to discourage them from entering in the first place.
Snakes mainly pass through human yards under cover of foliage and shade, and by removing as much of this as possible from the area many snakes will decide to take a detour around than expose themselves.
This is a pretty simple method, as it mainly involves keeping your yard clean and tidy:
Mow grass often to keep it short
Trim or remove tall weeds and brush
Clean up food scraps and litter
Fill burrows, holes, and trenches
Get rid of standing water sources and marshy ground
All of this will go a long way to reducing the potential reasons a snake may enter and/or pass through your yard, and therefore the likelihood of you encountering one!
Don't place debris around your home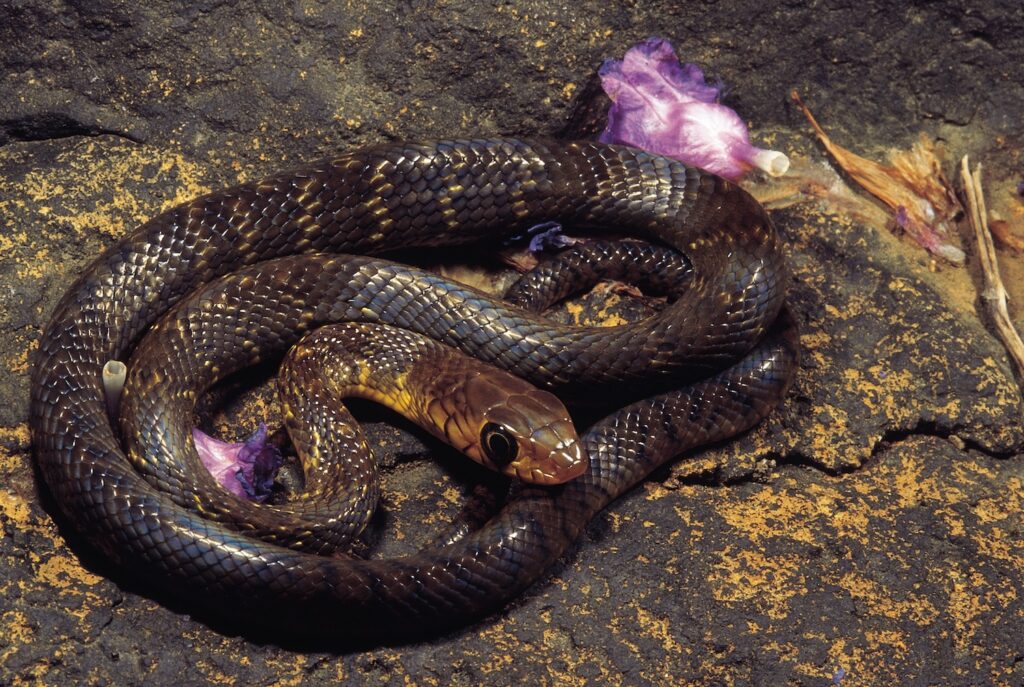 To discourage snakes from entering your yard at all, removing potential shelters for both them and their prey is another great method.
Snakes prefer to have plenty of places to hide, so remove any debris from the area such as:
Wood piles
Garbage
Sheets and boards
Old tires
Unused equipment
…and other similar clutter.
Keeping your yard clean like this will help to remove potential resting spots for both snakes and their prey, and has the added bonus of looking nice and neat as well!
Discourage potential prey sources
Discouraging the presence of potential prey in the area will also help reduce how likely snakes are to move in.
Snakes can have pretty varied diets, but generally speaking they like to eat rodents, frogs, fish, small reptiles, and eggs.
These prey items prefer similarly cluttered environments as the snakes that hunt them, so following similar cleanup and neatness practices as above to deter their populations can go a long way to making your yard muchless interesting to enter for a hungry snake!
Don't discourage harmless snakes or natural predators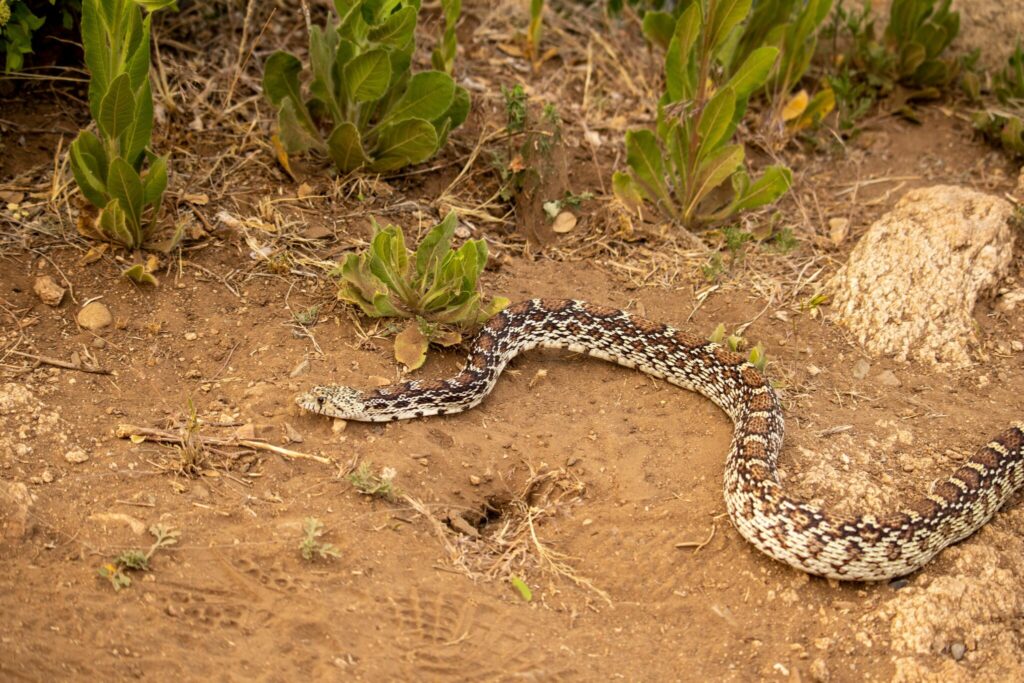 On the opposite end of things, it may be a good idea to welcome harmless snakes and snake-predators into your yard.
Simply not chasing away non-venomous snakes and letting them take up residence if they want can have a surprising impact when it comes to population control.
Snakes are fairly solitary animals that usually prefer to stay away from each other, so the presence of other (safer) snakes in the area can help to deter the more dangerous venomous ones.
In the same vein, having the natural predators of snakes (such as foxes, raccoons, pigs, turkeys and other large birds) present also does a good job of discouraging entry – both directly and indirectly.
Contact wildlife experts if you're worried about common yard snakes
While the vast majority of snakes are harmless, the few venomous species can pose a serious danger if they bite. Because of this, it's always better to be safe than sorry.
If you're worried about a particular snake and want it removed, but don't feel safe waiting or dealing with it yourself, we highly recommend calling professionals.
Wildlife services are well-trained and much better equipped for these kinds of situations, and will handle the situation safely and humanely – just make sure to look into their reviews and experience beforehand!
Don't use artificial repellents or set up traps
Snakes are often seen as unwelcome pests, and because of this there are many products advertised as snake traps and repellents.
Despite their claims, however, most have been found to be ineffective. Not only that, but many are harmful to the environment, local wildlife, and even you!
Many of the synthetic chemicals used are toxic, and glue traps and the like catch often unintended animals more than actual snakes.
There are natural snake repellents available, including vinegar, cinnamon oil, and various predators' urine, as well as several species of plants that may deter snakes. However, their effectiveness is not well researched, and they should not be relied upon as a go-to solution.
Summary
Encountering common yard snakes is almost inevitable when you spend a lot of time outdoors, but that should be no reason to worry!
The vast majority of snakes are harmless to people, and even venomous snakes which can pose a danger would much rather avoid us when possible.
But because of this potential danger, and the ease in which you may accidently get too close to a wary snake, it's important that we know the dos and don'ts of staying safe around these animals:
Do: Educate yourself on local species and how to identify them
Don't: Attempt to approach, handle, or threaten wild snakes – that's when bites happen
Do: Be aware of your surroundings and practice caution when outdoors
Don't: Feed pets or wildlife outdoors, the food may attract snakes
Do: Keep your yard neat and clean to reduce coverage for snakes passing through
Don't: Let debris build up around your yard, it provides shelter and attracts snakes
Do: Discourage potential prey sources, and in turn their predators
Don't: Discourage harmless snakes or natural predators, as they help keep a safer eco-balance
Do: Contact wildlife experts whenever there may be a dangerous snake too close for comfort
Don't: Use artificial repellents or set up traps, they're ineffective and do more harm than good
It's also important to remember that snakes are vital parts of a healthy ecosystem, fulfilling both predator and prey roles, and not having any around can quickly upset a delicate natural balance.
That's why it's always better to just leave them be – they won't bother you and will leave on their own almost every time!