You may or may not believe in aliens, but many true believers can be found among those who have had a close encounter with the tomato hornworm. While actually a species native to our own planet earth, this frightening green creature can still be shocking to see as it inches around on your tomato plants. Worst of all, tomato hornworms can make meals of your beautiful plants and quickly destroy all of your hard work, thus leaving you to only dream about salads that might've been.
Here's what you need to know about this scary garden pest and how to keep it from ruining your tomato garden this year.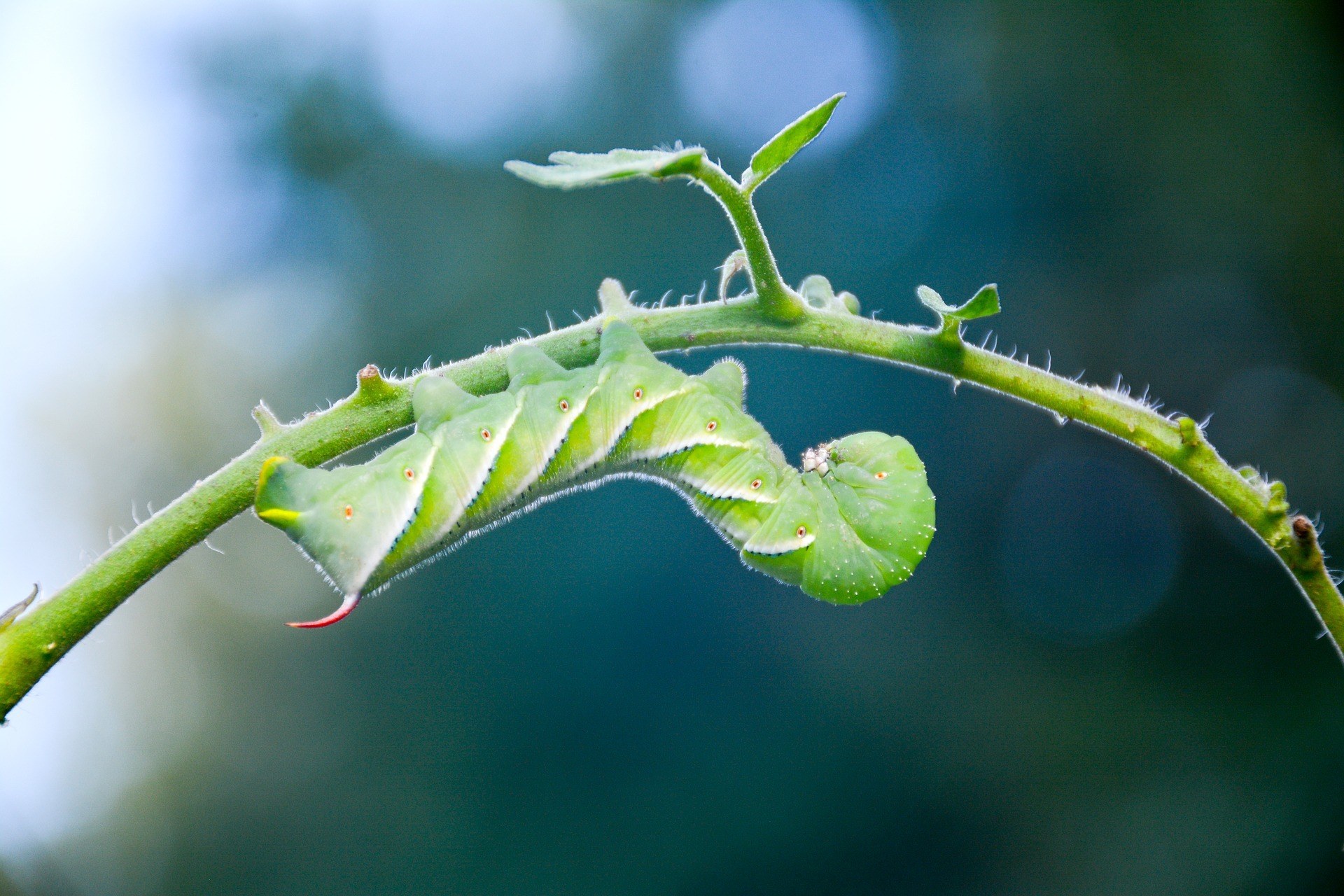 What Is a Tomato Hornworm?
The tomato hornworm is actually not a fully grown insect but merely a caterpillar stage of the hawk moth, a large species (M. quinquemaculata) of moth known for its extraordinarily long tongue. The lengthy proboscis is used for removing pollen from favored plants, such as orchids and other flowering species.
Hawk moths lay eggs on tomato plants during the late spring, which hatch into fast-growing caterpillars. The caterpillars that manage to survive the growing season will dig into the soil and spin protective cocoons. Over the course of the winter, the encased pupae will develop into an adult moth and emerge in spring, ready to begin the life cycle anew.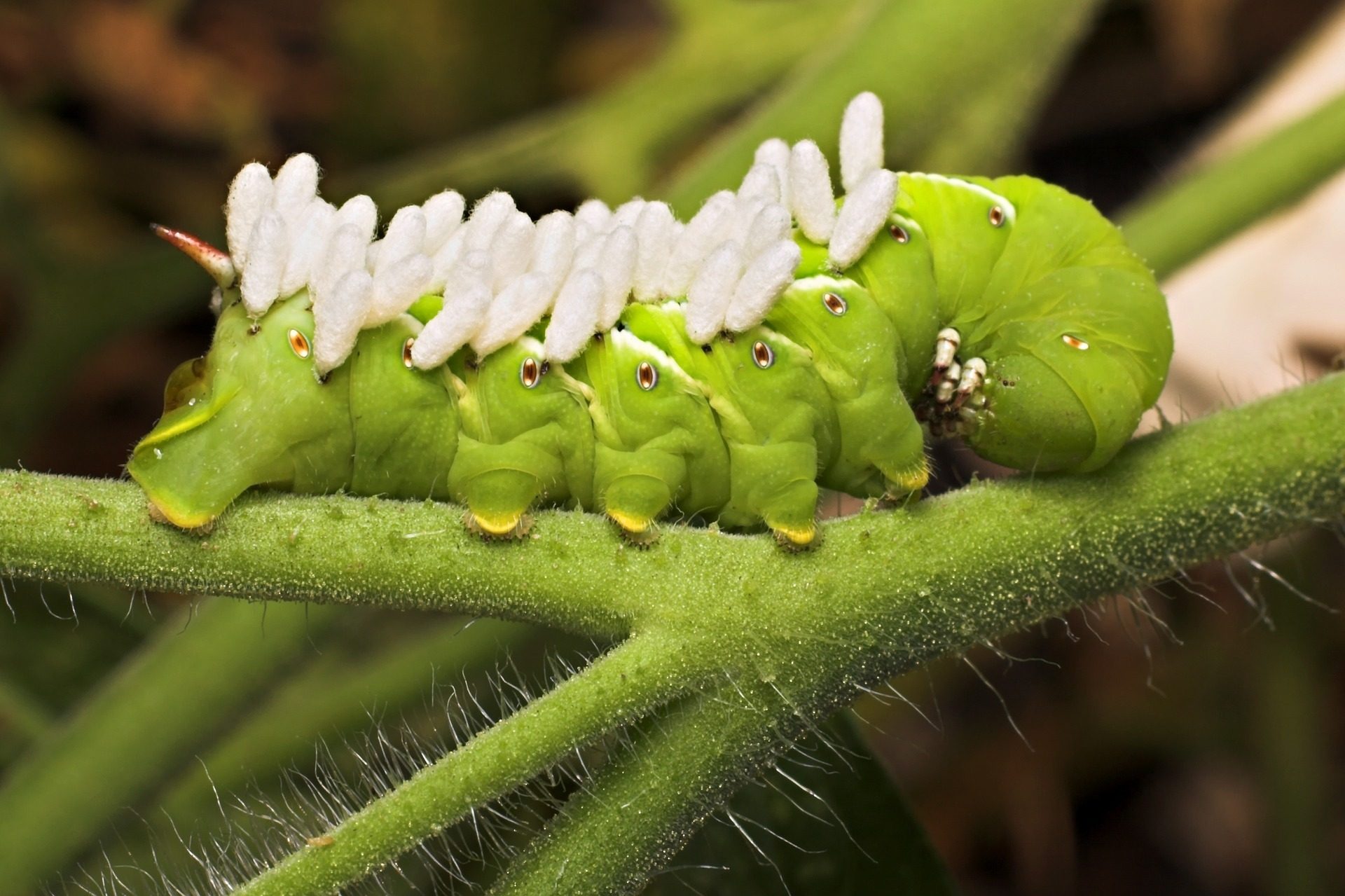 While most people rarely encounter the impressive, but shy, moth as it makes its rounds, the caterpillar is all-too-familiar to veteran tomato gardeners. Tomato hornworms are easily identified by their bright green skin, distinctly segmented bodies, and white, striped markings along the sides of their bodies.
In addition, tomato hornworms possess prominent tail-like structures, or horns, that give them their name. Perhaps most striking of all, hornworms can grow to scary proportions, as they often reach easily reach four-to-five inches in length and can provide a shock to unwary gardeners who stumble across them.
Tomato Hornworms and People
While tomato hornworms are intimidating and downright frightening to some, they are powerless to do any direct harm to people. They can't bite, and their horn is merely adornment and incapable of stinging.
That said, tomato hornworms can do a lot of damage to your garden. These fast-growing caterpillars consume a tremendous amount of tender leaves and are specialists in quickly decimating tomato plants. In addition, hornworms will gladly eat pepper, potato, and eggplant leaves and more if tomatoes aren't available.
The destruction of leaves will ultimately leave your tomato plants bare and cause them to die. However, older hornworms will also attack and injure the vulnerable fruits, which is especially infuriating when you can almost taste them.
5 Ways to Control Hornworms
Tomato hornworms rely upon their green camouflage to hide among your plants' leaves during the daylight hours. This can make them difficult to see while casually tending your garden. However, there are effective, non-pesticide strategies you can use to control hornworms before they get a chance to devour your entire tomato garden.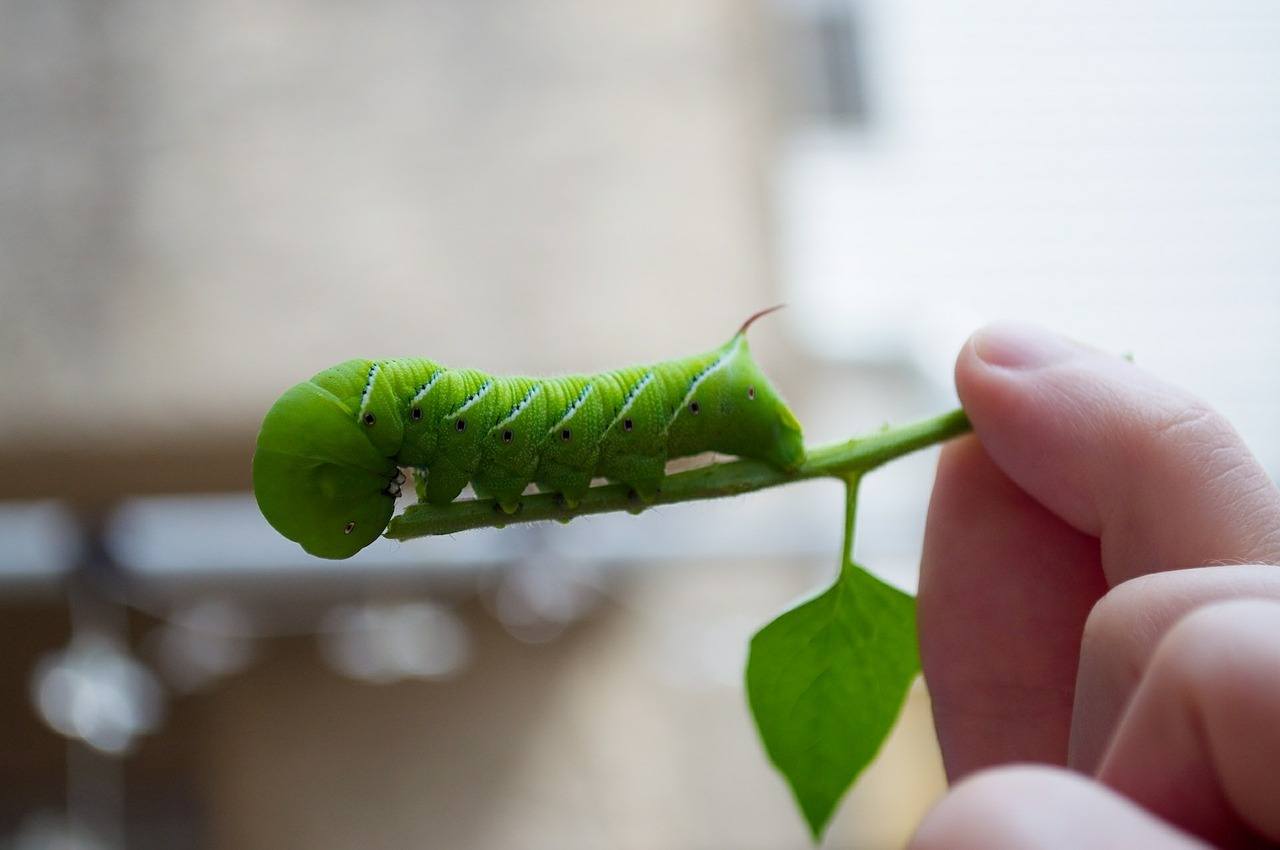 #1 Handpicking from Plants
The best way to handle a tomato hornworm problem is head-on. If you aren't squeamish, simply handpick the caterpillars from plant leaves and thrown them in soapy water for a fast, humane death.
Of course, finding the hornworms can be tricky during daylight hours, but they can be easily spotted at night using an ultraviolet light source. Shine a blacklight or UV flashlight at your tomato plants and the "glowing" hornworms will stand out from the leaves.
#2 Spraying a Soap and Water Solution
The use of sprayed soap and water is another effective option for handling tomato hornworm problems. A solution of liquid dish or Castile soap and water can be applied to plants using a conventional pump-up garden sprayer. This is a safe, easy way to kill caterpillars and can be repeated as often as needed without fear of harm to other plants, animals or humans.
#3 Tilling the Soil
Tilling the soil is a good way to slow down tomato hornworms if they tend to infest your garden on a year-to-year basis. This will crush the pupae and lower the number of emerging adults in the spring. The soil can be tilled either after the growing season is completed or in early spring before the adults have a chance to leave their cocoons.
#4 Encourage Natural Predation
Fortunately, some natural predators will also relish the opportunity to rid your garden of tomato hornworms. One of the most effective is the braconid wasp; these small, docile wasps parasitize hornworms, ultimately resulting in the death of affected caterpillars.
You can tell that a braconid wasp has parasitized a hornworm by the presence of small, white cocoons on the bodies of the caterpillars. In general, you should leave affected hornworms alone, as this encourages the reproduction of braconid wasps and can increase the amount of natural protection available for your garden. In addition, you can provide a more welcoming habitat for braconid wasps by growing dill and mustard, and by keeping an outdoor source of water handy for their use.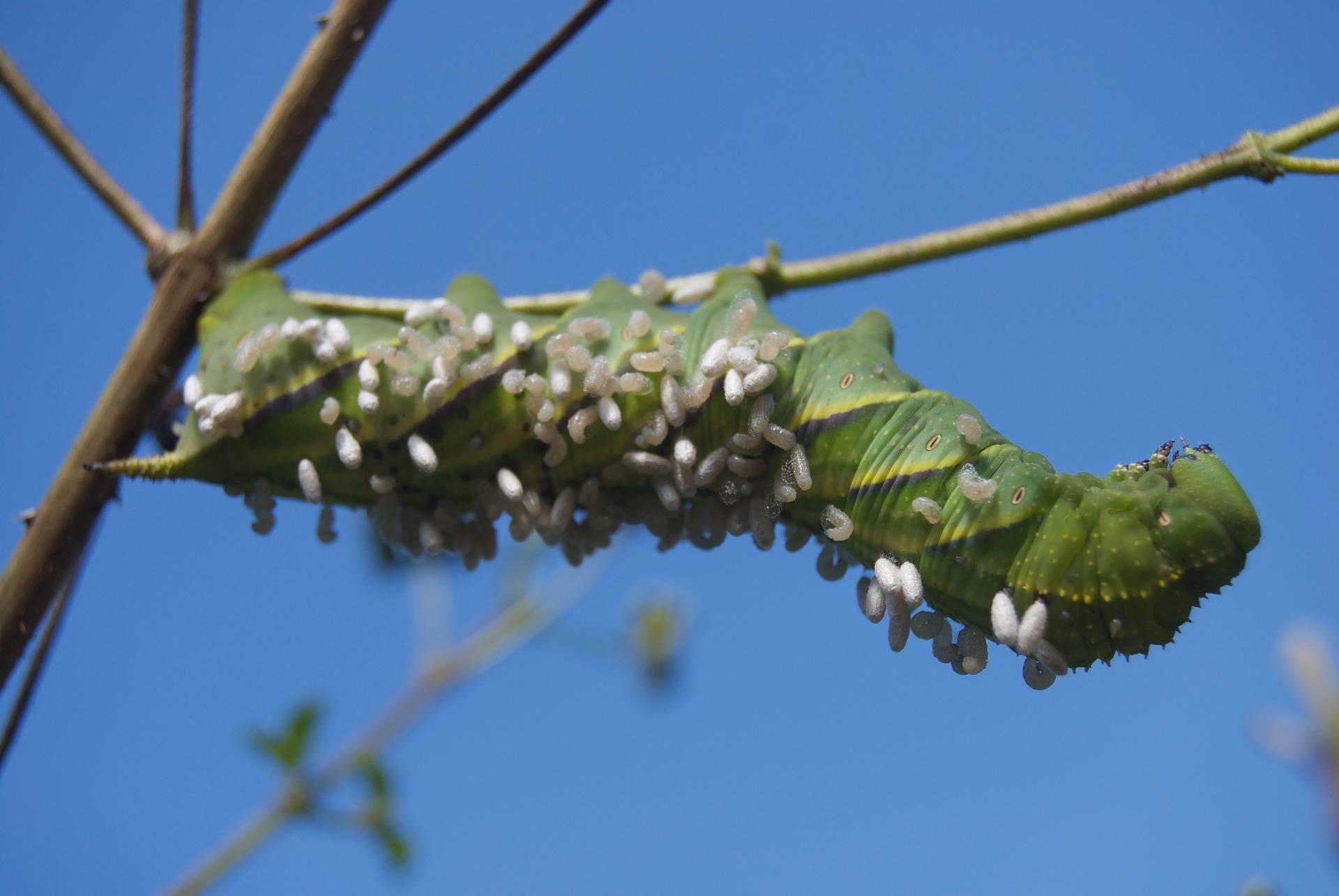 #5 Apply Pesticide
When other methods fail, propere;y applied pesticide can be the most effective way to control tomato hornworms. Here are two options:
Carbaryl, also known as Severin, is an effective means of disposing of tomato hornworms. Carbaryl is a multipurpose pesticide that is useful for killing a large number of insect pests, but it also toxic to other life and should be used only as directed. When applying carbaryl, be sure to wait the recommended period of time after treating for hornworms before picking and eating tomatoes.
Captain Jack's Dead Bug Brew, made by the 90+ year old Bonide company, is an all natural and highly effective option. Captain Jack's Dead Bug Brew contains a bacteria that the worms (caterpillars) will ingest and then die. It works very well on worms and caterpillars without harming beneficial insects and can be used up to day of harvest on tomatoes.