Tom Kraeutler : Welcome to The Money Pit's Top Products Podcast. We are broadcasting today from the Consumer Electronics Show in Las Vegas, Nevada, where all the latest, coolest, neatest, most fantastic gadgets come out. We're talking right now to Jason Aramburu. He is the founder of Edyn. Jason, tell us how Edyn is going to make our gardening better.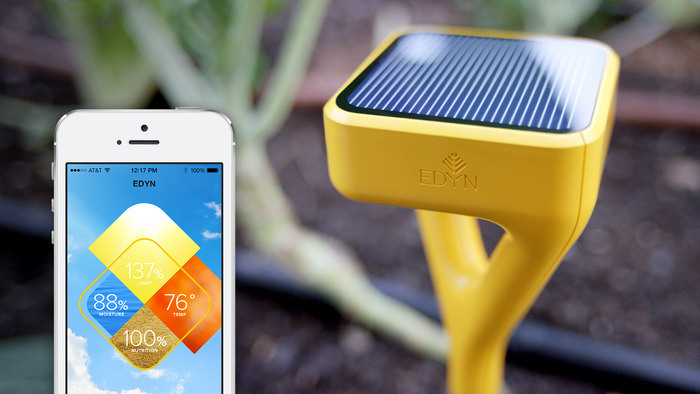 Jason Aramburu : The number one reason people fail at gardening is they forget to water their plants, and Edyn helps with that. It's a smart sensor that you put in your soil, and it measures soil moisture, soil fertility, ambient temperature, ambient humidity, and ambient light. It sends all of that info over your home's WiFi network and then you can view the data on our mobile app on your smartphone anywhere in the world. We'll send you push notifications when you need to water, when you need to add fertilizer. It's all tuned to what you're actually growing. We have a database of plants. You can select what you want to grow and the recommendations will get tuned exactly to those plants' needs.
Tom Kraeutler : All these years I've been sticking my finger in the soil and trying to decide if I should water it, and now there's a computer that will tell me that.
Jason Aramburu : Exactly, exactly. The finger test is only so accurate, and the finger test doesn't work when you're not in the home. The data that we get from the sensor, we also use that to control your existing irrigation system so that your plants get exactly the amount they need and you can be compliant with local watering restrictions as well.
Tom Kraeutler : How does it tie into the existing irrigation systems?
Jason Aramburu : Our second product, the Edyn water valve, which will be available in the spring, connects to your hose and then into your existing drip or above-ground sprinkler system. It's also solar powered and it dispenses the precise amount of water at the right time each day when your plants need water.
Tom Kraeutler : Now has there been any effort put into trying to have this work with built-in sprinkler systems, blew-ground sprinkler systems? Because a lot of us don't want to leave our hoses out across the lawn pretty much 24/7.
Jason Aramburu : Of course. We launched with above-ground sprinkler systems but we're working with a couple manufacturers of in-ground systems, and we're also exploring that space on our own. We want to serve folks who have in-ground sprinkler systems as well.
Tom Kraeutler : This is going to make us much more successful both in growing a beautiful green lawn and also keeping that garden perfectly watered across the year.
Jason Aramburu : Exactly. It will help you grow better, healthier plants, and it will also help you save water.
Tom Kraeutler : What's the response been here at the Consumer Electronics Show?
Jason Aramburu : It's been great. We're a Best of CES Innovation Award winner so the response has been great. We launched on Kickstarter and our goal was 100k. We ended up more than tripling that. We're shipping to our backers now and we'll be available in Home Depot stores in Spring 2015.
Tom Kraeutler : Fantastic and congratulations, Jason.
Jason Aramburu : Thank you. Appreciate it.