The Super Bowl is the most watched television event in the U.S., and with so many families recently purchasing new televisions, it's important to take steps to protect kids from the dangers of TV tip-overs.
Every 45 minutes in the U.S., a child is rushed to the emergency room for injuries caused by TVs that are not properly secured. Yet, most families are unaware that securing a TV is an important safety measure. As a result, parents and caregivers must follow these simple steps, presented by Safe Kids Worldwide, to protect children and avoid potentially fatal injuries.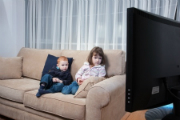 Parents and caregivers are urged to do a quick check of their homes to make sure all of their TVs are safely secured and placed properly. Even old, unwanted TVs can be hazards if not placed on a low, stable piece of furniture, so it is a good idea to recycle them properly to remove that danger from your home.
Many TV tip-overs happen as a result of unsteady TVs that are not secured to the wall. Large and heavier cathode ray tube (CRT) TVs placed on dressers or high furniture can tip over and cause injuries, even death, if children climb onto that furniture.
It is recommended that you follow these tips to help keep kids safe:
• Secure your older-model TV. If you have an older TV, make sure you either secure it to a wall or place it on a low, stable piece of furniture that is appropriate for the TV's size and weight.
• Secure your flat-panel TV. If you're replacing your CRT TV with a new TV, be sure your flat-panel TV is properly secured with a mount that has a safety certification by an independent laboratory, such as UL, CSA or ETL.
• Recycle your unwanted TVs. To find a location near your home that safely and easily recycles unwanted TVs, go to www.GreenerGadgets.org.
Whether mounted to a wall or placed on a piece of furniture, TVs can cause serious injury or death by falling on children. By following the steps outlined above, you can help minimize the risk of an accident and enjoy watching the Super Bowl from the comfort of your home without worry.