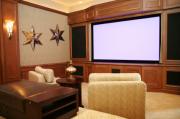 Hanging a flat-screen TV is a skill few people have, and yet almost everyone is buying flat screen televisions. Not every flat-screen TV needs to be hung. Some free-standing models allow you to place the TV on a tabletop. However, most standing flat-screen TVs have removable bases, so they, too, can be hung on a wall.
If you decide to go with a wall-mounted flat-screen TV, don't take risks with your investment. Follow these steps to securely mount your plasma or LCD TV for years of enjoyment.
Pick your mounting bracket
Most flat-screen TVs don't come with a mounting bracket, so most likely you'll be shopping for one–and that's a good thing, because you can choose the TV bracket that best suits your needs.
But before making any decisions, read your TV owner's manual. Your particular flat-screen television might require a specific type of bracket, or may not work well with certain mounts.
Also, look for the phrase "VESA Compatible." VESA is the Video Electronics Standards Association. VESA sets the standards for flat-screen TV mounting brackets. Somewhere in your TV owner's manual (or perhaps on the TV itself) you'll find a VESA number or series of numbers. The VESA numbers automatically make the daunting task of shopping for a flat-screen TV mounting bracket easier by narrowing the field. You should only purchase brackets with VESA numbers that match that of your television.
When you finally start bracket shopping, know what your TV weighs. The most important consideration is whether or not a bracket will safely support the weight of your flat-screen television.
Next, you'll want to decide what type of mount you want: flat, tilting or articulating.
Flat wall mounts are most common. They hang the television flat against the wall, like a picture.
Tilting wall mounts allow your TV to tilt up or down. If you're hanging your flat-screen TV up high, you'll want a tilting wall mount, so you can adjust it to tilt downward.
Articulating flat-screen television wall mounts are no-holds-barred, and allow you to move the TV almost any way you'd need to. Up, down, side to side. Articulating TV mounts usually have an arm attachment, which means the television won't be hung flush to the wall.
Preparing to hang your flat-screen TV
Now that you have your mounting bracket, your next-most-important mission is to decide where the TV will be hung. Be very sure about your decision, because you're going to put holes in the wall.
Keep in mind that your flat-screen TV should be mounted at a comfortable height. In other words, you shouldn't be giving yourself neck cramps simply by watching television. The same rule of thumb that applies to your home computer applies here: the screen should be positioned at eye level.
You might not think about it in the evening, but you won't be happy with your TV if the morning brings streaming sunlight from behind and blots out your picture. Think ahead about sources of potential glare, whether from windows or nearby lighting.
Make sure you have sufficient electrical outlets nearby for your TV and supporting devices, and if you have cable, know ahead of time whether or not your cable cord will reach the TV.
Once you're sure you've chosen the best possible location for your new flat-screen television, you'll want to find the studs in the wall on which you'll be hanging it. It's essential that you drill into at least two wall studs when hanging a flat-screen TV. Do not attempt to hang a flat-screen TV into drywall or paneling alone. Mark the location of your studs with a tiny penciled "X."
Hanging your flat-screen TV
Your bracket will most likely come in two parts: one part that attaches to the television, and one that attaches to the wall.
When attaching the bracket to the television, make sure you lay the TV down face-first on a soft surface, like a rug or carpet. Be sure to remove any temporary safety or cushioning pieces that covered sharp edges of the mount in its packaging.
Most flat-screen TV brackets will come with special hardware to attach the TV to the bracket. Use the hardware provided, and lay all pieces in a safe, visible place where they won't roll away. (Do you really want to deal with tracking down replacement hardware because you elbowed a specially designed washer into oblivion?)
When attaching screws to your television, use a manual screwdriver, not a power drill.
When you're ready to hang the bracket from the wall, hold the mount against the wall exactly where you want it. The holes in the bracket should be positioned over your studs. (Remember, you marked your studs in pencil.) Make sure the bracket is level.
Now, affix the mount to the wall. Tug it to make sure it's secure. It shouldn't move.
Here's where you should attach all necessary cords and cables to the back of the television. It'll be more difficult if you wait until the TV is actually in place.
Get help lifting the TV and joining it to the wall bracket. While you're probably anxious to watch lots of TV on your new toy, you don't want to do it while recovering from a bad back.
Follow the manufacturer's instructions in attaching the two parts of the TV mount to one another. If your bracket has additional safety features like locks, follow the manufacturer's instructions in putting those to work.
Congratulations! You just installed a new flat-screen television!