Not sure how much paint to buy, or what size windows to order? With Stanley's Smart Measure Pro, getting the answer is as easy as taking a picture.
Snap a pic of anything with your smartphone or tablet, and this cutting-edge tool instantly provides you with accurate measurements and a correct estimate of how much material you need for your project.
The Smart Measure Pro is a great tool when estimation is essential to getting the job done. It's perfect for calculating paintable surface areas, determining the amount of siding needed, calculating window size or measuring building dimensions.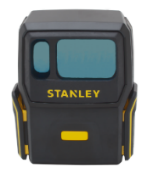 Have those numbers at your fingertips in just four easy steps. First, attach the Smart Measure Pro to your mobile device and sync it with the app. Next, snap a picture. The Smart Measure Pro will automatically measure the height, width and area of what's selected in the picture. Then, the user can review and store the measurements, or share them to a desktop or the Cloud.
Anyone with a project to complete can appreciate this tool's "smart capabilities" and timesaving features, including the material estimator and calculator to help you plan for outdoor siding, painting and drywall projects. The Smart Measure Pro is an innovative tool that allows its user to connect via Bluetooth so that the phone, tool and app all work together.
Measurements are accurately produced as the phone's camera and the Smart Measure Pro communicate with the help of an invisible laser embedded within the tool. Once the measurements are gathered from the image, the information is automatically stored in the app's database. This provides users with the convenience of viewing the measurements immediately or storing them to review at a later time.
The Smart Measure Pro features an internal lithium-ion battery and is equipped with a traditional USB cable for charging. It works with both Apple and Android devices, including tablets and the iPhone 4 and up. The Smart Measure Pro retails for $149.99 at Lowes and the app can be downloaded free of charge in the Apple App Store and Google Play.