Have you ever been hesitant to use a laser distance measurer because they seemed too complicated, too expensive or too inaccurate? Stanley has introduced a new model that is easy to operate, measures up to 65 feet within 1/8-inch accuracy and is priced affordably.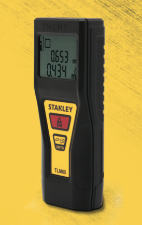 The simple two-button design of the TLM65 allows for intuitive and instantaneous point and click measuring, and the easy to read LCD screen makes the process of taking long measurements and performing complex calculations fast and painless. It automatically calculates distance, area and volume, and also features a continuous measurement tracking function that helps you find the target quickly and easily. All this in an ultra-compact, lightweight, battery-powered model you can carry in your pocket.
The Stanley TLM65 Laser Distance Measurer has a suggested retail price of $59.99 and is available at Ace, True Value, Orgill and other independent retailers. For more information, visit www.StanleyTools.com.