Leslie: This is Leslie Segrete.
Tom: I'm Tom Kraeutler.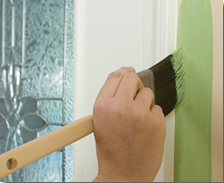 Leslie: We are coming to you from the 2015 National Hardware Show in Las Vegas. We are here bringing you the news on the newest, best and most innovative DIY products. You know what, painting is a great way to make a huge transition in any space with a very little bit of money. Joining us with some great innovations in how you can paint perfectly the first time, we've got Garry Fee, the Leader of R&D for SHUR-LINE. Welcome, Garry.
Garry: Thank you very much for having me.
Tom: Your whole job is to kind of figure out how to make painting easier it seems.
Garry: Yes, I mean for over 70 years SHUR-LINE has been bringing products to the market that serve to motivate and inspire painters to tackle projects of all kind of sizes and complexity.
Tom: Painting is one of those that everybody thinks they can do until they get into it and …
Leslie: It's not as easy as it looks.
Tom: And had issues, right?
Garry: Yup, absolutely. That's what happens.
Leslie: Tell us a little bit about some of the things. I'm holding in my hand, I don't know the technical name for this but is this an Edger?
Garry: That is an Edge. That's a trim edger.
Leslie: It's a trim edger so it's basically a square with a fun painting pad on the side and you truly literally …
Tom: Run it.
Leslie: Go on your edges.
Tom: Run it right up against your …
Garry: Yup.
Tom: Run it right up against your trim. Yeah.
Garry: Up to the ceilings, up to walls, down to baseboard trims …
Leslie: It makes cutting in …
Garry: Chair rails so much easier.
Leslie: Like foolproof.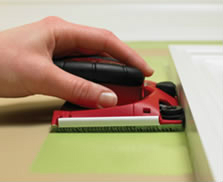 Garry: That's it. We recognize that consumers have not got the skill set that a professional painter has. Not many of them can use a brush to cut in so SHUR-LINE actually invented the edger. We had a number of products that we've received feedback on over the last few years and so we've released a completely new suite of products to serve that purpose. We've made major improvements on the usability and cleanability of those products.
Leslie: Well, you know what I think is interesting about the edger is that I personally love to cut in. Like I really enjoy it however I have user failure sometimes with myself. Sometimes I'll have the best cleanest perfect line and then I'll …
Garry: Just a little skip.
Leslie: I spazz out but your edger has made life so easy especially when we're doing quick turnaround makeovers and we've got short timeframes and you can't always tape out.
Garry: Yup.
Leslie: It really is just a genius innovation.
Garry: Yup and one of the biggest changes we've made this time is actually a patent pending change to the pad. A lot of the things that have been introduced over the last few years have focused on the handle itself. What we've done is we've actually taken these two scoops out to lessen the possibility that any paint will transfer to the skids and the wheels. Everybody knows now about the wheels and the skids to help keep that surface nice and smooth and what we've done is we've reduced the chance for error further. Again, that's come from consumer feedback.
Tom: Now SHUR-LINE also makes brushes and I think when consumers are faced with purchasing a brush, they can buy a brush for $1, for $5, for $20 or for $30 or more. They all do the same thing. They all apply a finish, right but if you're that consumer, how do you make the right choice for your specific product?
Garry: Well, one of the things you need to realize and the majority of consumer's DIYs don't realize is that …
Leslie: Brushes are not disposable.
Garry: No, they really shouldn't be.
Leslie: You should not be throwing away your brushes.
Garry: You should not be throwing away your brush. Now the flipside is that just thinking that going for the highest price point is going to be a good thing is not necessarily true.
Tom: Right.
Garry: Because they tend to be tailored to the pros and they actually are physically different. They tend to use different filaments because a pro who likes to scoop his paint up, apply it to the wall and then pull away from it and cut in. What the consumer wants to do is dip their brush into the can and then just go straight to the wall and paint. We formulated brushes that have a softer filament type so that they give a smooth, consistent delivery.
Tom: The brush becomes more of a distribution device?
Garry: Yes and one of the things that … just the big thing that we're focusing on at the moment is the explosion of paint and primers as a paint product. That's the majority of the market now pushing over 60% of paints sold is now paint and primer.
Leslie: Combined.
Garry: Yeah, it's combined so it has seals to get the wall and then applies the hue or the tint that you want in the same job and in many cases, in one coat. We've stolen a march on the market by actually configuring our products to work best with paint and primer. Nobody else has actually engineered their product.
Leslie: How do you do that?
Garry: We've worked with the specific formulation of the softness and the stiffness of the bristles that we select, the filaments, I apologize. We also …
Leslie: Are you supposed to use different brushes and different rollers whether you've got a primer or a topcoat?
Garry: Well …
Leslie: Because I have never done that.
Garry: Literally, it's the case of the paint and primer have only just really been released and so everybody … you can use a brush and the brush will work with the paint and primer but now what we have are dedicated brushes that we can demonstrate serve better so they'll be more consistent. They'll meter out the paint more efficiently and get a better finish. That's not to say you have to pick one particular brush for paint and primer but we now have the best products …
Leslie: That's fantastic.
Garry: For those paint and primers.
Tom: Does that same technology apply to rollers?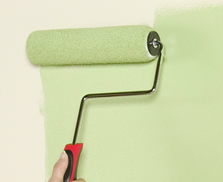 Garry: Yes so we specifically formulate the fabrics and so we got very technical and we played with density and the structure with how we actually put them together, the microfiber, the size of the filaments and so we go through multiple iterations to kind of test those products and see which ones work best. We test against all the major players in the paint and primer market right now.
Tom: Because you definitely see a difference in application when the roller is fresh.
Garry: Yes.
Tom: Then maybe by the time you get around to the second coat it's behaving completely differently.
Garry: Absolutely.
Tom: Sometimes you get that extra deposit of paint along the edges when it's not really held by the mesh itself and then you have to remember to kind of go back over that. If you miss it, it dries and you've got yourself this crisp line in the finish.
Garry: Correct, yup. We deal with that a lot with the construction. We focus on the quality of our rollers as well so we try to prevent those kind of wet edges.
Tom: Is that why the edges are short of chamfered back?
Garry: Yes, that's exactly it so that if you put too much pressure on with a flat edge that many people …
Leslie: You get the line.
Garry: You get the line. You get that nice little wet bead that's really difficult to get rid of if you let it dry.
Tom: There's a lot to it. I think folks don't realize how much R&D actually goes in to products like this.
Garry: They seem such simple tools but there really is a lot of thought and a lot of innovation that goes into them.
Leslie: Wash your brushes and put them back in the wrapper that they came in.
Garry: Keep them. Yes.
Leslie: And keep them.
Garry: Yes.
Leslie: And use them again.
Garry: Absolutely.
Tom: Good advice. Garry Fee, Leader of research and development for SHUR-LINE. Thank you so much for being a part of The Money Pit Top Products Podcast.
Garry: Thank you very much for having me.
Tom: If you'd like more information, you can go to the SHUR-LINE website, which is shurline.com.
Garry: That's correct.
Tom: S-H-U-R-L-I-N-E.com. Thanks again.
Garry: And also on social media.
Tom: Of course, aren't we all?
Garry: Yup.
Tom: All right and that hash tag by the way is #TopProductsNHS. You can find all of the products featured on The Money Pit Podcast at #TopProductsNHS.