Scotch Tough Duct Tapes help tackle rough repairs with tough strength. The line includes six tapes designed to meet the needs of any household project with versatility and muscle.
Featuring a breakthrough technology, this premium line of duct tapes hold on strongly to a variety of materials and surfaces. They're also weather-resistant, withstanding tough outdoor elements like sunlight and moisture. This makes them the ideal solution for those demanding outdoor repair and maintenance jobs that require aggressive adhesion – whether at home, in a recreational setting or on the job site. (And they work just as well indoors, too.)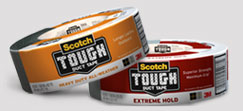 So, what are the six varieties of Scotch Tough Duct Tapes? No Residue removes easily and remains residue-free for up to six months with no messy cleanup. It's designed for strong, temporary repairs, as well as hanging outdoor decorations, labeling storage bins, and repairing recreational equipment. The Transparent variety makes for virtually invisible repairs, such as on outdoor furniture, home electronics and the interior of your car. Extreme Hold has a double-thick adhesive layer for a firm, permanent bond. It's made of an extremely strong, rugged woven material for tough holding power in reinforcing tents and camping equipment, repairing appliances, and bundling large loads of pipes and wood.
The Heavy-Duty All-Weather variety of Scotch Tough Duct Tape resists drying, cracking and peeling caused by sunlight, heat, cold and moisture. It's the right choice for repairing RVs and boats, and securing plastic coverings to outdoor furniture for protection during winter months.
Outdoor Painter's Clean Removal removes cleanly from most surfaces for up to 14 days. It's perfect for exterior surfaces, such as glass, vinyl, metal, concrete, brick and finished wood. Finally, Scotch Tough Duct Tape for Poly Hanging & Tarps is a professional grade duct tape with exceptionally high shear strength, that's conformable for a tight, long-lasting seal. It's ideal for hanging poly sheeting, repairing tarps and securing drop cloths.
When you have the right tool for the right job, home improvement is easy. And don't let anyone tell you duct tape isn't a tool – because Scotch Tough Duct Tape won't take that lightly.