This time of year is usually the hottest part of the summer. As the mercury rises outside, many homeowners crank the air conditioner to stay cool inside. This can be a strain on your wallet and the environment. One easy solution that will help you save green and be green while still keeping cool, is a ceiling fan from Hunter Fan Company. Ceiling fans use relatively little energy to operate, and create a wind chill effect which allows you to turn up your thermostat and save as much as 47% on cooling bills.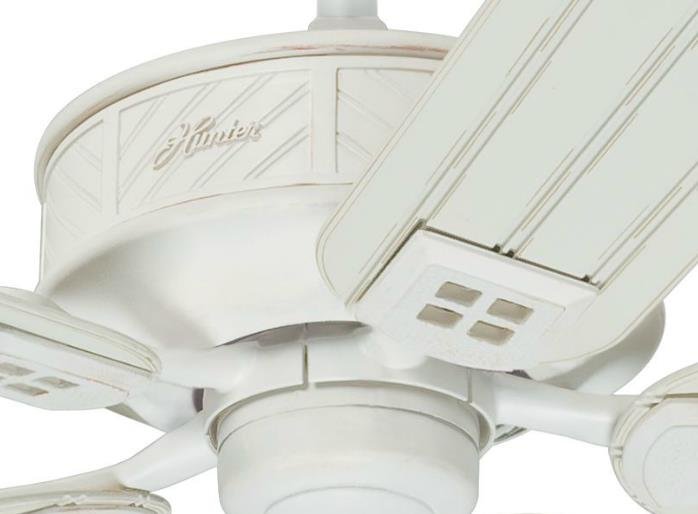 The ceiling is often overlooked in design; however, it can completely change the way a room feels and looks. There is a ceiling fan to meet every style, décor and need. There are fans designed to fit small rooms, large rooms, great rooms and even outdoor spaces. Hunter has fan options for low ceilings, angled and high ceilings, and styles range from traditional, transitional, industrial, contemporary and more.
Fans like Hunter's Orchard Park are ENERGY STAR rated which means even LESS energy output to operate, in fact the Environmental Protection Agency estimates ENERGY STAR rated fans provide the same airflow with 17-22% less energy usage. The Orchard Park is also rated to be used outdoors. Instead of sitting inside, install a ceiling fan on your porch, covered patio, sunroom or pergola and enjoy being outside, even on a hot day.
Beyond helping homeowners save energy during the summer, ceiling fans can also help offset heating costs in the cooler winter months. By reversing the fan blades to turn clockwise and lowering the thermostat four degrees, homeowners can save as much as 15% on heating costs.
Hunter Fan Company invented the ceiling fan more than 125 years ago and has lead the industry in innovations, and continues to bring new technology to market to ensure every space is a better place.