Table of Contents

[Hide]

[Show]
Now that Spring has sprung, lawns are looking green and growing fast. Pretty soon though, that admiration will turn to the reality of pushing a heavy, gas-powered mower around your yard! RYOBI now offers a much easier and convenient cordless alternative to cut your lawn that essentially does the work for you.
The new RYOBI 40V Lithium 20" SMART TREK™ Self-Propelled Cordless Mower is a battery-powered lawn mower. It starts easily with the push of a button and runs off an included 40V 6AH Battery for extended run time – designed to cut up to a half-acre on a single charge. And that same battery is compatible with over 40 different tools in the RYOBI 40V Family.
Mowing Made Easy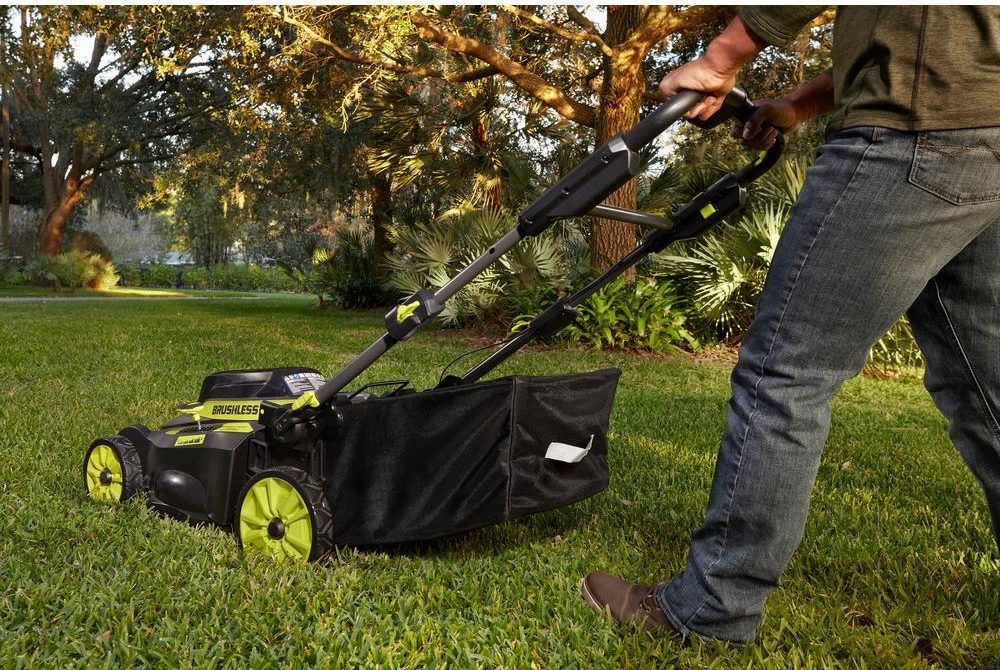 For me, the coolest feature of this new design is the cutting-edge SMART TREK™ Technology. SMART TREK™ is a Self-Propelled technology that adapts to your walking speed. Unlike traditional Self-Propelled technology that can pull you along or push mowers that can be tough to maneuver around the yard, this mower matches your pace so that mowing your lawn is as easy as taking a walk.
Aside from the obvious benefits of not having to deal with the gas, oil, maintenance and noise of traditional lawn mowers, the new SMART TREK™ Self-Propelled Cordless Mower is designed with an intelligent brushless motor allowing it to deliver Gas-Like Power™, increased run time, better durability and longer motor life than a typical brushed mower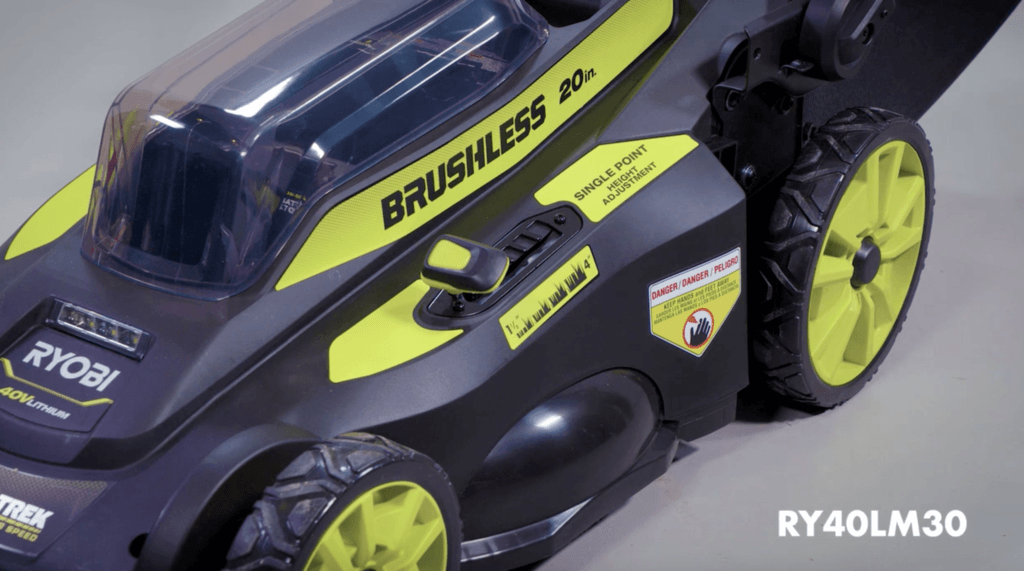 The mower is equipped with a 40V 6AH Lithium Battery for extended run time, and unlike gas mowers, you'll experience hassle free starting at the push of a button. No more mixing of gas and oil, or maintaining your gas engine, and no difficulty starting your unit when you are ready to go.
Single Hand Bagger Design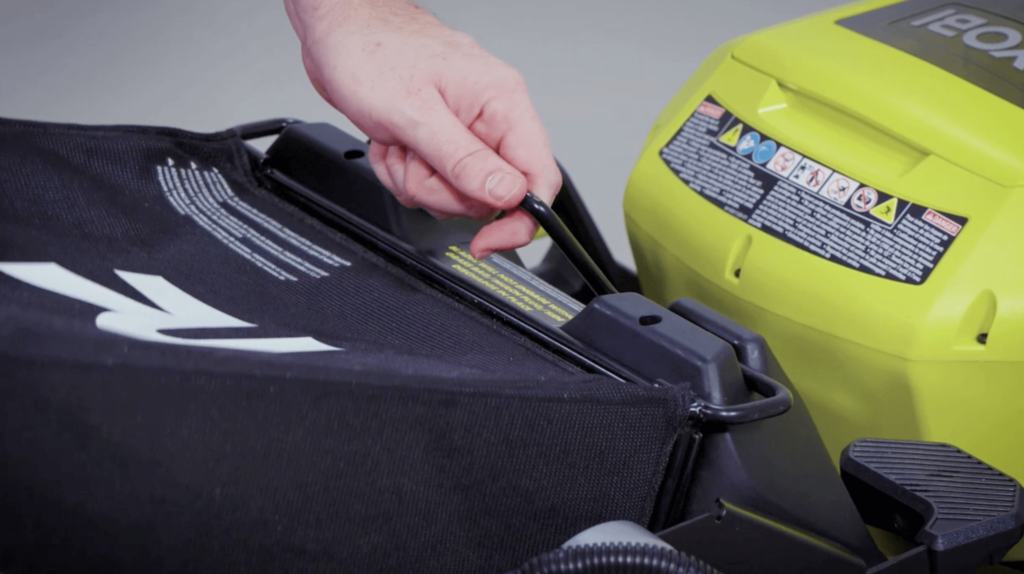 Another pain point for most lawn mower designs is the bagger, which can frequently be difficult to remove and awkward to handle. The SMART TREK™ features an Easy-Lift Single-Motion Lock-and-release bagger, that allows the user to remove the bagger by simply lifting it through the handles and placing it right back down to lock it back into position. You can also choose between three options: bagging, mulching or side discharge when cutting your grass
Typical mowers also have a rear flap that can be at the heart of bagger hassles. Most of the time, you need to hold up the flap to remove the bag or snap back into place, which makes maneuvering the bag back on the unit difficult. With the RYOBI Easy-Lift Single-Motion Lock-and-Release bagger you simply lift it up and back into place with one motion – with one hand.
Simple, Convenient Mower Storage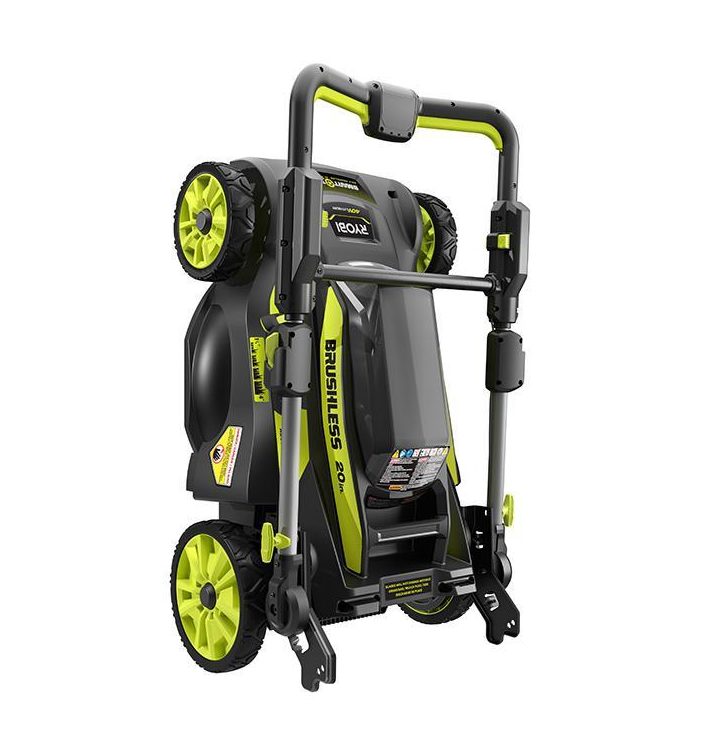 Finally, storing a mower between cuts or for the off season almost always requires a big chunk of floor space. With the SMART TREK™ you have a mower that delivers gas-like power™ but doesn't take up all the room in your garage or shed. The mower features telescoping collapsible handles which makes it ideal for smaller storage spaces. Plus, the fact that it is cordless, with no gas or fumes, also gives you the option to store it inside the home if there is no garage or shed available.
The RYOBI 40V Lithium 20" SMART TREK™ is one of the most convenient mowers for today's homeowner, with the technology, function and drive to make it an indispensable part of your lawn care routine.
RYOBI 40V Lithium 20" SMART TREK™ Self-Propelled Cordless Mower retails for $449 and is available exclusively in store and online at Home Depot.