Installing a toilet can be a messy, time-consuming and frustrating process, but it doesn't have to be. Now there's a product that eliminates the guesswork, so that it's a perfect seal – every time.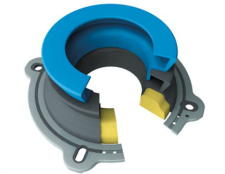 The Perfect Seal from Danco has the strongest, most secure seal of any toilet installation product on the market. In fact, it can withstand three times more pressure than an ordinary wax ring!
Did you recently redo your bathroom? No problem. Perfect Seal fits a broad range of flange heights – from ½" above the floor to ½" below the floor due to retiling – and works with any ordinary 3″ or 4″ toilet flange.
The patented seal combines a specially designed rubber gasket with encapsulated wax. The gasket grabs the toilet, while the wax is transferred down the walls of the drainpipe. This ensures that the wax is forced into critical sealing zones, providing the best, leak-free seal.
Ordinary wax rings spread out and seal only against the imperfect surfaces of the top of the flange and the bottom of the toilet, making hidden leaks a possibility. They are also very sticky and difficult to work with. But because the wax ring is hidden within the design of the Perfect Seal, there's no mess to deal with.
With Perfect Seal, having to make several trips to the store for multiple wax rings is a thing of the past. That's because the toilet can be repositioned as needed during installation while still maintaining a tight seal. And Perfect Seal stabilizes the floor bolts so it's easy to position the toilet, making installation a one-person job.
Perfect Seal from Danco eliminates the pitfalls and weakness of an ordinary wax ring, so you can install your toilet properly and securely on the first try. It's backed by a 10-year product warranty and is available at The Home Depot. For more information, visit www.itsaperfectseal.com.