As the number of people choosing to perform home improvement projects on their own continues to rise, so does the number of injuries. What can begin as a dream project can end up as a nightmare if aspiring do-it-yourselfers are not properly prepared. For those champing at the bit with power tools at the ready, consider these power tool safety tips and advice on how to avoid injuries, or worse, while completing home improvement projects.
A fatal injury occurs in the home every 18 minutes and a disabling injury every 4 seconds. These sobering facts are not usually heard in the conversations of home improvement enthusiasts who are now getting started on projects both large and small.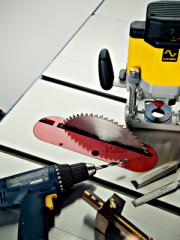 According to the American Safety & Health Institute (ASHI), over 9,000 people died as the result of falls and more than 150,000 people were seriously injured as the result of accidents in their homes when using a ladder.
The ASHI also reports that at least 200,000 emergency room visits occur each year relating to garden tools and equipment. Almost 100,000 people receive treatment for hand saw and power saw related injuries and the simple screwdriver claims about 10,000 victims annually.
So should the threat of connecting hammer to thumbnail stop you from tackling a home improvement project? Probably not, but for those who have ever wept real tears from such an injury, here are some common sense power tool safety tip refreshers:
Choose the right tool for the job: Using the right equipment is critical to the project outcome as well as your safety. Avoid improvisation, and if you don't own the right tool, consider renting it. Renting tools is surprisingly cheap and can make a job safer.
Work Within Your Ability. Perhaps the most vital piece of advice is to NEVER underestimate the difficulty of the job. Get someone else to do it if you feel it is beyond your level of skill. If a home improvement job is too much, call in a professional. While doing home improvement projects yourself can help save you money, the economics don't add up if an emergency room visit becomes necessary.
Avoid Shortcuts. Home improvements are labors of love and can't be rushed. If you decide to take on a project, however small, don't rush or take shortcuts.
Planning Makes Perfect. Remember, planning out your project can save time, money and maybe even your life. But if you are tempted to bypass obvious safety advice, consider the following: More haste, less efficiency. Don't underestimate how long a job will take. If you do begin to run out of time, don't be tempted to rush or take a short cut. Fatigue is a big factor in many accidents, so take time for a break. Plan your work and work the plan, including plenty of breaks in your work schedule. And avoid shortcuts along the way—home improvements on any scale are labors of love, and can't be rushed.
Read and Heed. Another important

safety tip

is to read all the instructions and warnings, especially if you're using a piece of equipment or product for the first time. If you've bought a new tool or product, don't neglect to send in the registration card. Registering your ownership with the manufacturer may be the only way they'll know how to reach you in the event a safety problem is discovered with the product and a recall or modification becomes necessary.

Don't Improvise. Choosing the right tools and protective equipment for the job is critical. Slipping a pipe on the end of a wrench to increase leverage may work in the movies, but if the wrench snaps, a serious injury may occur. If you don't own the right tool, consider renting it. Renting tools is surprisingly cheap and can make the job safer.
Ear Protection. Hearing protection is a must when using power tools. Tool noise can easily exceed the hearing damage threshold. If noise from tools is so loud you must raise your voice to be heard, you're taking risks with your hearing.
Watch Your Eyes. According to the American Optometric Association, hospitals treat over 25,000 patients with injuries related to power tool use each year. Workshop grinders, drills and saws are among those named most often. In addition, caustic chemicals used for cleaning, painting or polishing cause a significant number of eye injuries as well. Keep in mind that injuries can occur not only to the person working with the tool or chemical, but to "helpers" who are hurt by flying debris and particles, as well as caustic chemicals. Both people should take eye safety precautions.
Clear the Air. When tackling projects involving dust, paint or other pollutants, protect your lungs by using an appropriate respirator mask. A good rule of thumb is if you can smell or taste the substance you are working with, you will need respiratory protection.
The safety-first approach applies to hand tools, too: believe it or not, the simple screwdriver causes about 10,000 workshop injuries every year. Plan, prepare and proceed with caution, and you'll be able to sit back and enjoy project results without nursing an injury!
For more home safety tips, see National Safety Council's website at http://www.nsc.org.