Ready to fire up the grill to cook up hotdogs and hamburgers for your family and friends? If you don't follow some basic safety rules, you could end up watching your tasty meal go up in smoke, or worse. Check out these tips from Enviro-Log to help you avoid outdoor cooking accidents.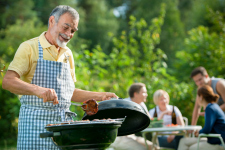 Grilling has become more popular than ever. More than 14 million barbeque grills and smokers were shipped to North American stores in 2012 – a 41 percent increase from 1992, according to the Hearth, Patio and Barbecue Association. With grills being used by an increasing number of people, many of whom may be inexperienced, there's a greater risk for accidents that can result in serious injury or property damage.
Cooking outdoors has its risks, but they can be reduced by taking the right precautions and following safety procedures. Don't wait until after an accident has already happened to think about grilling safety. Consider the following safety tips to help you avoid outdoor cooking accidents.
Safety first
Never leave your grill or fire unattended, and be sure to keep children and pets away from the fire and cooking area. Have a fire extinguisher nearby in case of emergency.
Read the manual
Not all grills are the same. Always read instruction manuals and consult the manufacturer about the proper use of your grill, firepit or chiminea before use.
Select the proper location
Grills are the cause of 3,600 structure fires every year, according to the National Fire Protection Administration. Grills, fire pits and chimineas should only be used outdoors and never in a trailer, tent, house, garage, covered porch or any enclosed area. They should be positioned at least 10 feet away from your house. In addition to creating a fire hazard, operating a grill, firepit or chiminea in an enclosed area can lead to the accumulation of carbon monoxide, an odorless, colorless gas that can be fatal.
Stay out of the wind
Never operate your grill, firepit or chiminea in high winds. High winds can significantly increase the risk of flames spreading to nearby structures, including your home.
Charcoal grills
Never add lighter fluid or any other flammable liquids to a charcoal grill that has been lit. Doing so can result in flare-ups that can travel several feet. Consider alternative firestarter products that offer a preselected start that can easily be extinguished. Always let your charcoal cool completely before moving your grill or leaving it unattended. When you are finished grilling, douse the coals or soak them in water before disposing them in a metal container.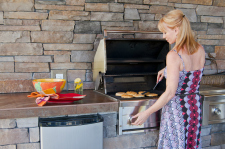 Propane and natural gas grills
Five out of every six grill fires involve gas grills, according to the NFPA. To reduce the risk, always check for gas leaks every time you disconnect and reconnect the regulator to your propane tank. Also be sure to observe the following additional safety measures:
Never attach or disconnect a propane tank, or move or alter gas fittings when the grill is in operation or is hot.
Never use a propane tank if it contains bulges, dents, gouges, corrosion, rust or other forms of visual external damage.
Clean and perform general maintenance on your propane or natural gas grill twice a year.
Always turn off the gas at the source (tank or supply line) prior to inspecting parts.
Visually inspect hoses for abrasion, wear and leaks before each use.
When lighting a gas grill, always keep the lid open to prevent a flash-off from gas buildup.
Do not lean over the grill when igniting the burners or cooking. If the gas grill does not ignite on the first try, wait five minutes for the gas to clear before trying again.
Follow these important tips when cooking and grilling outdoors this season, and you will be well on your way to preventing dangerous accidents. For additional information on outdoor cooking and fire safety, please visit the website of the National Fire Protection Association, www.nfpa.org.