Tom Kraeutler : This is the Money Pit's Top Products Podcast. I'm Tom Kraeutler at the International Builders' Show. If you desire a man cave, there's not a company that's done more to make that possible than Gladiator GarageWorks. They're here with a completely decked out garage. With me to talk about that is their spokesperson Karl Champley. Hi Karl.
Karl Champley : Hey Tom. Pleasure to see you buddy.
Tom Kraeutler : You guys have outdone yourself once again here with flushing out the man cave. This is the type of garage that every guy just wants to have.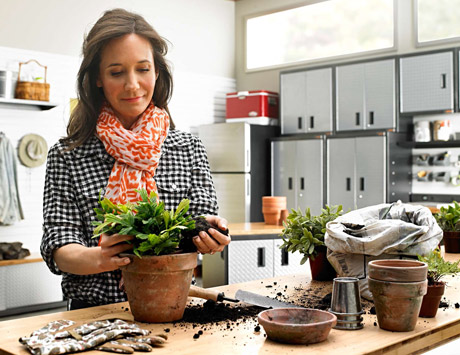 Karl Champley : It's very true. The reaction when people come in it's like, wow this Gladiator stuff is just very, very cool. It's not just the guys. The girls love it too.
Tom Kraeutler : Let's talk about some of the new innovations you guys have brought out. You have a new Keggerator.
Karl Champley : We do. The Kegerator's very popular, especially at the end of the day. It is a concept, but I can guarantee you Tom, this will be available. It's basically got the [Tread 00:00:49] pattern, it's got the bamboo top and the keg is obviously fitted inside. It's just clean and it's tidy and it works very well.
Tom Kraeutler : Something that I did not expect to see in the garage is you guys have one of your beautiful workbenches here with a full size sink built into it. This is great for a warm climate.
Karl Champley : It is. It is. It's fantastic. It's very practical. This is not available wide stream, but it's getting so much attention. It's very popular. I think this is going to be something that Gladiator's going to seriously consider making. The beautiful thing about the adjustable workbench is is you can customize it to whatever you want to do.
Tom Kraeutler : This is one of those things that if you decide not to make it, this is a perfect Gladiator hack right here. You can buy a beautiful custom work bench and build your sink right into it.
Karl Champley : Absolutely. The beautiful thing about it is too, is everything's adjustable. No matter how short or tall you are, you can adjust it to suit yourselves. You've got the bamboo or you've got the birch and you can put a one ton engine block on this stuff. It is tough. Bamboo, it's not a wood it's a grass and even takes more than a ton.
Tom Kraeutler : Let's talk about some of the new cabinetry that you're out with. I'm seeing a lot of color in this booth. You have some beautiful red colors. It's a lot more than just the gray and the steel plate.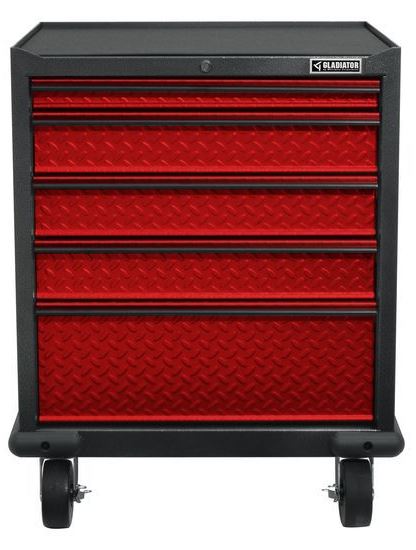 Karl Champley : Very true. The cabinets in themselves are exactly what they've always been. You can throw a house brick at it and hit it with a fire hose, it's not going to break. They're all lockable. The colors, you've got the racing red, it looks fantastic. Tom you know what quality's all about and this is a really good solid powder coat finish.
Gladiator's been listening to what people want. If you don't like the steel grate, you can go for the red. We've even got Everest White too because a lot of the gals want that softer look in the garage.
Tom Kraeutler : You have new storage lockers here that are decked out in the color and the icons of many of the most famous colleges across the country. I understand you have 18 new colors in the storage lockers?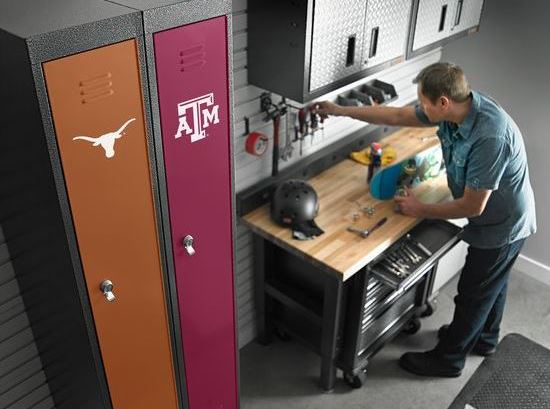 Karl Champley : Absolutely. We just recently fitted out Tom Izzo's garage as well. I know this is radio listeners but there's that big Spartan symbol on the door there. They're fantastic. You can get one, two, three, whatever. You can group them together. The great thing about the system is they don't sit on the floor. They hang on the walls. You can hit it with a fire hose underneath or sweep it to keep the garage clean. It's perfect just to keep all that sports gear tucked away.
Tom Kraeutler : We should mention that the wall material that's up here, you have a tracking system where everything can hang up off the floor. Of course that's a lot safer because a lot of times we have storage gear, we have rakes, we have shovels, we have bats, we have balls that are on the floor. With the Gladiator system, all of that can be up off the floor.
Karl Champley : Exactly mate. That's the core of Gladiator. It's called the GearWall Panels or the GearTrack Channels. That is the system. People can basically, either DYI or get someone else to do it, line the garage walls with these panels, like the slat wall back in the commercial world. Once that's done, it's done. You've got the brackets and the baskets and the cabinets that just simply hang on them. It's completely modular.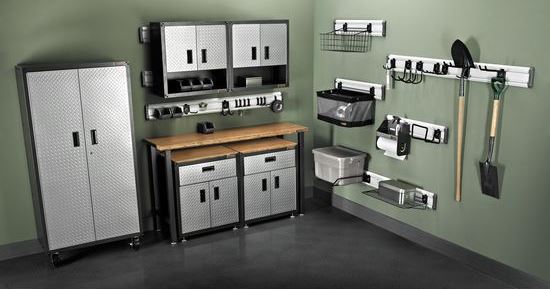 Tom Kraeutler : Finally, let's talk about these beautiful closets that you have here. This is a different configuration of a cabinet. It does sit on the floor. It either has shelves that go all the way down to the bottom or you have a closet here that's actually open where you could push in, say, your pressure washer and store it behind closed doors.
Karl Champley : The All Season Closet, there was a prototype in 2014. It is available now. You see it on the floor but you've also got the choice of actually putting it up on the wall. That's great for the outdoorsy man or woman. That just gets all that heavy bulky gear into a lockable cabinet that you don't have to bring into the house.
Gladiator is all focused on the garage but it enables the whole house to run efficient. We've got the Chillerator in here, the refrigerator which is fantastic and it's built for the garage. The only refrigerator on the planet that is built for the garage. This new closet is fantastic. it just frees up the house and it keeps stuff where it needs to be.
Tom Kraeutler : Well done Karl Champley from Gladiator. Thank you so much for stopping by the Money Pit Podcast here. From man cave heaven at the International Builders Show.
Karl Champley : Mate, it's an absolute pleasure. Thank you Tom, always good to see you.