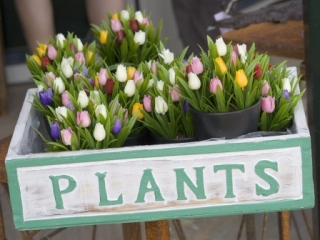 Want truly organic produce? Plant your own backyard garden this spring. It's a great way to save money and get a lot of good-for-you greens. Believe it or not, by investing just a little of your landscaping budget in veggie gardening, you can reap 25 times that value in a bounty your local market can't match.   
All you need to start are a little pre-planning, seeds, fertilizer, and a small, sunny plot in your yard. You can even get a great garden out of patio planters or a few raised beds along the perimeter of the backyard. Depending on the vegetable varieties you choose, planting can start as soon as this week, and succession planting will keep produce rolling into your kitchen once early crops have been harvested.
A backyard garden also gives your family the chance to try those fancy heirloom vegetables you've seen at farmers' markets, but for a fraction of the fancy prices. Get your gardening squad together to create a veggie wish-list for the garden plan, and they'll be even more invested in helping with the light maintenance chores that yield a delicious, diverse garden bounty!