May Day, May Day! As spring weather streaks to the finish line, you have one wonderful month left to get your spring home improvement to-do projects complete before the summer heat sets in. Here is where to begin your May home improvement projects for each weekend.
Weekend #1: Tune your lawn mower. It's time to service the lawn mower and garden tools that always serve you well in your quest for a beautiful lawn. For spring service on your mower, drain and replace the oil, replace the spark plug, replace the air filter, and sharpen the mower blades. Replace the fuel filter. If your mower has a fuel filter, it will be located on the fuel line between the tank and the carburetor. After its long winter nap, these steps will revive the lawn mower.
For your hand garden tools and shovels, remove any rust with steel wool or sand paper, file the edges to keep them nice and sharp, coat the metal surface with a lubricating oil to prevent rust, sand wooden handles for a smooth grip and coat garden tools and shovels with linseed oil to keep the wood conditioned. Loving your gardening tools with keep them working hard all season long.
Weekend #2: Honor Mom with home improvement. Mother's Day is Sunday, so treat the special mom in your life to the home maintenance of her choice. Ask your mom what is bothering her most about her home and address that problem.
Perhaps you can fix that dripping faucet, or help plant colorful annuals in the garden, or even just plant flowers on your own so she awakens to a springy surprise.
Maybe you can freshen up the paint on outdoor trim work and doors, or put in the window air conditioning units, or even repaint the kitchen.
Mom might appreciate you creating a work surface and storage for the laundry room, and tidy and organize the garage. The options are endless, and you don't have to pick just one.
This Mother's Day weekend is about making Mom's life easier, so help her do that in whatever way you can. Remember Dads, don't feel slighted; your day comes in June, so think about what you need to make your life easier, and ask for it as the time comes closer.
If you need another home improvement suggestion, pick up a bottle of Spray & Forget House & Deck Cleaner and wipe out mildew spots on your home's exterior. These spots make a house look terrible. If the weekend has a sunny day, do it then; the sun helps to kill the spores that cause the mold and mildew to grow. As the name implies, application is super simple — just spray and you're done. The product kills mold, mildew, algae, moss and more, and prevents it from coming back.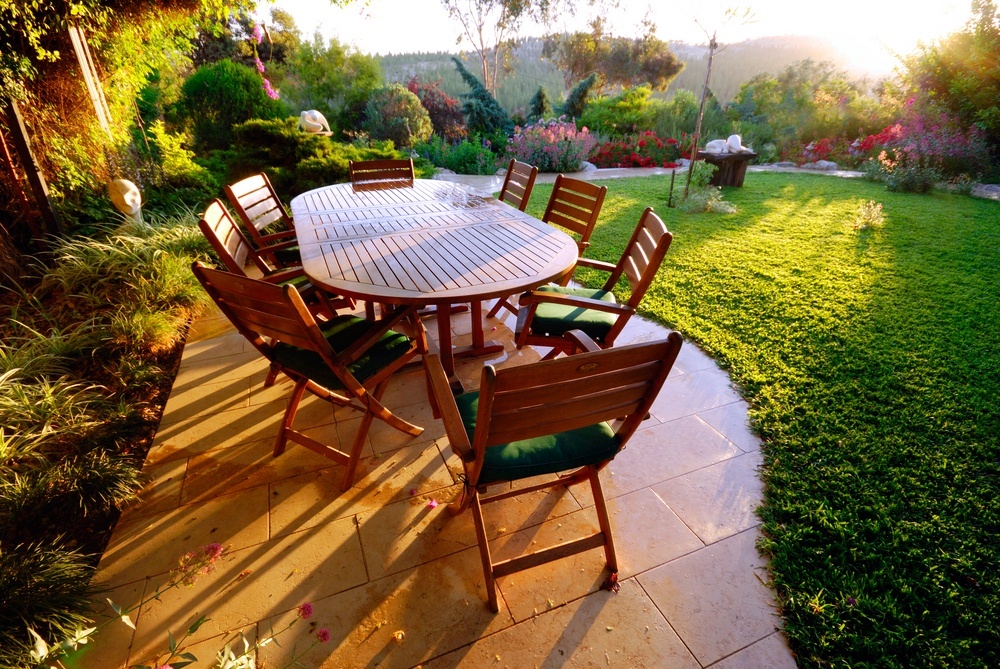 Weekend #3: Clean outdoor furnishings. This weekend, get out all of your outdoor furnishings and give them a thorough cleaning. For plastic outdoor furnishings, freshen their appearance by mixing dish soap, borax, and ½ cup peroxide into one gallon of water. Let the mixture sit for 10 to 15 minutes, then scrub with a nylon brush before rinsing well. Test the mixture first to be sure the peroxide does not react negatively on the furniture.
To clean wood furniture, oil the wood surfaces with a sealant or preservative that is appropriate to the material it is constructed out of. After sealing the wood furniture, clean the surface of the wood furniture at least once every two weeks with a cloth dampened with soapy water that has been mixed with a wood cleaner, then drying thoroughly with a clean cloth.
Clean metal outdoor furniture with soapy water and some elbow grease. If you notice any rust on the metal outdoor furniture, remove the rust spots and stains with sand paper to get a smooth, rust-free surface, then either repaint the entire furniture piece with a metal rust prohibiting paint, or if you only need to cover the area that was rusty, you can coat the area with a metal varnish.
It is so important to maintain outdoor furniture so you can use it for many summers to come. Get in the habit of wiping down outdoor furniture after each use, removing any bird droppings or pollen that may gather and destroy the finish. Place your newly clean outdoor furnishings in their favorite spot and get ready to enjoy. When not using outdoor furniture, cover it with waterproof covers to protect it from the elements.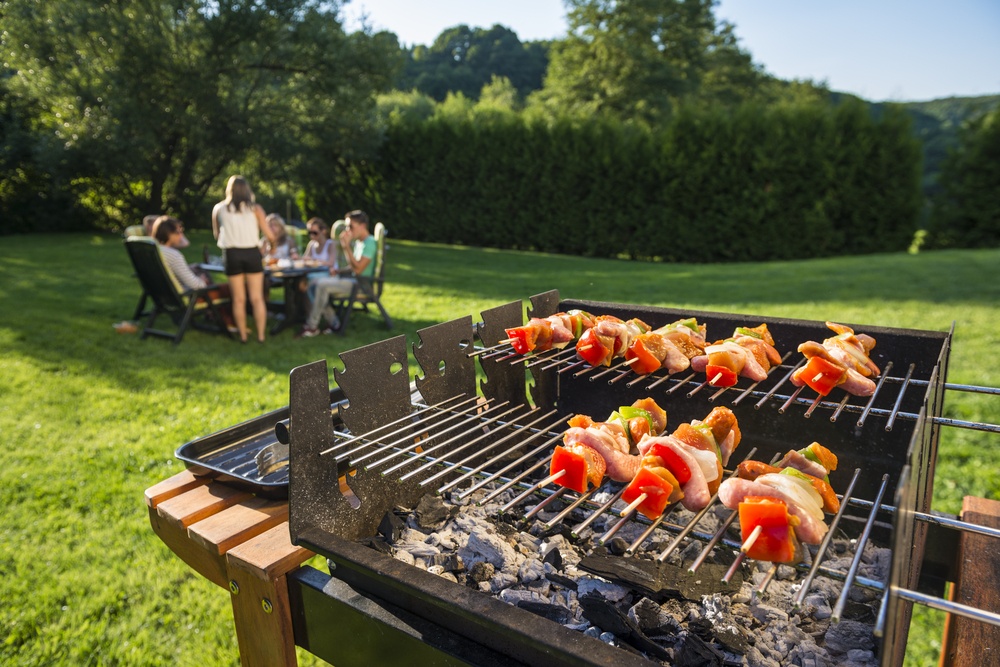 Weekend #4: Get ready to grill. The same char broiling action that flavors ribs, chicken, steaks and burgers you cook on grills all summer long can really cause problems if you don't stop and clean the grill once in a while. Here's what to do:
First, soak the grill grids in hot, soapy water and clean them with a nylon scrubbing pad. If the grill grids are really encrusted, use oven cleaner in a well-ventilated area and rinse clean.
The next step in cleaning the grill is to remove the lava rock or ceramic briquettes and clean them with a wire brush and replace any lava rocks or ceramic briquettes that are deteriorated.
Remove the grill burner, brush it clean and check carefully for cracks, split seams or holes. If any are found, the grill burner should be immediately replaced. Grill safety should be your first priority.
Lastly, check all the grill's rubber gas hoses for cracks and replace any that show the slightest sign of wear.
Now you are ready to put the grill back together. Check all gas connections for leaks. To do this safely, mix a 50/50 solution of liquid dishwashing soap and water. Brush the solution on all gas connections and watch for bubbles. If any are seen, the connection is leaking and should be fixed before firing up the grill. Now your home improvements are complete and you are ready to eat!