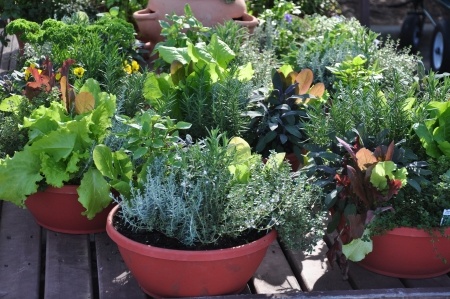 For a Mother's Day gesture that lives beyond the typical cut-flower bouquet, create a container garden. A lush, colorful planter brings a breath of spring indoors or out, and you can refresh the contents as other seasons come and go. Here are a bunch of ways to create a blooming gift that'll enhance a living space and bring joy to the mom in your life.
Instant color: Combine seasonal florals with lush cascading greenery in one large planter or a multi-level arrangement of two or three. Station the garden inside or outside a sunny entry, or put it within view on your deck or patio.
Artful containers: Make a statement with a well-chosen container, whether ceramic, rustic or a fiberglass copycat of grand vintage urn. You can also arrange several small, clean-lined containers along a windowsill, shelf or ledge for a modern spin on container gardening.
Mini herb garden: Fresh herbs are a cook's favorite luxury, so put them within reach in a sunny kitchen window or near a dining area. Several plants can be grown in a large planter, or arranged in a collection of decoratively labeled pots.
Centerpiece with staying power: Bring a bounty to your dining or living area with a centerpiece planted in blooming bulbs, shapely succulents or lush ferns. Easy care will keep the collection going and growing far beyond typical bouquets.