Tom:
This is the Money Pit's Top Products Podcast broadcasting from the Consumer Electronics Show of 2015 in Las Vegas, Nevada. John Taylor is with
LG
and LG is here with some really cool new innovations in the washer and dryer space. Hi, John.
John:
Hi there, how are you?
Tom:
We're doing well. You got a very busy show here and a lot of attention being given to a really cool innovation. Let's talk about the washer first. You've introduced a product called
Twin Wash
. How does that work?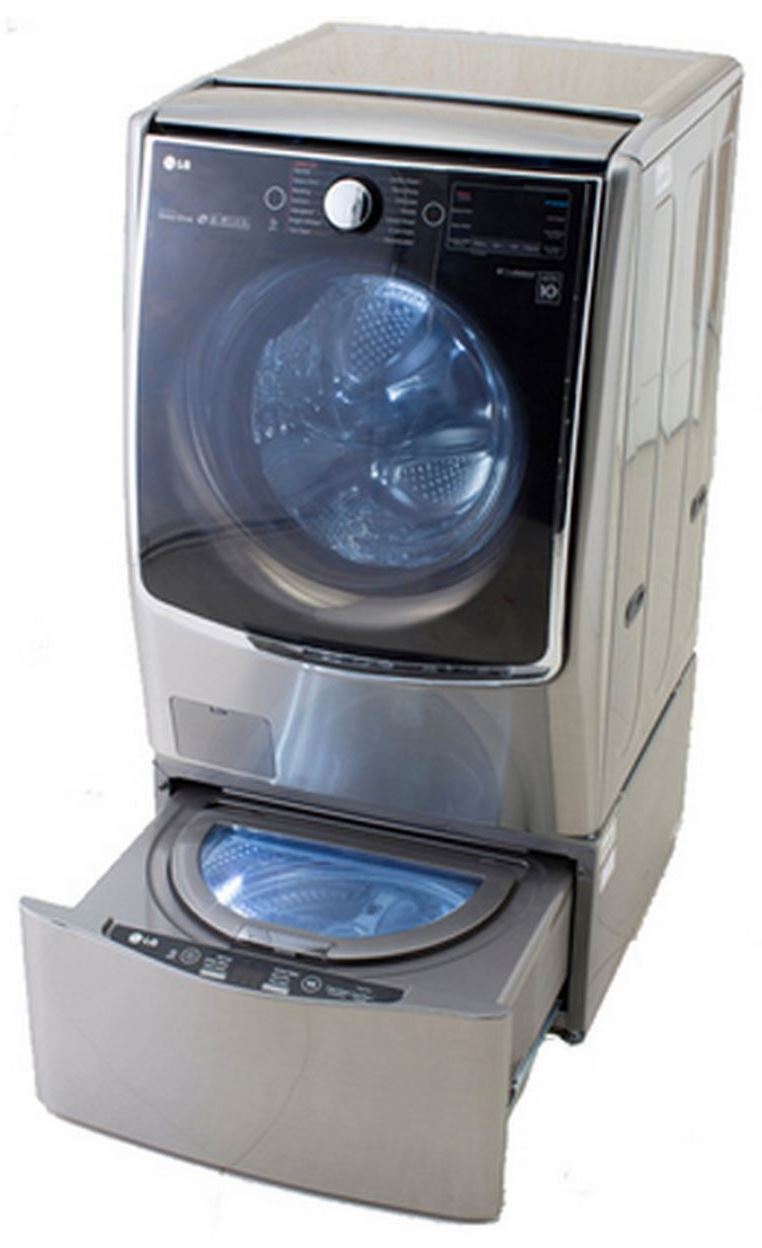 John:
It's really a breakthrough in home laundry. People do so many loads of laundry. We want to really find ways to have more convenience and more flexibility so we've introduced Twin Wash, which is a second mini washer that's actually in the pedestal of the frontload laundry.
Tom:
That's really interesting. You've designed this for delicates, as I understand?
John:
It's for delicates, it's for your workout clothes, any sort of small load you'd like to do that keeps separate from your main load.
Tom:
Is this built into a new LG appliance or is it available as an add-on?
John:
What's cool about it is you can add it on to any LG frontload washing machine. The new frontload washer is absolutely stunning and has a lot of great new features as well but it's also backwards compatible. Those who have already purchased an LG frontload washer will be able to use this.
Tom:
How does that work? Is there a second plumbing connection to the Twin Wash?
John:
The plumbing is actually connected through the main washer. It's magical to me the way it works. It's only compatible with the LG washers.
Tom:
Fantastic, now you've also got a really new innovation in dryers. You've introduced a door that actually opens two different ways.
John:
It's really cool. Again, in the interest of focusing on convenience, especially when you have a top load washer and a dryer next to it. As you're uploading your laundry sometimes things tend to fall on the floor and you have the old fashioned door that opens left to right. Our new dryer design actually has the door that can open left or right or it opens from the top like a shoot. It's so easy just to drop the clothes right into the dryer.
Tom:
Then they open it from the side to take them out.
Tom:
Continuing with the theme of a new door design, you introduced a refrigerator that has a door in a door. What does that do for us?
John:
LG pioneered the concept of door in door refrigerators back in 2010 and we've continued to expand on that. In 2015, we have the double door in door. You have a French door refrigerator that has dual doors on both the left and the right giving you amazing opportunities for convenience and storage and organization.
You put the kid's juice boxes or yogurts and things you want to get that often on the right. You put things you're gonna cook with on the left. It's very, very flexible.
Tom:
LG has always focused on energy efficiency. Of course, I think all of your appliances have been Energy Star rated. Dryers, until very recently, were not eligible for Energy Star rating. That's all changed now. What has that meant to LG?
John:
For the first time ever, there is an Energy Star category for dryers. When you think about the amount of energy used in dryers, this is really new territory your energy savings in your home and LG is really proud to lead the way. We had the very first gas dryers that were certified for Energy Star and now we're leading the way with electric dryers as well for 2015.
Tom:
In fact, your new eco hybrid brings on the heat pump technology to the dryer market.
John:
This is really the pinnacle of dryer technology for energy efficiency. In the eco hybrid mode, it can actually reduce the energy used by up to 53% compared to a conventional electric dryer.
Tom:
Fantastic. John Taylor from LG. Thanks for bringing us up to speed.
John:
Thank you so much. Enjoy the show.