Your washer and dryer really need to be cleaned on the inside. Over the years, washing machines can become contaminated with fecal bacteria, potentially leaving millions of germs behind in your laundry. To fix this problem, run the washer without clothes using just hot water and one-half gallon of bleach. The bleach will sanitize the machine and all its plumbing components, killing any bacteria that's been left behind.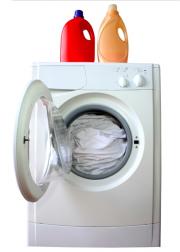 If a stray crayon, a forgotten pen, or excess dye from clothing finds its way onto your dryer's drum, these stains can be removed by your dryer's tumbler by applying spray cleaner, a mild abrasive or laundry stain treatment to the affected area and then wiping with a damp cloth. Then dry a load of old towels or rags for about 25 minutes. These steps will remove the stain from your dryer's drum–and even if a mark remains on the tumbler, the color won't transfer onto your clean laundry.
To keep the outside of porcelain-coated or painted steel washers and dryers sparkling, use a little dish detergent and a damp cloth. For stubborn stains on porcelain surfaces, try a small amount of non-abrasive cleanser. Your washer and dryer will truly be clean and ready for duty, inside and out.