The room in your home that sees all the dirty laundry doesn't have to be a waste of time and energy. Today's energy efficient washers and dryers and amenities are smart, flexible and built to save money over the long haul. Welcome to the laundry revolution.
Smart machines. Family members have no excuse for avoiding laundry chores when faced with the easy-to-operate high efficiency washers and dryers now on the market. Clear and helpful displays, quiet operation, and a range of cycles to perfectly clean and protect clothes are the new norms. Now, all you need to do is have the chat about separating fabrics and colors and not overloading the laundry machines, and your crew will be good to go.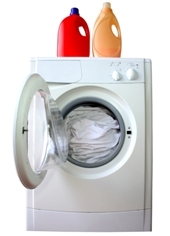 Alt=energy efficient washer dryerThe latest energy efficient appliances are smarter than you, and that's good news for both your life outside of the laundry room and the life of your clothes. Consider GE's Profile Harmony Clothes Care System, which has a washer and dryer that actually talk to each other in two languages. In either English or Spanish, users simply select a wash cycle based on how their laundry is sorted, press Start, and at the end of that cycle, the washer communicates information about the wash load electronically to the dryer.
The dryer responds by pre-setting dry cycles for better clothing care, increased time savings, and greater convenience. Also smart are the washer's Stain Inspector™ stain removal system which treats more than 80 stains through optimized wash cycles, and the dryer's DuoDry™ system that senses just the right temperature and amount of drying time, adding an adaptive, wrinkle reducing cool-down phase at cycle's end.
Ergonomic, flexible styling. Not only are today's high efficiency laundry machines more gentle with clothes, they're more gentle with you. A wide variety of appliance heights, sizes and configurations allow everyone to find the best fit for them and their laundry space. The increasingly popular front loaders offer easy access and a height that is better for your back, and also make for fast, tangle-free retrieval of laundry. Larger baskets in both washers and dryers help to trim down the number of wash loads, and when you add manufacturer-provided pedestals under units and comfortably placed, ample counter space, your days of laundry strain are over.
Water and energy savings. ENERGY STAR labeling is the thing to look for when shopping for new energy efficient washers and dryers. Laundry appliances bearing the ENERGY STAR logo meet energy and water-savings guidelines set by the EPA and U.S. Department of Energy, and will add up to money in your pocket over the long haul. Front loading machines are among the biggest money savers, thanks in particular to the reduced amount of water required by their configuration.
To give you an idea of how positive these savings can be, here are a few of the stats for Maytag's Epic™ Front Load Washers and Dryers. The high efficiency washer uses as little as 10 gallons of water for a load, compared to 40 gallons for a conventional machine. The Epic™ washer also meets the ENERGY STAR standard, while reducing energy consumption by a whopping 46%.
Alt=Hig Efficiency Washers and Dryers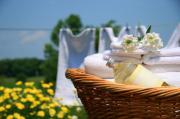 Epic™ dryer stats are equally impressive. Conventional dryers can take up to twice as long to dry clothes as it does to wash them, especially with items such as bath towels and blue jeans. However, because the spin cycle in the technologically advanced Epic™ dryer is more efficient, more water is extracted from the clothes before they hit the dryer. As a result, the wash and dry times for Epic™ are about equal, which is half as long as a conventional dryer. Shortened dry time also means reduced heat and tumbling and far less wear and tear on your clothes.
But will the savings and higher cost of buying high efficiency machines that conserve water and energy pay for themselves over the life of the appliance? While there are variables, the short answer is – yes!
As a rule of thumb, an average family will save $150-$185 per year by using an energy efficient washer/dryer. High efficiency washers and dryers cost about twice as much as conventional machines. The price difference is made up in the first 6 years or the full price of the machine can be recouped in about 12 years. Since appliances like Maytag's are designed to last 20 years, the appliance should more than pay for itself over it's working life.
Accessorize to organize. Many manufacturers offer accessories that can turn an already great pair of machines into a slick full fledged laundry center. Options include appliance-top work surfaces with spill guards, supply trays and back splashes. Laundry storage towers that nestle between or to the side of units for organized, easy access to detergents and supplies, and washer and dryer pedestals with built-in storage drawers are also available.
Customizing your high efficiency laundry space with other items like handy hampers (rolling industrial style or tilt-out numbers with cabinet fronts), fold-away ironing boards and drying racks not only adds to its efficiency, but also defines the laundry zone if it shares a space with other activities. Add a utility sink to the mix, and you'll surely wash away all the hassles you used to associate with laundry day!