You might not give much thought to your kitchen sink, but it's one of the most hardworking features of any kitchen. In fact, most of today's kitchens have more than one sink, along with different faucets, fittings and accessories that make food prep and clean-up fast and easy.
Most people aren't aware of the fact that lots of sinks are offered in several bowl configurations and installation alternatives, including under-counter, self-rimming or drop-in, apron-front and tile-edge (flush with tile countertops and sealed in with grout), just to name a few. Custom accessories like integral drainboards add functionality to the prep zone, and pantry and bar sinks can be installed in other areas of the kitchen to minimize traffic congestion at the main sink.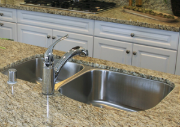 When it comes to sink dimensions, deep is good. Determine the maximum cut-out size permitted by the cabinets and countertop where the sink is to be installed, and then get the deepest bowl possible.
The most common material for kitchen sinks is stainless steel, which comes in a range of thicknesses or gauges. Lower is better here, and 18-gauge stainless is an optimal thickness in that it provides strength and rigidity for large bowls while allowing tight-radius corners that maximize the flat work area in the bottom of the bowl.
Other popular materials are cast iron and fine fire clay. Durable and dependable, cast iron sinks are heavy-duty structures which sometimes require extra cabinet support. Cast iron sinks are available in a wide variety of colors and are typically porcelain-coated. Fine fire clay is a ceramic fired at a lower temperature than the ceramics used for tiles and toilets. The technique permits sharper design details and more angular profiles than possible with vitreous china or cast iron. All surfaces exposed to water are coated with a colored ceramic glaze that is fused to the sink body when fired.
Solid-surface or "integral" sinks are created using the same material as countertops for a sleek, seamless, one-piece appearance where spills can be wiped right into the sink. Solid-surface sinks are stain-, chip- and crack-resistant, and the non-porous surface makes it impossible for mold or bacteria to take up residence and grow.
If you choose a kitchen sink made of a durable material, with a bowl deep enough to accommodate even your biggest cookware, you can look forward to easier meal preparation and cleanup for a long time to come.