Table of Contents

[Hide]

[Show]
Even if you have a nice looking kitchen, consider painting kitchen cabinets that have a few minor scratches or marks on them. Painting kitchen cabinets is a fairly easy project that can add life to cabinets that need a pick up in the appearance department, but that operate perfectly well.
Materials for Painting Kitchen Cabinets
Screwdriver
Newspaper
TSP (trisodium phosphate)
Sponge
Bucket
Sandpaper (a coarse and a fine grit)
Painter¹s Tape
Primer (water or oil-based)
Oil-based Paint (satin,gloss or semi-gloss)
2 1/2-inch Natural Bristle Brush
Paint Tray with Liners
Thin Roller Sleeves

Painting Kitchen Cabinets
Step 1: Remove all kitchen cabinet drawers drawers; ­­ some will just slide out, others will need to be tipped forward or back to be released from any side-mounted or bottom-mounted slides. Also take out any adjustable shelves before painting kitchen cabinets.
Step 2: Before you paint kitchen cabinets, remove door hinges and drawer pulls. Put them and their screws in a small plastic bag. If you¹re installing new hardware, measure the hole spacing so you buy the correct size. As you take off doors and drawers, number them with a permanent marker. On doors, put a number behind the hinge so it won¹t show when you put the hinge back; on drawers, mark the bottom.
Step 3: Wash inside and outside the kitchen cabinets with TSP and warm water. Don¹t forget to clean the drawers and shelves you removed earlier. Let the surfaces dry after rinsing. Fill dents and scratches with wood filler, then lightly sand the surfaces. Tape off sections that you do not want painted. Also tape newspaper onto the counters and on the floor.
Step 4: Prime any interior kitchen cabinet surfaces to be painted first. Since the insides only show when doors or drawers are open, It is only necessary to paint in as far as the trim. A mini roller helps get into corners. Use a brush to get the drawer faces¹ inside surfaces.
Step 5: Use a roller to coat kitchen cabinet doors, kitchen cabinet sides and removable shelves. Paint the edges first and then immediately paint the broad surfaces in the direction of any grain.
Step 6: Paint the cabinet face frames with a brush. Be sure to paint in the direction of any grain. Paint any inside edges first, then the outer surface of the kitchen cabinet.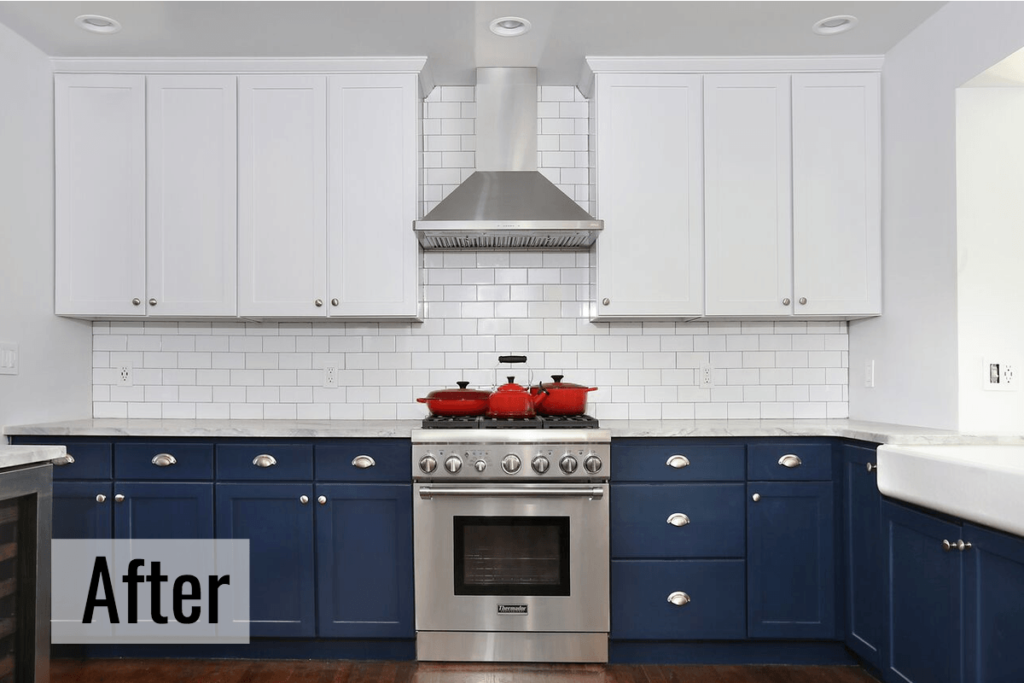 Finish Up painting kitchen cabinets
Once priming is done, begin painting the kitchen cabinets with the first paint coat, following the same steps after 24 hours. If a second coat is needed, paint after another 24 hours. When the paint is dry, install your hardware, doors and drawers on your newly painted kitchen cabinets.