The start of spring brings balmy afternoons, the thwack of baseball bats, and emerald lawns and flowers bursting into bloom. But it's not all pretty. Throughout the United States, termites, carpenter ants and an army of other household pests are swarming around houses, foundations and woodpiles, preparing themselves for their annual munch fest.
Preventing termites from destroying your home involves being prepared before it happens and knowing the signs of when it does. Spring is the best time to start.
This year pest experts estimate roughly 50 billion termites are gearing up to attack homes; maybe yours. The unwanted pests cost homeowners approximately $2 billion per year.
Preventing Termites: Know the enemy!
Termites are the most ancient of pests, having been around for over 250 million years. According to the National Pest Management Association, they cause more than $5 billion in damage in the U.S. each year. Termites are most active when temperatures are above 60 degrees, but cold weather doesn't mean the end of them. They burrow deeper into the soil during winter, and if they're able to get indoors, the temperature is adequate for them to survive year-round.
Termites can be tough to spot, typically entering your home in areas like inside dark crawlspaces or the basement, unless you happen to be around during a swarm, a part of the termite's life cycle where they fly off and reproduce. When this happens, you'll either spot the swarm itself or find the clear wings termite swarms leave behind, typically near windows or on sills.
Mud tunnels running along a homes foundation, on floor framing or even in drywall are another indicator that termites may have chosen your house for a meal. Termites construct these tunnels to keep themselves moist during the journey from nests deep in the ground around your house to the wood floor or wall framing they'll often feed on.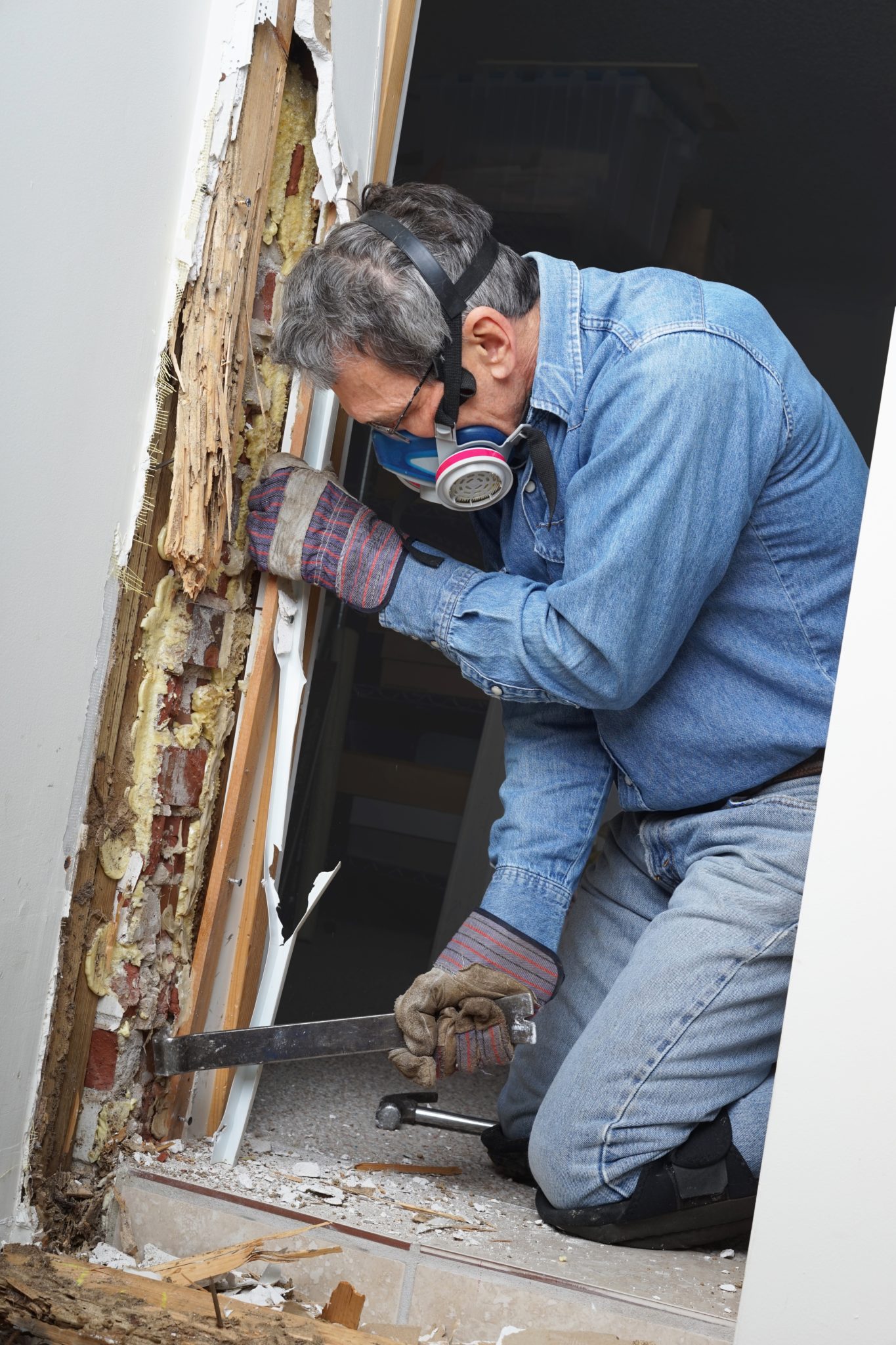 Regardless of construction type, most homes are vulnerable to termite attack. These silent invaders can enter a structure through cracks as tiny as 1/32 of an inch. Depending on the species and location, the average lot surrounding a home can support three to four termite colonies, which vary in size from thousands to millions. Termites will travel up to 100 feet from a colony in search of food, and they're attracted to areas featuring the nourishment, water and moisture they need.
But by the time you notice the signs of an termite infestation, the damage has most likely already been done. To avoid a surprise attack, have your home inspected for termite damage. An annual, professional wood destroying insect inspection only costs about a hundred bucks, good for the whole year and the best way of preventing termites from invading your home.
If a problem does develop, though, more professional attention is needed to provide a truly integrated service to control termites and prevent their return. A professional will locate and monitor the four most common conditions attractive to termites, including disturbed soil, moisture, temperature, and objects that provide a warm and moist environment, such as roots, twigs and pipes.
If termites are found, a new breed of undetectable pesticides like Termidor Termite Defense is one way to deal with them.
Unlike the old repellent treatments or baits that take too long to work, undetectable termiticides are installed into the soil where termites live, creating an effective pest control. The insects unknowingly pass through Termidor and then take some of it back to the nest where it is passed to the rest of the colony, killing the entire infestation once and for all.
Not all termites live underground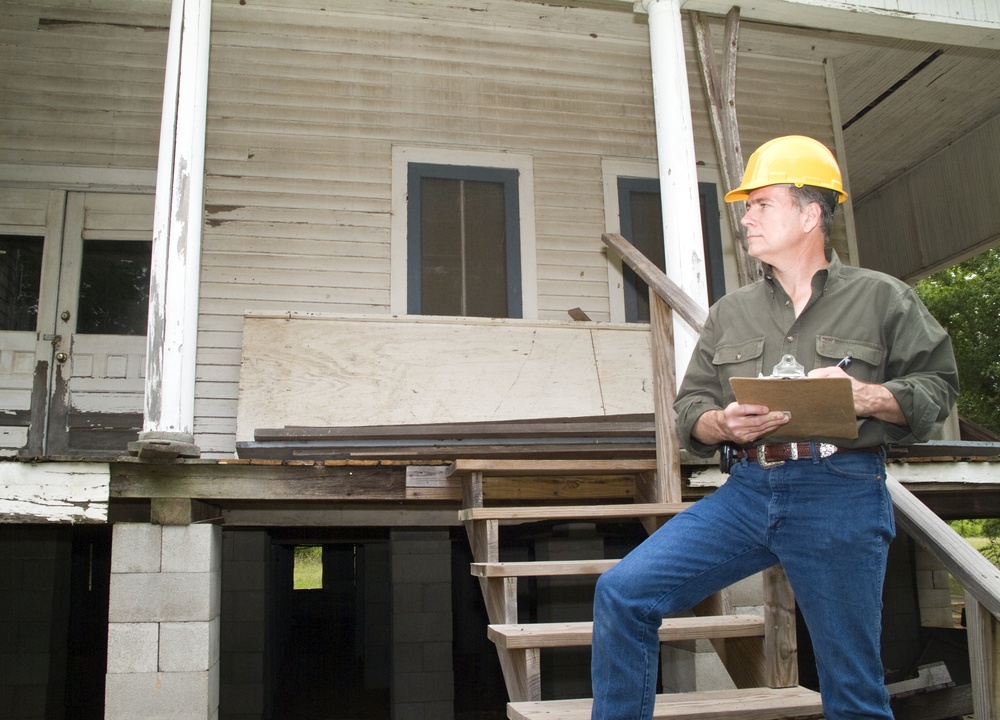 Native subterranean termites cause the majority of termite damage in North America, they are not the only type. Formosan termites are an extremely aggressive species of subterranean termite found in tropical and subtropical climates, causing damage at an accelerated rate and forming colonies ten times larger than other types of termites. Asian subterranean termites can be found in South Florida as well.
Meanwhile, drywood termites are not as widespread as subterranean types, but they can still cause serious structural damage. They commonly target the wood in a home's structural timbers, framing, furniture and hardwood flooring, and form colonies a few thousand strong.
Carpenter Ants: Bugs that bring their own tools!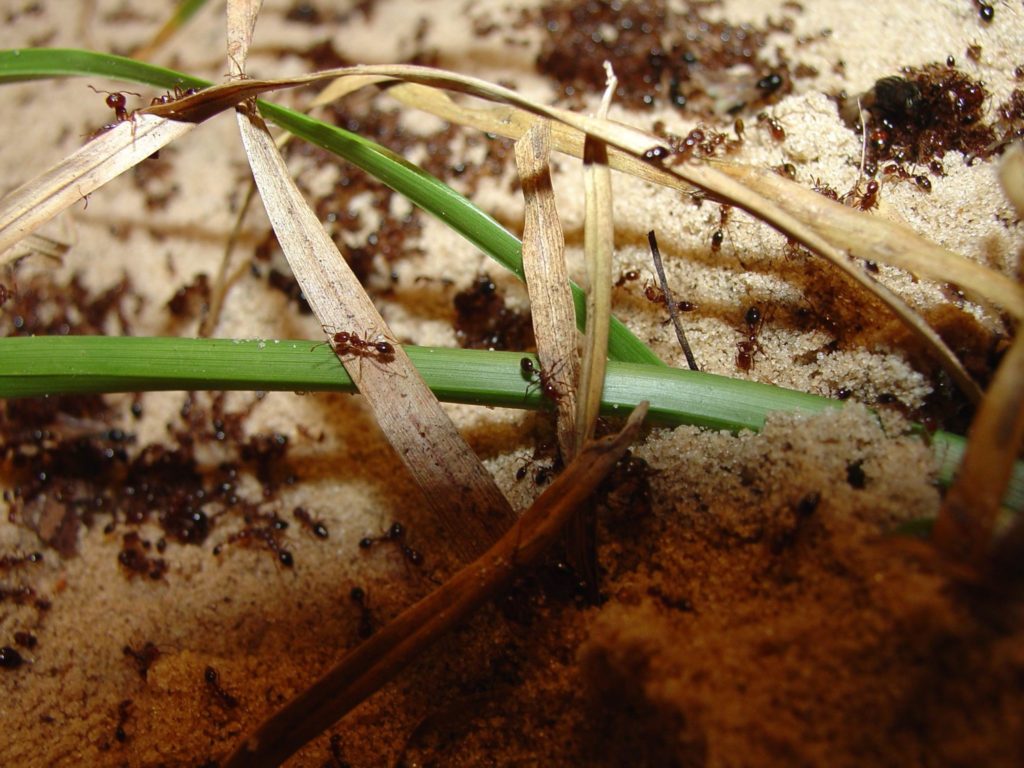 Though hard to imagine, carpenter ants can chomp their way through wood sections of a house even better than a termite. Ants are probably the number one pest in the United States.
Some sections of the country, particularly the southeastern United States, are harder hit than others with carpenter house infestations, simply because the weather is warmer much of the year. Carpenter ants love moisture and warmth, and are only as active as the environment is.
Before you reach for the can of Raid, make sure you know what you are dealing with. Take a sample of the pest to your local county agricultural agent, or call in a pest control expert for an opinion.
If pesticides are called for, companies these days are using integrated pest management, which basically translates into tailoring the pesticide to the pest, then using as small an amount of pesticides as possible to do the job.
By combining integrated pest control techniques, the exterminator could apply less pesticide, thereby minimizing exposure to the consumer and liability to the applicator.
Carpenter Bees: Buzz saws that fly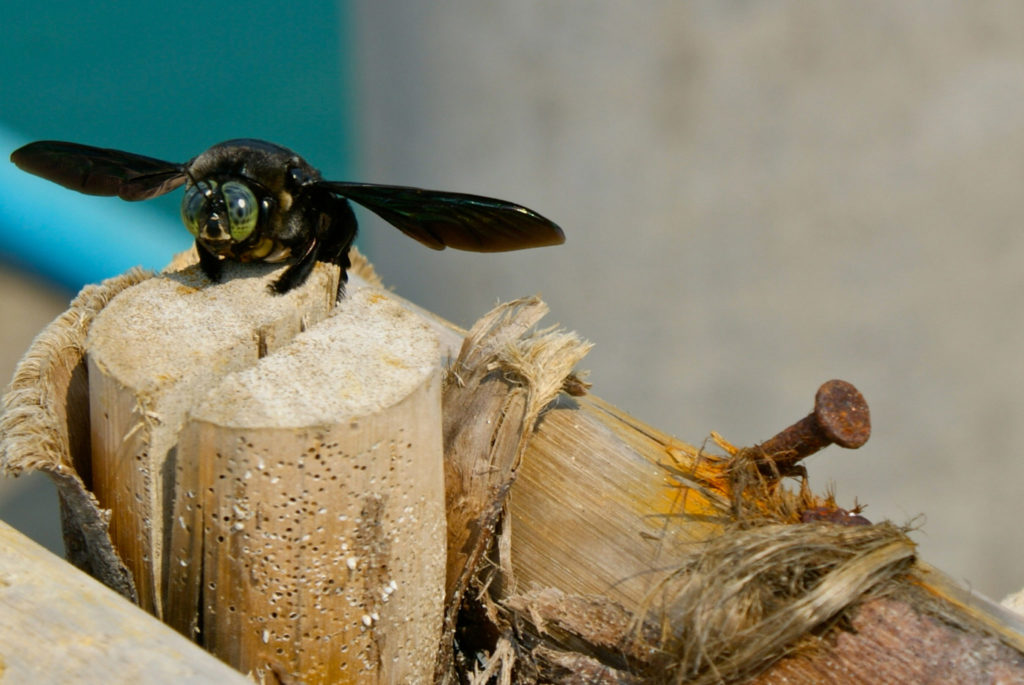 Carpenter bees also become wood-destroying threats by burrowing into the exposed dry wood of buildings, decks, telephone poles, fence posts and bridges. Exposed raw wood is their preference, but they can and will attack painted and stained wood as well. Carpenter bees chew round holes about a half-inch in diameter, hollowing out wood to a depth of ten to twelve inches, with multiple bees joining forces to create "galleries" up to ten feet in height.
Unlike honeybees, carpenter bees are solitary insects. Seven species are present in the United States, and they're large in size with a blue-black, green or purple metallic sheen on their abdomens. Male carpenter bees are sometimes perceived as menacing, as they are territorial and hover near female galleries. However, they're completely harmless and don't have the ability to sting, while females possess a potent sting that they rarely use.
A carpenter bee infestation is often detected through the discovery of large amounts of sawdust and pollen on the ground below infested wood, and/or stains on adjacent walls or windows. Treatment can be challenging, and depending on the infestation, may require professional application of dusts, sprays and liquids. After treatment, homeowners should fill holes with wood putty and then paint, stain or seal any wood that could be attractive to carpenter bees.
Powder Post Beetles: Old home invaders
Termites, carpenter ants and carpenter bees are not the only wood destroyers that can wreak havoc in your home. Powder post beetles are found in every state in the continental U.S. and can be as destructive as termites. Commonly found in older homes, powder post beetle larvae usually enters the home through infested wood, before any sign of infestation is noticed. The larvae then mature and bore their way out of the wood, leaving behind a small hole and fine sawdust, hence the name.
Powder post beetles can be found in hardwood floors, furniture and cabinets. Un-infested wood that is already finished (sanded, stained and varnished) will not become infested because adult beetles can't get into the wood to lay their eggs. Once powder post beetles have infested wood, fumigation by a qualified pest professional is really the only way to go. Unfortunately, it does not rule out future infestation.
The best thing you can do to prevent a powder post beetle invasion is to inspect any wood before you purchase it, or ask your contractor to do the same. Moisture is a big factor in infestation, so make sure the wood is properly kiln or air dried. Also make sure the wood is sealed or use treated wood, and don't store wood furniture outside, in a shed or a garage.
Preventing Termites, Carpenter Ants, Carpenter Bees and Powder Post Beetles
Homeowners don't have to sit idly by until their rafters and floorboards collapse. There are pest control steps and preventative measures that can be taken to keep the bugs at bay:
Keep your house dry. Termites and carpenter ants love moisture. Check your gutters and downspouts to make sure water drains away from your house.
Keep all firewood and wood products away from your foundation. Vila suggests buying only enough firewood to get you through the season.
Trim fence slats and any wood trim around your house like garage door jams up off the soil.
Remove all wood, cardboard to paper from the crawlspace or basement floor. If storage is necessary, be sure to keep storage off the floor to avoid attracting insects.
Most importantly, if wood destroying beetles do infest your home – don't panic! These insects work very slowly. Take your time and find a qualified pest management pro to help you kill them once and for all.
The National Pest Management Association is an excellent resource for finding a qualified Pest Management Professional in your area who will be preventing termites, powder post beetles and other wood-destroying insects from destroying your home.