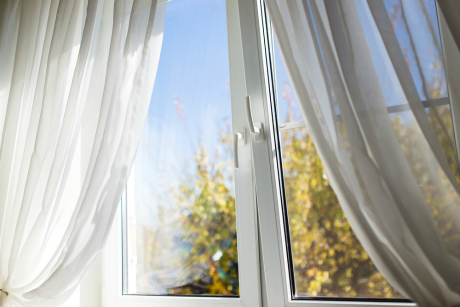 If you're shopping for new or replacement windows for your home, chances are you've come across a few different ratings, labels or certifications on the products you've looked at. Understanding the information these stickers convey is essential to your ability to directly compare your options and achieve your goal of buying the windows that best meet your home's needs.
For the most part, national top-name window manufacturers that have been dedicated to building windows for years and have a proven track record of dependability, such as Simonton Windows, are a smart choice. Beyond that basic guiding principle, this guide to reading window labels will help you make an informed decision.
Here are some of the labels you're likely to come across, and what they mean.
AAMA's Gold Label Certification
Before they can receive Gold Label Certification from the AAMA (American Architectural Manufacturers Association), windows undergo testing by qualified, experienced third-party professionals using proper equipment. To be certified, windows must meet AAMA standards in these categories:
Air leakage
Water penetration
Structural resistance to wind and other dynamic pressures
Life cycle durability
Operating force
Forced entry resistance
NFRC Label
Most windows have a label from the NFRC (National Fenestration Rating Council). The label alone is not a sign that you should purchase a certain window, but it can be a valuable tool, much like the miles-per-gallon sticker on a new car.
The NFRC label provides:
Whole Product Ratings
To check that the certified ratings on a window's NFRC label are accurate, use the Certified Products Directory (CPD) at www.nfrc.org. You can search the directory using the manufacturer name, type of window or full CPD number – all of which can be found on the NFRC label.
A Way to Verify
NFRC tests not only the glass, but also the frame, spacers and anything else that is a permanent part of the fully installed window. This gives you a more accurate picture of how the window will perform in the home, since the framing and other components influence things like U-factor (how well a product prevents heat from escaping a home or building), Solar Heat Gain Coefficient (how much heat from the sun is blocked) and Visible Transmittance (how much light comes through a product).
Fair & Accurate Comparisons
The ratings on the NFRC label come from standardized simulation and test methods at independently operated labs. This allows you to directly compare certified ratings on the NFRC labels of windows from different manufacturers.
Energy Star Program
Run by the U.S. government, the Energy Star program qualifies a wide variety of home products for energy efficiency. For windows, the Energy Star program makes sure each product meets or exceeds energy-efficiency guidelines set by the U.S. Department of Energy. The experts at Energy Star recommend the following tips to help you select windows that work best in your climate:
Visit www.energystar.gov to determine your home's Energy Star climate zone.
Find a retailer or manufacture of Energy Star-qualified windows at the Energy Star website or by looking up information on a company's website.
Ask for Energy Star-qualified windows when placing your order.
When your windows arrive, make sure to look for the Energy Star label on each window. The label should state that the windows are qualified for your specific climate zone.
Investigate any federal tax credits, local rebates or other promotions available in your area that you might qualify for as a result of purchasing and installing energy-efficient Energy Star windows.
This guide to the most important window ratings and certifications will help you decode the labels you will come across when shopping for new or replacement windows. For more tips and information, visit the Window Replacement Guide at www.simonton.com.