They frame your favorite view and are key to making your home comfortable in summer and winter, yet most people don't think about them until they stop working properly. But, if your windows aren't performing as well as they should, now is a great time to consider replacement windows.
Until the end of 2010, the U.S. government's Residential Energy Efficiency Tax Credit can credit you with 30 percent of window material costs, up to $1,500, for making qualifying efficiency upgrades to your home.
Poorly performing windows can account for 35 to 40 percent of your home's heat loss in the winter and are often even less effective at keeping your home cool in summer. That's literally throwing your money out the window. Today's double and triple-pane replacement windows are worlds apart from the windows sold just 10 years ago.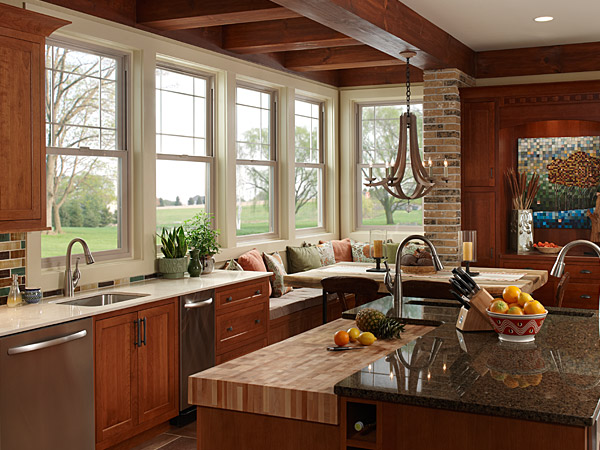 Replacement window frames offer improved protection from air and water infiltration over older windows, and the energy-efficient innovations in glass options can really make a difference in your home's comfort. To meet the qualifications for the Energy Efficiency Tax Credit, Milgard Windows & Doors incorporates advanced technologies to improve your home's energy efficiency. Its SunCoat® Low-E glass and EdgeGard™ thermal spacers provide the insulating power needed to keep your home comfortable all year round. But the hundreds of combinations and choices can be overwhelming. To avoid dealing with an overly-confusing list of window choices, the company offers energy packages that configure the window's individual components for you, based on your desired energy performance level and geographic location.
When looking for energy efficient replacement windows, most manufacturers recommend starting with the ENERGY STAR sticker. A good window will have a label from the National Fenestration Ratings Council (NFRC) and have ENERGY STAR ratings as well. On the NFRC label you'll see the manufacturer's name, a description of the window, plus a U-value and solar heat gain coefficient (SHGC) numbers. Lower U-values and SHGC numbers mean better insulation, but look closely. To qualify for the Energy Efficiency Tax Credit, each of your windows must have a U-value of .30 or less and SHGC of .30 as well.
You also should consider the manufacturer's warranty when shopping for windows. Just as some windows work harder than others to keep your home comfortable, some manufacturers are more willing than others to stand behind their products with the service and support you expect from a major home purchase. Look for a full lifetime warranty, and check to see if labor costs and glass breakage is included.
Fall is here, winter is right around the corner and, if you act soon, you can take advantage of the soon-to-expire tax credit for making valuable improvements to your own home with replacement windows. To get started, you can find a qualified replacement window dealer by visiting www.milgard.com.