A vacuum may not be the most glamorous thing you buy, but the right vacuum cleaner will make your life a lot easier. When you are figuring out how to buy a vacuum that's right for you, you may want to consider extensive test results from Consumer Reports. Consumer Reports advises consumers to choose the type of vacuum that will work best for their needs, and that doesn't necessarily mean it has to be expensive or have lots of bells and whistles.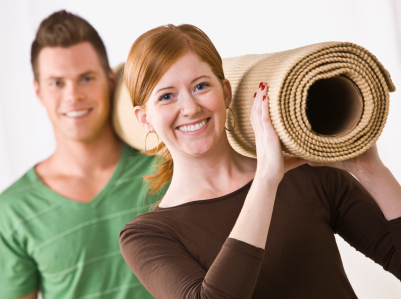 According to tests, uprights do better overall on carpets, while canisters are easier to maneuver, especially on stairs. If you have wall-to-wall carpets, an upright will probably do the trick. A canister is better for varied flooring, but can be tougher to lug around. Also consider saying no to some of the attachments. For example, you won't need a drapery attachment if you only have blinds.
Also, when deciding to buy a vacuum take a moment to learn a bit about filtration systems. The level of filtration varies. If the vacuum uses a bag to collect dirt, it has very little or no filtration. Very sophisticated systems that filter out pollen and tiny particles would include canister types with HEPA filters. A bag may be all you need. Units with filtration systems tend to cost more, but are great at reducing allergens in your house.
Here are some other points to keep in mind when shopping:
• Check the features. Look for a brush on/off switch to safeguard bare floors and prevent scattered debris. Another major feature to look for is a motorized brush, rather than suction alone. Manual pile-height adjustment is also a plus, as is suction control for drapes and edge tools for corners.
• Consider bagless carefully. Bagless vacuums eliminate the expense of buying bags but still require filters, which require maintenance and regular replacement. For those with asthma or allergies, the dust and mess of emptying their bins is an added concern.
• Try it out. Even shoppers who plan to buy their vacuum online should visit a store to push, pull, turn, and lift the models they are considering and check out the model's controls and features. Also, it's worth asking whether or not the store is willing to meet or beat the lowest online price.
In addition to the full ratings of upright and canister vacuums, consumers can also find the results from Consumer Reports' latest vacuum reliability survey in the March issue of Consumer Reports. You'll have all the info you need to figure out exactly how to buy the vacuum that suits your needs.