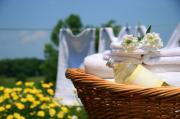 As warmer months draw near, nagging household chores that have been swept under the rug all winter become a priority. Spring cleaners who want to scour their homes from the top down can benefit from these spring cleaning tips from Consumer Reports. Their cleaning experts created a list of helpful tips for tackling the tough jobs. The full story is featured in the current issue of the magazine and online at www.ConsumerReports.org.
"Most people change the sheets, flip the mattress and vacuum the baseboards, but spring cleaning can be taken a step further to a deep clean," said Pat Slaven, program leader for Consumer Reports. "Take advantage of this time of year to not only organize your home but also save money by tackling the tasks that you may have hired out in the past."
For best results that will preserve the quality of household items over time, Consumer Reports recommends these spring cleaning Dos and Don'ts:
Ceiling Fans
Fan blades and housing should be cleaned with a damp cloth and all-purpose cleaner or mix of water and mild liquid dish detergent, unless the care information says otherwise.
DO make annual cleaning easier by dusting blades once a season with a U-shaped brush. The blade fits inside the U, so both sides are cleaned simultaneously.
DON'T forget to dry the blades thoroughly. Damp blades attract dust.
Windows
For clean, streak-free glass, apply cleaner to windows with a slightly dampened sponge. Wipe across the window with dampened squeegee blade, then wipe blade.
DO clean from the top down on a cloudy day or when the windows are in shade.
DON'T clean windows in the sun. Direct sunlight can cause the cleaner to evaporate before it is wiped off.
Curtains and Drapes
Freshen curtains and drapes by vacuuming with the soft brush or dusting attachment and set on reduced suction to prevent fabric from being drawn into the nozzle.
DO dust with a soft, long-handled brush with synthetic fibers.
DON'T be afraid of cleaning velvet drapes. Dip a chamois cloth in hot water, wring out thoroughly, and then brush.
Window Blinds
Vacuum fabric blinds with the soft brush attachment. Spot-clean with upholstery cleaner, but test it first in an inconspicuous spot to be sure the colors don't fade or bleed. Greasy aluminum or PVC blinds should be placed in a bathtub filled with warm soapy water and rinse.
DO protect the tub bottom with a towel.
DON'T dunk the roller mechanism in the water. Be sure it stays dry in the process.
Upholstery
Refresh upholstery with a vacuum with good tool airflow. Check Consumer Reports' Ratings for models that scored well in that test. Vacuum the corners and all sides of cushions. If pets nap on the couch or chair, deodorize by sprinkling with baking soda and letting it sit for 15 minutes, or longer for tough odors, then vacuum.
DO apply a cleaning product or rent a machine that cleans upholstery and carpet. A do-it-yourself job is likely to yield better results if done before the upholstery becomes badly soiled.
DON'T use any cleaner, or let a professional steam clean with water and detergent without testing the cleaner on an inconspicuous spot first.
Launder Pillows
Unless the care instructions say otherwise, most foam-filled and synthetic pillows can be machine-washed. Use the gentle cycle, warm water, and a mild powdered detergent.
DO line dry pillows or place in dryer on moderate heat with clean towels to speed up drying. Add a clean tennis ball to help fluff the pillow.
DON'T machine-wash down and feather pillows. Place them in a sink filled with warm water and powdered detergent. Hold the pillow under water until completely soaked and knead gently. Drain the water out and press down to extract as much water as possible. Roll it in a towel to prevent dripping and then unwrap it and spin in a washing machine for three cycles before drying.
For more spring cleaning tips, visit consumerreports.org.