Make the most of spring cleaning and set yourself up for smoother chore days year-round with a new vacuum cleaner. It may not be the most glamorous thing you buy, but the right vacuum cleaner can make your life a lot easier.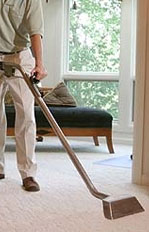 First, consider the type of vacuum you and your home need. If you have wall-to-wall carpets, an upright will probably do the trick. A canister is better for varied flooring, but it can be tougher to lug around. And consider saying no to some of the attachments. For example, don't pay for a drapery attachment if you only have blinds to clean.
Also learn about your options in vacuum filtration systems. The level of filtration varies, with pretty much zero provided by a vacuum that uses a bag to collect dirt. Filtration systems get way more sophisticated when a high efficiency particulate air (HEPA) filter is involved, however, as it absorbs 99.97 percent of particles sized at 0.3 microns or greater. That means you're vacuuming up everything from pet dander to pollen, for a cleaning that reduces trigger allergens in your household.
What else should you be looking for in a new vacuum? Compare features, and consider the pluses and minuses of bagless models (saving money on replacement bags is great, but emptying a bagless vacuum's bin can expose you to allergens). Also, be sure to test drive your top vacuum picks before making a final selection in an appliance showroom or online. You need to know how easy it is to push, pull, turn and lift a vacuum to ensure comfort and convenience every time you clean.