If you've got a few big home improvement projects to tackle but not enough time, tools or muscle finish them, you may want to consider starting a home improvement club with fellow frustrated DIYers. This clever concept is gaining popularity in communities around the country, with friends and neighbors pitching in on each other's projects for cost savings, speedy completion and a strengthened sense of community.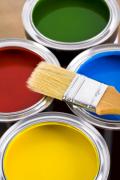 Every home improvement club is a little different, but basic ingredients include homeowners who agree to meet on a regular basis to invest know-how and sweat equity in a member's project. Everyone gets an equal amount of project "turns," and provides a master plan, materials, refreshments and even child care when the crew is on their home turf. Often compared to an Amish barn-raising, a home improvement club get-together accomplishes a lot in a fraction of the time it'd take a lone DIYer to get the job done.
Inspired to build your own club? Then gather your home improvement comrades and create a foundation using the following elements:
Frequency: The number of group members in your home improvement club will be an influence here, as will individual family schedules. Project days can be scheduled anywhere from monthly to quarterly, depending on group needs and availability.
Communications: E-mail is a handy medium for rounding up the troops, and it's also helpful to have a designated point person to manage the calendar and send reminders.
Project Types: Every home improvement club project should be a complete success and completed, period, so be sure to inventory members' abilities, areas of expertise and available tools before determining the projects you'll tackle.
Planning: Lastly, initiate a pre-game huddle. This step will only add to project-day efficiency, whether done in person over a casual dinner with your home improvement club members or via an e-mail that details assignments and needed supplies.