According to the National Association of the Remodeling Industry (NARI), warm weather often ushers in a wave of home improvement scams.
As welcome as a swarm of termites, these home improvement con artists show up at your door offering an array of services from repaving your driveway to roof repair, and usually demand a hefty down payment up front. They might offer a great deal, based on "using materials left over from a previous job," but homeowners should remember that a great deal isn't always what it seems.
Frequently, these fly-by-night home improvement scammers drive vehicles with out-of-state license plates, or set up temporary offices from which they can move quickly once authorities start looking for them.
Before writing that check, and especially before allowing any unknown individual into your home, NARI suggests that you:
Get the name and address of the home improvement company that person allegedly represents.
Get all details of the proposal in writing and carefully review it.
Be sure you understand everything in the contract and that any verbal promises made are included in the contract.
Determine how long the company has been in business and call organizations with which the contractor is affiliated, such as NARI or other trade associations, to determine the firm's legitimacy.
Ask for references and contact each one.
Remember that any legitimate company that wants your business will be more than willing to allow you the time to do your homework. Don't fall prey to home improvement scams that include high-pressure tactics such as this is the only chance you have or "by tomorrow the extra materials will be gone."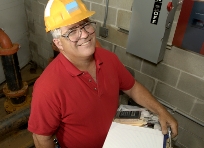 Be skeptical of home improvement scams if a contractor:
Come to your door unsolicited.
Use high-pressure sales tactics.
Request full payment before completing the work.
Give a post office box without a street address or phone number.
Promise to begin and complete the work more quickly and cheaply than any other company.
Say they just finished work on your neighbor's house and have just enough materials to do repair work on yours. They might say they can give you a better bargain if you let them do the work today since they have the supplies now.
NARI is a professional association whose members voluntarily subscribe to a strict code of ethics. Consumers can avoid home improvement scams by calling the NARI National hotline at 800-611-NARI and request a free copy of NARI's brochure, How to Select a Remodeling Professional, or visit www.RemodelToday.com and click on the homeowner's guide for more information.