Your friends and family look forward to your big Super Bowl party every year – and so do you, but maybe it's all gotten just a little routine. Looking to add some splash or panache? Here are some gadgets that'll make a real touchdown, both for you and members of your home team.
For the Resident Twitterer. Keep the real-time game commentary flowing online by setting up a sofa-side laptop station.
Your aspiring sports show host will be able to Twitter or blog throughout the game without losing his or her reach to the nachos. Try the Table Mate II. With adjustable height and tilt, it hovers over your lap while you're seated and provides a sturdy, generous plastic desk surface. The Table Mate II sells for around $30.
Keep a Sweet Bathroom. There'll be plenty of traffic in and out of that powder room nearest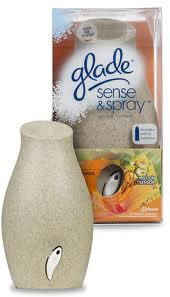 the television. To keep it tolerable for everyone, consider a motion-sensor air freshener, like the Glade Sense & Spray Automatic Freshener. It detects when someone enters the room and spritzes a refreshing burst of fragrance high into the air to eliminate unpleasant odors. But don't worry about it going haywire – after motion is detected, the Glade Sense & Spray goes into "lockout" mode, so you won't hear from it again for another 20 minutes, when it will resume detecting motion. Runs on two AA batteries and comes in an attractive vase-like dispenser. Starter kit includes dispenser, one fragrance refill and two batteries for around $9.
What's on Tap? Don't hand out cold cans, dude. That's just lame. This year, get a professional-style beer tap, like the Krups B100 Beertender. It'll keep beer fresh and crisp all day long, plus a release of Co2 allows for a foamy head o' brew, pub style. Guests will get a kick out of helping themselves. The Krups B100 Beertender sells for around $100.
Go ahead, upgrade your Super Bowl party! With a fun gadget or two, you can make the celebration just a little better than it was last year.