As severe weather continues to strike and blackouts become more common, homeowners can no longer rely on the fragile, aging national power grid and electrical infrastructure and need to consider alternative solutions such as
standby generators
to power the home. According to a January 2009 report released by the Electricity Advisory Committee to the U.S. Department of Energy (DOE), the current U.S. electric power delivery system infrastructure will be unable to ensure a reliable, cost-effective, secure and environmentally sustainable supply of electricity for the next two decades.
With no warning, homeowners can be without lights, heating or cooling. When a home loses power, the food in the refrigerator spoils, the security system becomes disabled and the sump pump can flood the basement. Losing power for days, weeks or even longer can be costly, inconvenient and dangerous.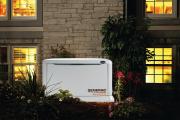 One protection for homeowners against these unforeseen power outages is to install a standby power generator that automatically comes on when the power goes out. Recent technological advancements have made automatic standby power generators more affordable for homeowners. For example, depending on the number of essential circuits required, homes can be protected for as little as $2,000 plus installation with the Generac® Guardian® series eight kilowatt (kW) unit. Typically, installation can take as little as four hours.
"By installing a standby power generator, homeowners can rest assured their homes and families are automatically protected – whether they are home or away – anytime a power outage occurs," says Clement Feng, executive vice president and chief marketing officer, Generac Power Systems, Inc, Waukesha, Wis.
The American Red Cross suggests that during power outages, permanently installed standby generators are better suited for providing backup power to the home than portable generators. An automatic standby generator senses an outage and begins to produce power immediately. There are no extension cords to plug in, gas tanks to fill or switches to flip. Alternatively, portable generators can cause hazards such as carbon monoxide poisoning from toxic engine exhaust, electric shock or fire.
Automatic standby generators operate on natural gas or liquid propane vapor, so there are none of the fuel storage, spillage, spoilage or odor concerns that are common with gasoline or diesel models. Because of their favorable emissions profile, gaseous-fueled generators, like the Generac Guardian series line, are becoming increasingly popular as an environmentally conscious solution for backup power needs.