It's a colorful innovation that will bring convenience and safety to your daily showering routine. Delta Temp2O showerheads and handshowers display the temperature of the water with a digital readout and background color indicator so you know at a glance whether your shower is too hot, too cold or just right — blue means below 80 degrees, magenta means 80 to 110 degrees and red means greater than 110 degrees.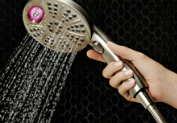 Delta Temp2O showerheads and handshowers are ideal for households with children, where preventing the risk of a scalding injury while bathing is an important concern. They're also great for anyone who just wants to take the guesswork out before they get in the shower — and the Temp2O technology is powered by water, so you'll never need batteries.
Customize your showering experience by choosing among six spray settings: full, massage, full with massage, shampoo, shampoo with massage, and drenching spray. When it's time for cleaning, the Touch-Clean soft, rubber spray holes allow you to easily wipe away calcium and lime buildup with the touch of a finger. And eco-minded folks will be glad that these WaterSense-labeled, 2.0 gpm showerheads and handshowers promote water conservation.
Now, knowing the temperature of your shower is as easy as blue, magenta and red. Delta's Temp2O line of showerheads and handshowers are the perfect holiday gifts for friends and family, and are available exclusively at The Home Depot.