Tired of stepping into cold showers because you weren't sure how long to wait? Take the guesswork out before you get in with Delta Temp2O handshowers and showerheads, which have built-in features that help prevent water temperature surprises.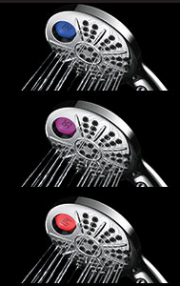 Powered by water, so you'll never need batteries, the Delta Temp2O technology includes a digital LED display that shows the temperature of the water in your shower head. Three color indicators signal different temperature ranges for easy, visual indication: blue for below 80 degrees, magenta for 80 to 110 degrees and red for greater than 110 degrees.
The WaterSense labeled 2.0 gpm showerheads and handshowers promote water conservation, and the Touch-Clean soft, rubber spray holes allow you to easily wipe away calcium and lime buildup with the touch of a finger. You can also choose among six spray settings: full, massage, full with massage, shampoo, shampoo with massage, and drenching spray.
So if you've ever wished you could tell if your shower was too cold or too hot without having to feel the water, the solution is here. Enjoy the convenience of knowing when the temperature is right for you and the peace of mind that the water temperature is safe with Delta Temp2O showerheads and handshowers. These perfect holiday gifts for friends and family are available exclusively at The Home Depot.